Product Description
Organic Intermediate Piperidine Price with CAS 110-89-4
Piperidine, Colourless liquid. It smells like pepper. It can be mixed with water and dissolved in ethanol, ethyl ether, acetone and benzene. 35% the boiling point of piperidine in boiling water is 92.8 C; pKa11.1; alkalinity is slightly stronger than pyridine. A strong organic base similar to that of fatty acid secondary salt, forming a salt with inorganic acids. It can evaporate with steam. For pharmaceutical use, it is mainly piperidine hydrochloride and piperidine nitrate (flaky crystal, melting point 110 degrees C). It is also used in other organic synthesis and used as curing agent for epoxy resin. It is hydrogenated from pyridine. It has strong reducibility.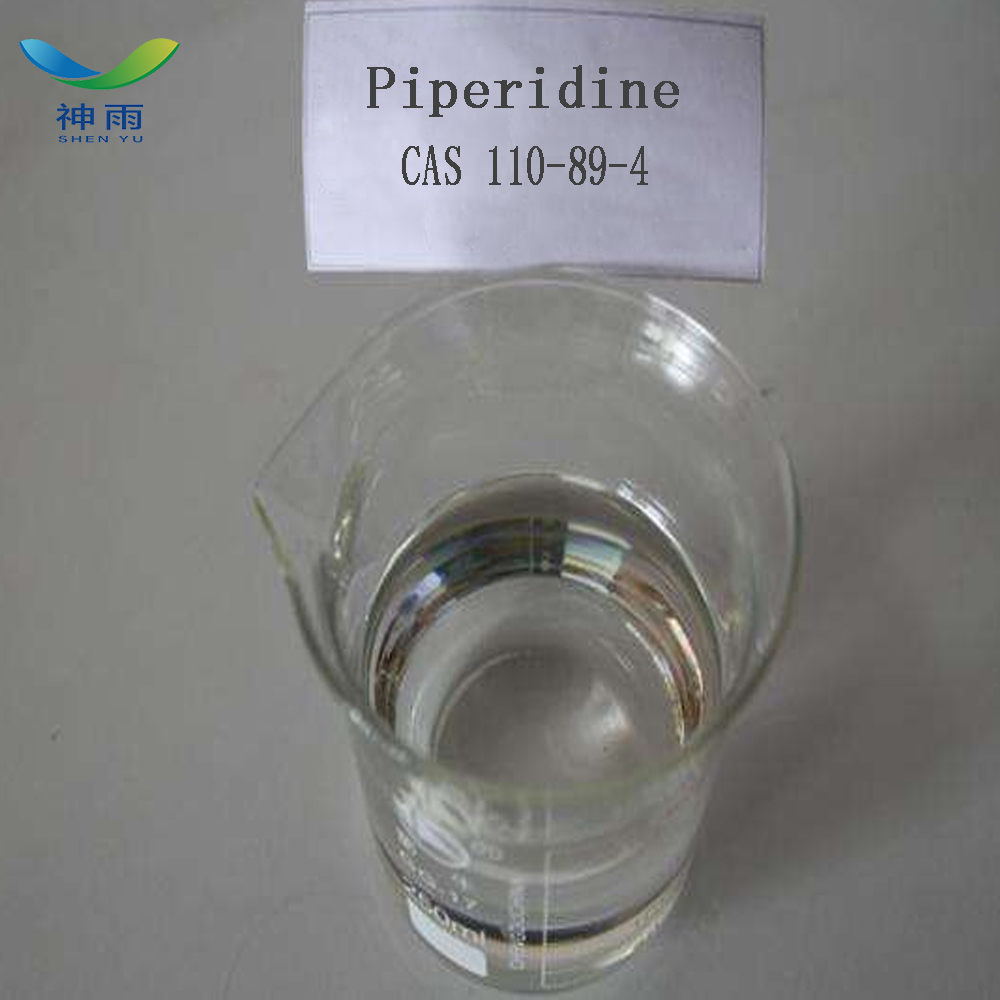 Feature:
High Purity
Low Price
Fast delivey
Good service
Piperidine Product details:
English Name: Piperidine
English synonyms: PENTAMETHYLENEIMINE; PIP; PIPERIDINE; PIPERIDINE ON RASTA RESIN; PPR; azocyclohexane; Cypentil; hexahydroazine
CAS: 110-89-4
Molecular formula: C5H11N
Molecular weight: 85.15
EINECS: 203-813-0
Melting point -11 degree C
Boiling point 106 degree C (lit.)
Density 0.930 g/mL at 20 degree C
Vapor density 3 (vs air)
The vapor pressure is 23 mm Hg (20 degree C).
Refractive index n20/D 1.452 (lit.)
FEMA 2908
Flash point 16 degree C (lit.)
Storage condition Store in dark
Acidity factor (pKa) 11.123 (at 25 C)
Water solubility Miscible

Piperidine Application:
1. food flavors.
2. used as a reducing agent and solvent in organic synthesis.
3. used as analytical reagent
4. six hydropyridine, also known as piperidine, is the intermediate of the plant growth regulator piperazine.
5. piperidine, also known as six hydropyridine, is an intermediate for the synthesis of benzyl rust and plant growth regulator piperazine.
6. Piperidine is used in the manufacture of local anesthetics, analgesics, fungicides, wetting agents, epoxy resin curing agents, rubber vulcanization accelerators, etc.

Piperidine Attention:
[Ingestion]
If victim is conscious and alert, give 2-4 cupfuls of milk or water. Never give anything by mouth to an unconscious person. Get medical aid immediately.
[Inhalation]
Get medical aid immediately. Remove from exposure to fresh air immediately. If not breathing, give artificial respiration. If breathing is difficult, give oxygen.
[Skin]
Get medical aid immediately. Flush skin with plenty of soap and water for at least 15 minutes while removing contaminated clothing and shoes. Wash clothing before reuse.
[Eyes]
Flush eyes with plenty of water for at least 15 minutes, occasionally lifting the upper and lower eyelids. Get medical aid immediately.

Storage: Store in a tightly closed container. Do not store in glass. Store in a cool, dry area away from incompatible substances.
Package: 200L/Drum
Other related items of our company:
1. Basic Organic Chemicals
2. Inorganic Chemicals
3. Pharmaceutical Intermediates
4. Daily Chemicals
5. Active Pharmaceutical Ingredients