Product Description
100% Nature Organic Gum Turpentine Oil Price
Turpentine Oil is a kind of essential oil. It is the most essential oil at present. It is a kind of aromatic volatile oil obtained from the Pinus massoniana Lamb of Pinus massoniana, Pinus tabulaeformis Carr. of Pinus tabulaeformis, or the oleoresin from the wood of the same genus. It has a special scent, consisting of a mixture of hydrocarbons, which contains a large number of terpenes. According to the sources of raw materials, they are divided into 4 kinds: fat turpentine, pine pine oil saving, sulfate turpentine and dry distillation turpentine.
(1) The liquid oil distilled from turpentine or steam or other methods should be divided into fat turpentine.
(2) extract the wood chips with organic solvent, extract the solvent, first evaporate the solvent, then distillate with steam, then get the pine pine oil saving (soaking pine oil saving).
(3) Using the pine wood as the main raw material, the crude sulfate turpentine was obtained by condensing and separating the mixed gas from the pulp of the kraft pulp, and the sulfate turpentine was obtained after distillation.
(4) turpentine oil distilled from distilled distilled oil is called dry distillation turpentine.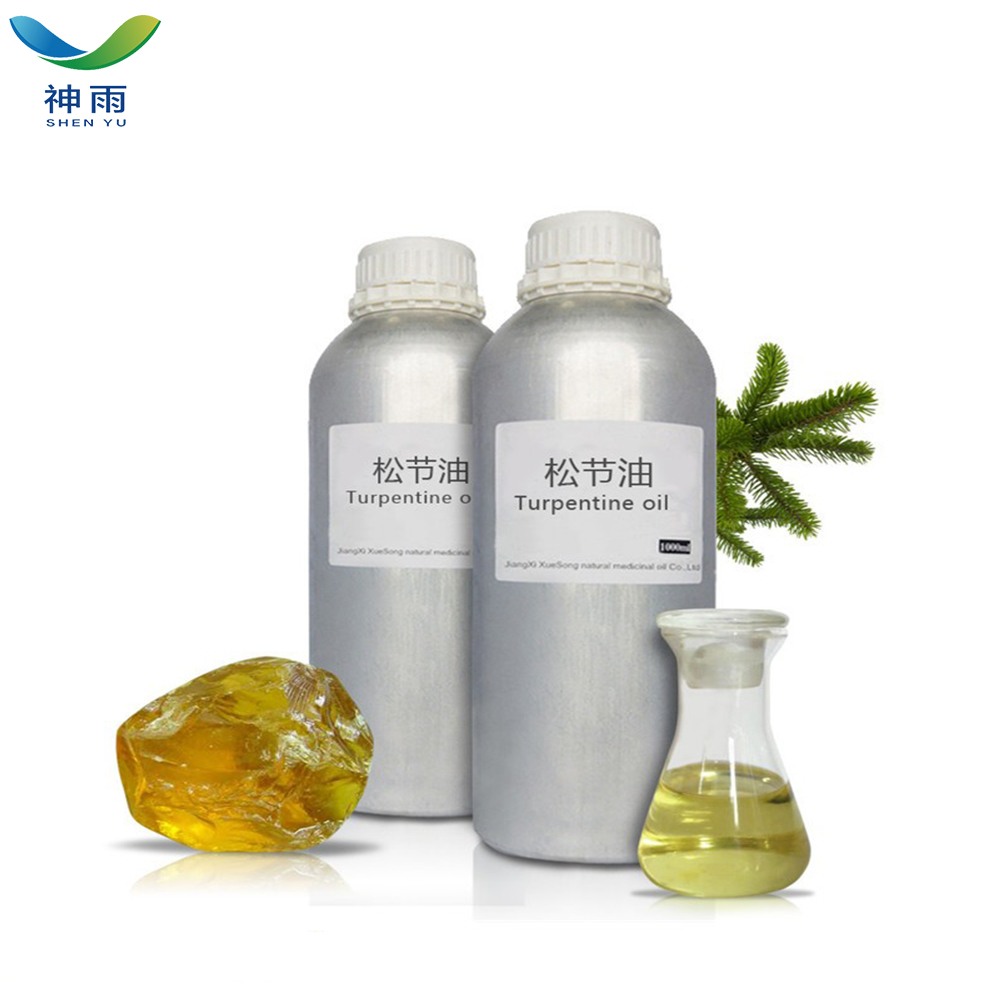 Feature:
High Purity
Low Price
Fast delivey
Good service
Turpentine oil Product details:
English Name: Turpentine oil
English synonyms: TURPENTINE SUBSTITUTE; TURPENTINE OIL; Turpentine Oil Rectified; PURIFIED GUM SPIRITS; OIL OF.
CAS: 8006-64-2
Molecular formula: C12H20O7
Molecular weight: 276.283
EINECS: 232-350-7
Melting point - 55 degree C (lit.)
Boiling point 153-175 C (lit.)
Density 0.86 g/mL at 25 degree C (lit.)
Vapor density 4.84 (- 7 degree C, vs air)
Vapor pressure 4 mm Hg (- 6.7 degree C)
Refractive index n20/D 1.515
Turpentine oil Application:
Turpentine oil is widely used as a raw material for chemical industry, and has been exposed to turpentine in industries such as art glass, paint, camphor manufacture, pharmaceutical industry and rosin making.
Turpentine oil is an excellent solvent with strong solubility for organic matter. It is traditionally used in paints, driers, ointments, shoe polish, adhesives and medicine. The main components of turpentine have been reprocessed, and many new products have been developed in synthetic chemicals and spices.
(1) synthetic pine oleol: alpha pinene is catalyzed by sulfuric acid to hydrate terpene glycol, and terpene glycol is removed by 1 molecular water under dilute acid. The main component is alpha release alcohol (see pine oleol and pine oil).
(2) synthetic camphor: under the action of titanium dioxide, pinene isomerization produces camphene. Camphor react with formic acid or glacial acetic acid to produce ISO borneol and hydrolyze ISO borneol. It is dehydrogenate to synthesize camphor.
(3) linalool: alpha pinene was hydrogenated into pinane, pinane was oxidized by air to peroxide, pinane was reduced to pinane alcohol, and then aryl linalool was obtained by thermal cracking. It was a large variety of spices, also an intermediate of synthetic vitamin E, and esterification of camphor ester and other esters.
(4) the pyrolysis of beta pinene into laurene is the largest flavor intermediate. Laurene can be used to make fragrant leaf alcohol, orangeol, new lolanic aldehyde, citrus green aldehyde, as well as ambersalone with ambersalis and wood aroma, and strong animal fragrance of bicyclic nitrile, pantalin and so on. Linalool can be obtained from the reaction of laurene with sodium acetate after chlorination of laurene.
(5) Pinus massoniana turpentine contains more sesquiterpenes, long terpene and carnation. Under the catalysis of acid, long olefin can form different length Ye Xi, which is the raw material of ISO - lane ketone, epoxy - long Ye Wan, hydroxyl methyl isoolefin acetate, all of them have wood fragrance. Long - leaf olefins are treated with formic acid to form wood - like formic acid esters. Acetyl acetonated carnation, which is epoxidation of epoxide carnation, has the fragrance of flower and its ketone has woody and amber.
Due to the diversity of monoterpene and terpene terpene compounds and their isomers in turpentine, it can synthesize many kinds of products and has a wide range of uses. There are many new products to be developed and used.
Turpentine oil Attention:
[Inhalation]
May cause respiratory tract irritation. Aspiration may cause respiratory swelling and pneumonitis.
[Skin]
Causes skin irritation. May cause skin sensitization, an allergic reaction, which becomes evident upon re-exposure to this material.
[Eyes]
Contact with eyes may cause severe irritation, and possible eye burns.
[Ingestion]
Causes gastrointestinal irritation with nausea, vomiting and diarrhea. May cause kidney damage. May cause central nervous system depression, characterized by excitement, followed by headache, dizziness, drowsiness, and nausea. Advanced stages may cause collapse, unconsciousness, coma and possible death due to respiratory failure. Aspiration of material into the lungs may cause chemical pneumonitis, which may be fatal.
[Hazards]
Vapors may form explosive mixtures with air. Vapors may travel to source of ignition and flash back. Most vapors are heavier than air. They will spread along ground and collect in low or confined areas (sewers, basements, tanks). Vapor explosion hazard indoors, outdoors or in sewers
Storage: Keep away from sources of ignition. Store in a cool place in the original container and protect from sunlight. Store in a tightly closed container.
Package: 25kg/Bag
Other related items of our company:
1. Basic Organic Chemicals
2. Inorganic Chemicals
3. Pharmaceutical Intermediates
4. Daily Chemicals
5. Active Pharmaceutical Ingredients