Product Description
Industrial Calcium Chloride with CAS No. 7774-34-7
Product Overview
Calcium chloride, a salt composed of chlorine and calcium, chemical formula CaCl2. Slightly bitter, tasteless. It is a typical ionic halide that is white, hard, brittle, or particulate at room temperature. Its common applications include brines, road melters, and desiccants used in refrigeration equipment. Because it absorbs water in the air and deliquesces, anhydrous calcium chloride must be stored in sealed containers. Calcium chloride and its hydrates and solutions have important application values in many aspects such as food manufacturing, building materials, medicine and biology. Calcium chloride has prominent adsorption capacity for ammonia and low desorption temperature, and has a great application prospect in the adsorption and separation of ammonia. However, since calcium chloride does not easily form a stable porous material, the contact area with ammonia gas is small, and it easily expands and agglomerates during adsorption and desorption, thus making it difficult to put it into practical use in this respect. When calcium chloride is supported on a high surface support, the contact area between calcium chloride and ammonia gas can be greatly increased. Related studies have shown that composite adsorbents prepared by loading calcium chloride on molecular sieves have better adsorption performance and stability than single adsorbents.
Physical Properties
CAS No. : 7774-34-7
MF: CaCl2H12O6
MW: 219.08
EINECS No. : 233-140-8
Melting Point: 30 °C
Density: 1.71 g/mL at 25 °C(lit.)
Storage: <15°C
Solubility: H2O: 1 M at 20 °C, clear, colorless
Form: Solid
Color: Colorless
PH: 5.0-7.0 (25℃, 1M in H2O)
Solubility in Water: 5360 g/L (20 ºC)
Achromatic cubic crystals, white or gray, granular, honeycomb block, spherical, irregular granular, powder. Micro-toxic, odorless, slightly bitter taste. Very hygroscopic, easily deliquescent when exposed to air. Soluble in water, while releasing a lot of heat (calcium chloride dissolved enthalpy -176.2cal / g), the aqueous solution was slightly acidic. Soluble in alcohol, acetone, acetic acid. With ammonia or ethanol, CaCl2 · 8NH3 and CaCl2 · 4C2H5OH complexes are generated. When the solution is crystallized at a low temperature, hexahydrate is precipitated. When it is gradually heated to 30°C, it dissolves in its own crystal water and gradually loses moisture when heated. When it is heated to 200°C, it becomes a dihydrate, and when it is heated to 260°C, it becomes White porous anhydrous calcium chloride.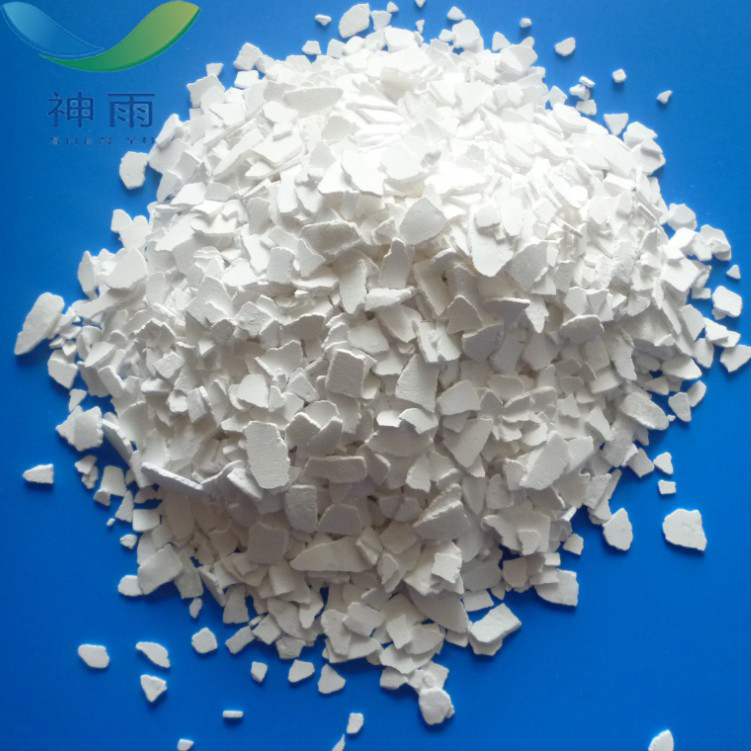 Classification
Flake Calcium Chloride
Granular Calcium Chloride
Fine powder Calcium Chloride
Faveolate Calcium Chloride

Environment friendly Snow-melting Agent.
Application
1. It is used as a multi-purpose desiccant, for drying nitrogen, oxygen, hydrogen, hydrogen chloride, sulfur dioxide and other gases. It is used as a dehydrating agent in the production of alcohols, esters, ethers and acrylics. Calcium chloride aqueous solution is an important refrigerant for refrigerators and ice making. It can accelerate the hardening of concrete and increase the cold resistance of building mortars. It is an excellent construction antifreeze agent. It is used as an anti-fog agent for port and road surface dust collectors and fabric fireproofing agents. Used as a protective agent and refining agent for aluminum-magnesium metallurgy. It is a precipitant for the production of lake pigments. For waste paper processing deinking. It is a raw material for the production of calcium salts.
2. Chelating Agents, Curing Agents, Calcium Enhancers, Freezing Refrigerants, Desiccants, Anti-caking Agents, Microbial Inhibitors, Pickling Agents, Tissue Modifiers.
3. It is used as a desiccant, road dust collection agent, anti-fogging agent, fabric fire retardant, food preservatives and for the manufacture of calcium salts.
4. It is used as a lubricant additive.
5. It is used as an analytical reagent.
6. It is mainly for the treatment of blood calcium caused by hand, foot and athlete's foot disease, urticaria, exudative edema, intestinal and ureteral colic, magnesium poisoning, etc.
7. Used as a calcium fortifier, curing agent, chelating agent, and desiccant in the food industry.
8. It can increase the bacterial cell wall permeability.
Package
25-50KGS/Bag, or according to customer's requirement
Other related items of our company:
1. Basic Organic Chemicals
2. Inorganic Chemicals
3. Pharmaceutical Intermediates
4. Daily Chemicals
5. Active Pharmaceutical Ingredients