Product Description
99% min Benzalacetone CAS 122-57-6
Benzalacetone, alias benzylidene acetone, benzylidene acetone, chemical name: 4-phenyl-3-butene-2-one. White or yellowish crystals, flammable, coumarin odor, soluble in sulfuric acid, ethanol, ether, benzene and chloroform, slightly soluble in water and petroleum ether. Used for organic synthesis intermediates, dyeing mordants, fixing agents, to prepare perfumes or fragrances, perfume anti-volatile agents and galvanizing brighteners. The production equipment should be closed, and the operator should wear protective equipment to avoid contact with skin. Keep good ventilation in workshop. Lined with plastic bags and iron drum. Flammable should be kept away from light. Store in a cool, airy place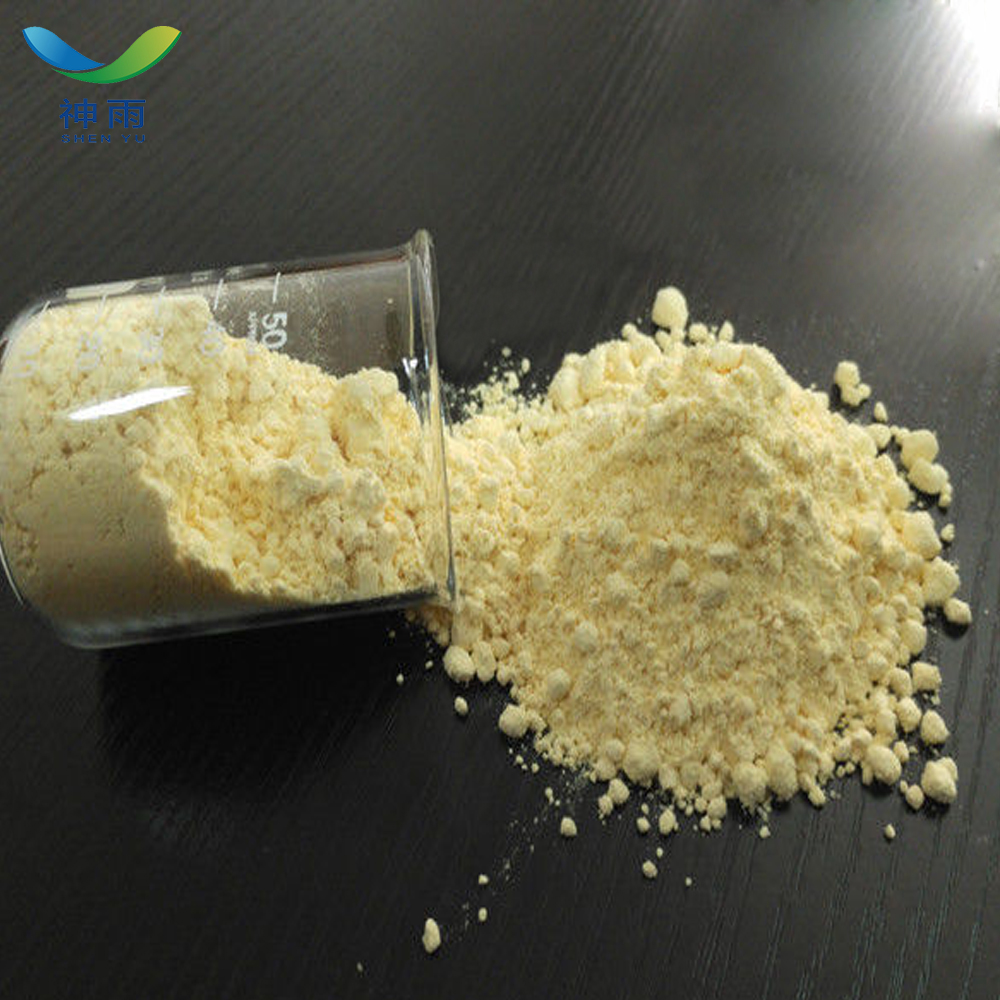 Feature:
High Purity
Low Price
Fast delivey
Good service
Benzalacetone Product details:
English Name: Benzalacetone
English synonyms: Benzalacetone, Benzylideneacetone, Benzylideneacetone, methylstyryl ketone; 4-Pheny-3-buten-2-one; 4-phenyl-3-butene-2-one; 4-phenyl-3-buten-2-one, benzalacetone; (E) -4-4-Phenylbut-3-en-en-2-one; 4-Phenyl-3-buten-3-buten-2-one, 98 +%; Benzylideneacetone, synthesis grade; trans-4-4-4-4-4-3-butene-3-butene-butene-2-one-2-one-one-2-one-one-one-2-5-one [122-57-6 n-2-o
CAS: 122-57-6
Molecular formula: C10H10O
Molecular weight: 146.19
EINECS: 204-555-1
Melting point 39-42 degree C (lit.)
Boiling point 260-262 degree C (lit.)
Density 1.038
The vapor pressure is 0.01 mm Hg (25 degree C).
Refractive index 1.5836
FEMA 2881 * 4-PHENYL-3-BUTEN-2-ONE
Flash point 150 degree F
Storage condition Store at < = 20 degree C.
Solubility Soluble in alcohol, chloroform, diethyl ether.
Form Low Melting Solid
Color Pale yellow to yellow
Sensitivity Light Sensitive
.

Benzalacetone Application:
Organic synthesis intermediates. It can be used as an anti volatile agent for spices. The dyeing industry is used as mordant and fixing agent, as perfume or aroma-increasing agent, and as zinc-plating brightening agent.

Benzalacetone Attention:
[Ingestion]
If victim is conscious and alert, give 2-4 cupfuls of milk or water. Never give anything by mouth to an unconscious person. Get medical aid immediately.
[Inhalation]
Get medical aid immediately. Remove from exposure to fresh air immediately. If not breathing, give artificial respiration. If breathing is difficult, give oxygen.
[Skin]
Get medical aid immediately. Flush skin with plenty of soap and water for at least 15 minutes while removing contaminated clothing and shoes. Wash clothing before reuse.
[Eyes]
Flush eyes with plenty of water for at least 15 minutes, occasionally lifting the upper and lower eyelids. Get medical aid immediately.

Storage: Store in a tightly closed container. Do not store in glass. Store in a cool, dry area away from incompatible substances.
Package: 25kg/Bag
Other related items of our company:
1. Basic Organic Chemicals
2. Inorganic Chemicals
3. Pharmaceutical Intermediates
4. Daily Chemicals
5. Active Pharmaceutical Ingredients