Product Description
CAS No. 7758-98-7 Copper Sulfate Pentahydrate Powder
Product Overview
Copper sulfate is an inorganic compound and the inorganic industry is used to make other copper salts such as cuprous chloride, cupric chloride, copper pyrophosphate, cuprous oxide, copper acetate, copper carbonate, and the like.
The common form of copper sulfate is a crystal body. Anhydrous copper sulfate is a white crystal powder, and may be pale grayish green due to impurities. It is a soluble copper salt. The relative density is 3.603. The solubility in water at 25°C is 23.05g. It is insoluble in alcohol and ether. It is easily soluble in water. Its aqueous solution is blue. It is a strong acid and weak base salt. The hydrolysis solution is weakly acidic and has strong ability to kill pathogens. Widely used in the prevention and treatment of fish diseases in aquaculture. By concentrating and crystallizing the solution, blue crystals of copper sulfate pentahydrate can be obtained, commonly known as cholesterin, stone gall, copper osmium or blue peony, toxic, odorless, with metallic astringency, stable under normal temperature and pressure, not deliquescence, In the dry air will gradually weathering, heating to 45 °C loses the two crystal water, loses four molecules of crystal water at 110 °C, 150 °C lost all the crystal water anhydrate (absorbent can be converted to a cockroach), 650 °C decomposes into copper oxide and sulfur trioxide.
Copper sulfate aqueous solutions appear blue due to hydrated copper ions, which is commonly used in the laboratory to test the presence of water. In the actual production and life, it is often used to refine fine copper, and it can be mixed with hydrated lime to make pesticide Bordeaux mixture. Copper ions in copper sulfate can destroy the three-dimensional structure of proteins and denature them. When determining the protein concentration, alkali is often added to the protein, and copper sulfate solution is added. At this point, the solution turns purple, and this reaction is called biuret reaction.
Copper sulfate is a heavy metal salt that is toxic and has an adult lethal dose of 0.9 g/kg. If you eat it, you should immediately consume large amounts of protein, such as milk and egg whites, or detoxify with sodium EDTA.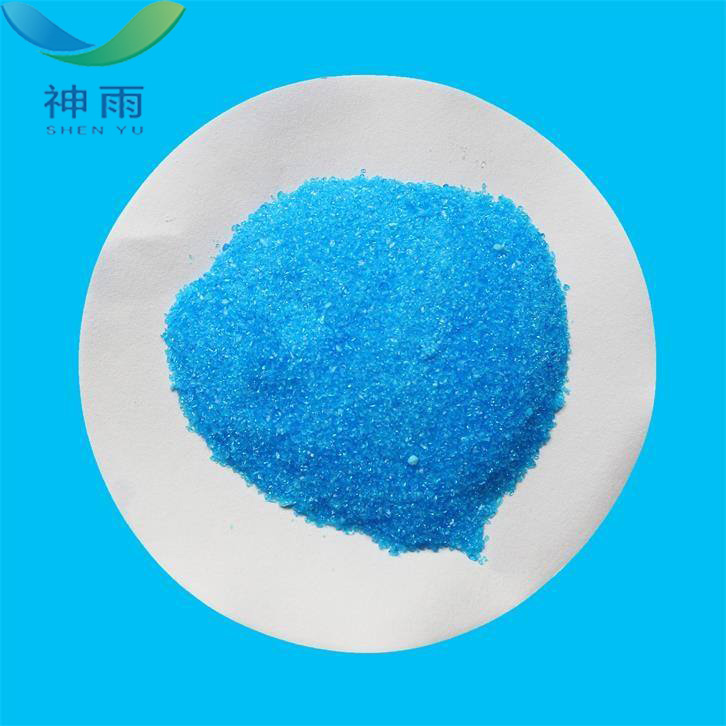 Physical Properties
CAS No. : 7758-98-7
MF: CuO4S
MW: 159.61
EINECS: 231-847-6
Melting: 200 °C (dec.)(lit.)
Density: 3.603 g/mL at 25 °C(lit.)
Vapor pressure: 7.3 mm Hg ( 25 °C)
Storage: Store at +5°C to +30°C.
Solubility: H2O: soluble
Form: powder
Color: Slightly greenish to gray
PH: 3.5-4.5 (50g/l, H2O, 20℃)
Solubility in water: 203 g/L (20 ºC)
Sensitivity: Hygroscopic

Application
As an analytical reagent, for example, it can be used in biology to configure the Filin reagent for the identification of reducing sugars and the B solution for the biuret reagent for the identification of proteins, but it is usually used as is.
Used as a food-grade chelating agent and clarifying agent in preserved egg and wine production processes.
Industrial area. Used in the manufacture of other copper salts such as cuprous chloride, cupric chloride, copper pyrophosphate, cuprous oxide, copper acetate, copper carbonate, copper monoazo dyes such as reactive brilliant blue, reactive violet, etc.; coating industry for the production of ship bottoms Anti-fouling paints; electroplating industry used as full bright acid copper plating main salt and copper ion additive; printing and dyeing industry as mordant and dyeing cloth oxygen promoter; organic industry as synthetic perfume and dye intermediate catalyst, methyl Methyl acrylate inhibitors. Anhydrous salts are used to catalyze the transamination reaction. The anhydrous salt reacts with potassium permanganate to form an oxidant for the conversion of primary alcohols.
In the agricultural field, Bordeaux mixture is produced after being mixed with lime water, used as a fungicide, to control fungi on crops, prevent fruit and other rots, and because copper ions are toxic to fish, the amount must be strictly controlled. The aquaculture industry is also used as the main raw material for trace element copper as a feed additive.
Dehydrating agent for alcohols and organic compounds. Gas desiccant.
In chemical education, copper sulphate is commonly included in children's chemical test reagents for crystal production experiments and copper electroplating experiments. Because of its toxicity, it is not recommended for young children. Copper sulfate can also be used to demonstrate the dehydration weathering of crystals and the process of obtaining crystal water. In the junior high school experiment test, the law of conservation of mass was verified using the displacement reaction between copper sulfate and iron. Sulfuric acid can also be produced.
Used as an emetic in the medical field.
Package
25KGS/Bag, or according to your requirement.
Other related items of our company:
1. Basic Organic Chemicals
2. Inorganic Chemicals
3. Pharmaceutical Intermediates
4. Daily Chemicals
5. Active Pharmaceutical Ingredients