Product Description
Food Grade L-(+)Sodium glutamate with CAS No. 142-47-2
Product Overview
Sodium glutamate (C5H8NNaO4, NaOOC-CHNH2-CH2-CH2-COOH), chemical name monosodium a-aminoglutarate. The substance has a molar mass of 169.111 g.mol-1 and IUPAC is named sodium 2-aminopentanedioate. The substance is a salt formed by sodium ions and glutamate ions.
In 1866, the German chemist Carl Heinrich Leopold Riethausen oxidized wheat bran with acidic sulfuric acid. In 1908, Japanese scientist Dr. Ikeda Ikeda used kelp alone to separate delicious ingredients, and proved that this delicious ingredient is glutamic acid sodium salt, thus producing chemical seasonings to market. The main ingredient of MSG used in life is sodium glutamate. Part of the seasoning effect of tomatoes, fermented soy products, yeast extracts, certain sharp cheeses, and fermented or hydrolyzed protein products (such as soy sauce or bean paste) can be attributed in part to the presence of glutamic acid.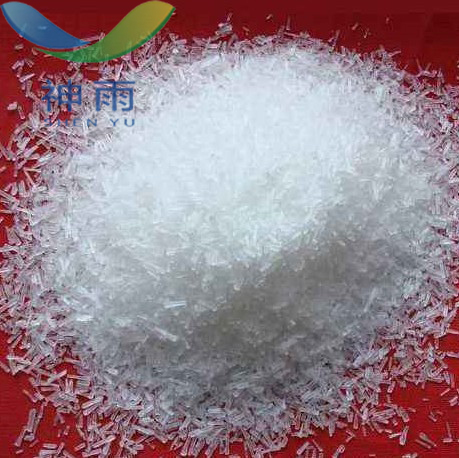 Physical Properties
CAS Number: 142-47-2
Molecular Formula: C5H8NO4.Na
Molecular Weight: 169.11
EINECS number: 205-538-1
Melting point 232°C
Specific optical rotation 20 -3.5° (10% soln in 5° Bé HCl); D20 +25.16° (10g MSG/100ml 2N HCl)
Density d20 (saturated water soln): 1.620
FEMA 2756 | MONOSODIUM GLUTAMATE
Refractive index 25 ° (C=10, 2mol/L HCl)
Morphology
Color white to off-white
Water Solubility >=10 g/100 mL at 20°C
Application
Flavoring agent. The general amount is 0.2% to 0.5%. In addition to being used alone, it is advisable to formulate complex seasonings with nucleic acid flavorings such as ribonucleotide and sodium inosinate in order to improve the effect.
Sodium glutamate is the most widely used fresh tincture at home and abroad. It can enhance the taste and taste when it coexists with salt. It is used together with 5'-inosinic acid sodium or 5'-guanosine sodium. effect. China's regulations can be used in a modest amount of food according to production needs.
Glutamate is widely found in the body of plants and animals and is a naturally occurring nutrient component in foods. After glutamate is eaten, 96% is absorbed in the body and the rest is oxidized and excreted in the urine. Although glutamic acid is not an essential human amino acid, it undergoes transamination with keto acid in nitrogen metabolism and can synthesize other amino acids. Glutamate reduces the toxins in the blood. When the liver function is impaired, the amount of ammonia in the blood increases, causing severe nitrogen metabolism disorders, leading to hepatic coma, and glutamate can work with ammonia to reduce the level of ammonia in the blood. In addition, brain tissue can only oxidize glutamate, but not other amino acids. When glucose supply is insufficient, glutamine can act as an energy source for brain tissue, so glutamate is necessary to improve and maintain brain function. Sodium glutamate has a strong flavour of meat. Monosodium glutamate can still feel umami when it is diluted to 3,000 times with water. It is widely used in households, restaurants, and food processing industries (soups, sausages, fish cakes, chili sauces, canned foods, etc.). In addition to monosodium glutamate, sodium glutamate, inosine sodium, and sodium guanosine are commonly used as food flavoring agents. The umami taste of sodium glutamate is 100, and the relative umami taste of the other three flavors are: sodium aspartate 30 sodium inosinate 4000 sodium guanylate 16,000 sodium inosinate, sodium guanylate and gluten Simultaneous use of sodium nitrite, synergistic effect, can improve the flavor, also known as refresher or strong monosodium glutamate. The long-term heating of the aqueous solution of sodium glutamate causes loss of water and conversion to sodium pyroglutamate. For example, pH 6.9, a 10% aqueous solution, heated at 100° C. for 4 h, the pyroglutamic acid sodium content was 2.1%, and heated at 115° C. for 4 h, the content was 5.7%. Although sodium pyroglutamate is harmless to the body, it does not have a umami taste. Therefore, it is generally reasonable to add it after cooking or cooking. The use concentration of general MSG is about 0.2-0.5%. China is currently one of the largest producers and consumers of MSG in the world, and Japan is the world`s largest consumer of MSG. After decades of research and experiments, MSG is one of the important nutrients that the human body needs. It is a natural substance that exists in human food and the human body itself. The human body's intake of MSG is completely digestible and absorbed, and then undergo normal metabolism. Therefore, the 19th Session of the UN Food and Agriculture Organization and WHO Food Additives Regulatory Committee Meeting held in the Netherlands in 1987 decided to remove the restriction on monosodium glutamate for food use. Sodium glutamate can be used as an intermediate for organic synthesis in industries other than the above-mentioned pharmaceutical and flavoring applications. However, among the world's annual production of more than 200,000 tons, other uses account for a very small proportion.
Used as a biochemical reagent
Kainate, NMDA, and an agonistic agonist; an excited amino acid neurotransmitter.


Package
25-50KGS/Bag, or according to your requirement.

Other related items of our company:
1. Basic Organic Chemicals
2. Inorganic Chemicals
3. Pharmaceutical Intermediates
4. Daily Chemicals
5. Active Pharmaceutical Ingredients