Product Description
High quality Sodium fluorosilicate cas 16893-85-9
Product Description:
Sodium fluorosilicate is white crystal, crystalline powder or colorless hexagonal crystal.
Odorless and tasteless.
Relative density 2.68;
It's hygroscopic.
Soluble in ether and other solvents, insoluble in alcohol.
It's more soluble in acid than in water.
It is decomposed in lye to form sodium fluoride and silicon dioxide.
After heat (300 ℃), breaks down into four fluoride sodium fluoride and silica.
Poisonous!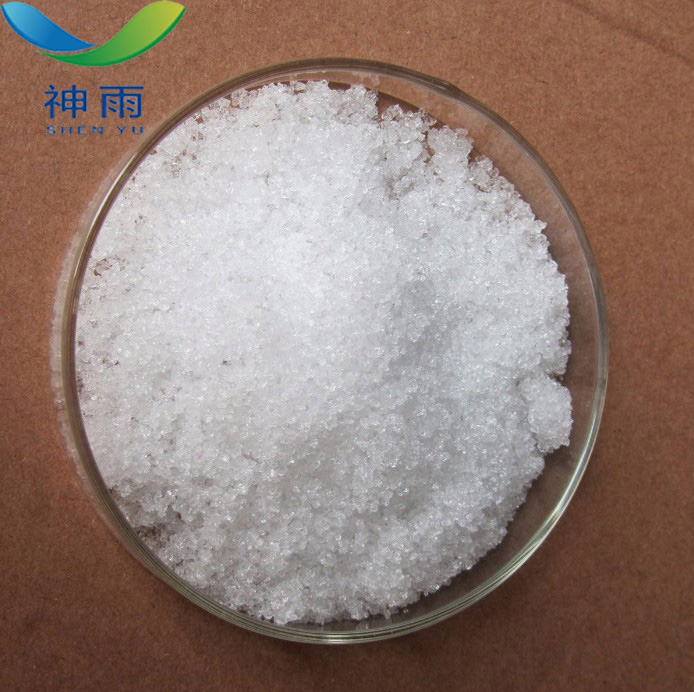 Sodium fluorosilicate Details:
English name: Sodium fluorosilicate
English synonyms: ens-zemweevilbait;Ent1, 501;Fluosilicatedesodium;Natriumhexafluorsilikat;
Sodium fluorosilicat;SodiuM fluosilicide;Hexafluoro - silicate (2 - disodium;natriumsilicofluorid
CAS no. : 16893-85-9
Molecular formula: F6Na2Si
Molecular weight: 188.06
EINECS no. : 240-934-8
Melting point: melts at red heat, decomposing [MER06]
Density: 2.68 g/mL at 25 ° C (lit.)
Index of refraction: 1.310
Characteristics: Crystals
Color: White,
Water Solubility: Slightly soluble in water. The Solubility - with temperature.
The Insoluble in alcoholSlightly soluble in water, Insoluble in alcohol.

Sodium fluorosilicate Application:
1. Used as glass, enamel emulsion agent, aluminum alloy welding flux, wood anticorrosion,
insecticide, acid resistant cement moisture absorbent, drinking water fluoride agent, etc.
2. Used as opalescent agent and flux for glass and enamel, wood preservative,
agricultural insecticide and moisture absorbent for acid-resistant cement.
Also used in pharmaceutical and drinking water fluoride treatment,
and the manufacture of artificial crystal and sodium fluoride.
3. Used as insecticide, adhesive, also used in ceramics, glass, enamel,
wood anticorrosion, medicine, water treatment, leather, rubber and sodium fluoride.
4. Used as analytical reagents, preservatives, fungicides, and also used in the enamel industry
5. Molten decomposition of silicates.
Beryllium and aluminum alloy, ceramic enamel, manufacturing milky glass, with sodium fluosilicate,
plant ash and water (1:2:30) treatment of wheat winter rust, can reduce the disease rate.
Wool is mothproof and wood is anticorrosive.
Our
Company Information:
Sodium fluorosilicate
Shenyu energy (Shandong) development Co. LTD belongs to Shenyu Group Company.
We mainly engaged in chemical raw materials import and export,
and have our own factory production of Butyldiglycol.
We have more than twenty years experience in chemical exports.
Stable prices, 95% of our company's products are for export.
Our company is mainly through research and development, production,
sales and service as one of the trade and industry, to provide customers with the best service.
We has been through the ISO9001:2015 quality certification,
and has a strict quality control system. We have stood in the field of chemistry to the front of the world,
with high-quality personnel, advanced equipment
and perfect management mode.
We insist on the goal of "reliable quality, good service and high reputation of enterprise".
Before ordering, we can provide test samples to ensure the quality of our products.
Why choose us
Sodium fluorosilicate
1. Supply sample.
2. Wholesale price.
3. Any question will be replied within 24 hours.
4. The packing can also be made according to the customers' requirement.
5. We can provide Commercial Invoice, Packing List, Bill of loading, COA,
Health certificate and Origin certificate.
If your markets have any special requirements, just let us know.
6. Prompt delivery. We have good cooperation with many professional forwarders.
We can send the products to you once you confirm the order.
7. We can accept various payment methods, L/C, T/T, D/A, D/P, O/A, Paypal, Western Union etc.,
and we have cooperate with Sinosure so many years.
Other related items of our company:
1. Basic Organic Chemicals
2. Inorganic Chemicals
3. Pharmaceutical Intermediates
4. Daily Chemicals
5. Active Pharmaceutical Ingredients