Product Description
High Standard 99.5% Min Propylene Glycol
Propylene Glycol Detail Description:
Propylene Glycol is a viscous colourless liquid which is nearly odourless but possesses a faintly sweet taste.
Forty-five percent of propylene glycol produced is used as chemical feedstock for the production of unsaturated polyester resins.
Propylene glycol is used as a humectant, solvent, and preserva-tive in food and for tobacoo products.
Propylene glycol is used as a solvent in many pharmaceu-ticals, including oral, injectable and topical formulations.
Propylene Glycol Production Property:
China best USP propylene glycol (PG) price
Physical state and appearance: Colorless clear Liquid. (Oily liquid.) Practically Odorless.
Taste: Practically Tasteless.
Molecular Weight: 76.1g/mole
Boiling Point: 188°C (370.4°F)
Melting Point: -59°C (-74.2°F)
Specific Gravity: 1.036 (Water = 1)
Vapor Pressure:0 kPa (@ 20°C) 0.08 mmHg at 20 C 0.129 mmHg at 25 C
Vapor Density: 2.62 (Air = 1)
Water/Oil Dist. Coeff.: The product is more soluble in water; log(oil/water) = -0.9
Dispersion Properties: See solubility in water, acetone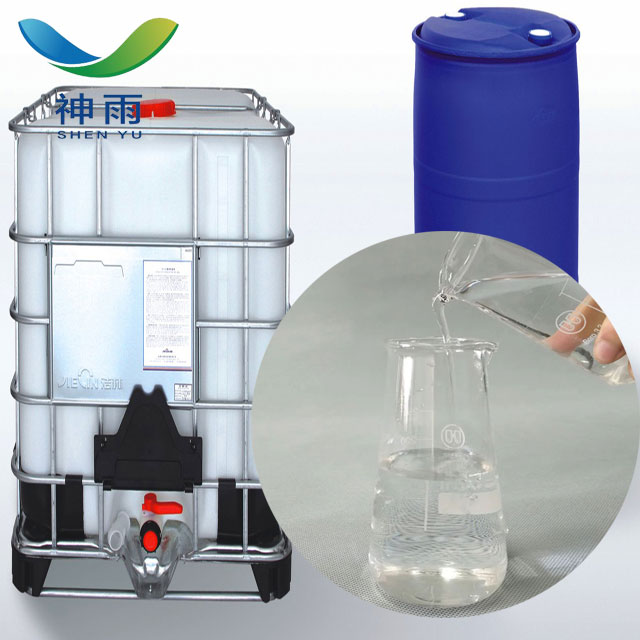 Propylene Glycol application:
Propylene Glycol is the most important end use is in the production of unsaturated polyester resins.
Then Propylene Glycol that, in turn, go into items that effect our daily lives, like water tanks, or our leisure time, like sailing boats.
Propylene Glycol can also be used as plasticizer, surface active agent, emulsifying agent and demulsifying agent, mould inhibitor, antiseptic for fruit, ice inhibitor and moisture preserving agent for tobacco.

Propylene Glycol Precautions:
Keep away from heat. Keep away from sources of ignition. Empty containers pose a fire risk, evaporate the residue under a fume hood.
Ground all equipment containing material. Do not ingest. Do not breathe gas/fumes/ vapor/spray. Wear suitable protective clothing.
In case of insufficient ventilation, wear suitable respiratory equipment. If ingested, seek medical advice immediately and show the container or the label.
Avoid contact with skin and eyes. Keep away from incompatibles such as oxidizing agents, reducing agents, acids, alkalis, moisture.

Propylene Glycol Storage:
Hygroscopic. Keep container tightly closed. Keep container in a cool, well-ventilated area. Do not store above 23°C (73.4°F).

Our Company Information:
Propylene Glycol
Shenyu energy (Shandong) development Co. LTD belongs to Shenyu Group Company.
We mainly engaged in chemical raw materials import and export, and have our own factory production of Butyldiglycol.
We have more than twenty years experience in chemical exports.
Stable prices, 95% of our company's products are for export. Our company is mainly through research and development, production,
sales and service as one of the trade and industry, to provide customers with the best service. We has been through the ISO9001:2015 quality certification,
and has a strict quality control system. We have stood in the field of chemistry to the front of the world, with high-quality personnel, advanced equipment
and perfect management mode.
We insist on the goal of "reliable quality, good service and high reputation of enterprise". Before ordering, we can provide test samples to ensure the quality of our products.
Why choose us
Propylene Glycol
1. Supply sample.
2. Wholesale price.
3. Any question will be replied within 24 hours.
4. The packing can also be made according to the customers' requirement.
5. We can provide Commercial Invoice, Packing List, Bill of loading, COA, Health certificate and Origin certificate.
If your markets have any special requirements, just let us know.
6. Prompt delivery. We have good cooperation with many professional forwarders. We can send the products to you once you confirm the order.
7. We can accept various payment methods, L/C, T/T, D/A, D/P, O/A, Paypal, Western Union etc., and we have cooperate with Sinosure so many years.
Other related items of our company:
1. Basic Organic Chemicals
2. Inorganic Chemicals
3. Pharmaceutical Intermediates
4. Daily Chemicals
5. Active Pharmaceutical Ingredients