Product Description
Hot Sale Metel Germanium Price CAS 7440-56-4
Germanium is a chemical element, chemical symbol Ge, atomic number 32, atomic weight 72.64, belong to IVA family elements. The melting point is 937.4 degrees, the boiling point is 2830 degrees, the density is 5.35g/cm, the hardness is 6 ~ 6.5. Germanium is a greyish white metal with luster and hard quality. It belongs to the carbon family and has obvious non-metallic properties. Germanium is chemically stable and does not react with air or water vapor at room temperature. However, germanium dioxide can be rapidly formed at 600-700 C. Germanium content in the earth's crust is about 0.0007%. It is one of the most dispersed elements in the earth's crust. A large amount of germanium is distributed in a dispersed state in all kinds of metal silicate, sulfide ore and various types of coal; some copper ore, iron ore, sulfide ore and silver ore also have germanium; rocks, soil, and springs contain trace germanium; many plants contain limited germanium, such as three, three party, dahurian dahuri, Wolfman. Qi, aloe, ganoderma and tea and so on. Germanium is widely used in electronics, optics, chemical industry, biomedicine, energy and other high and new technology fields.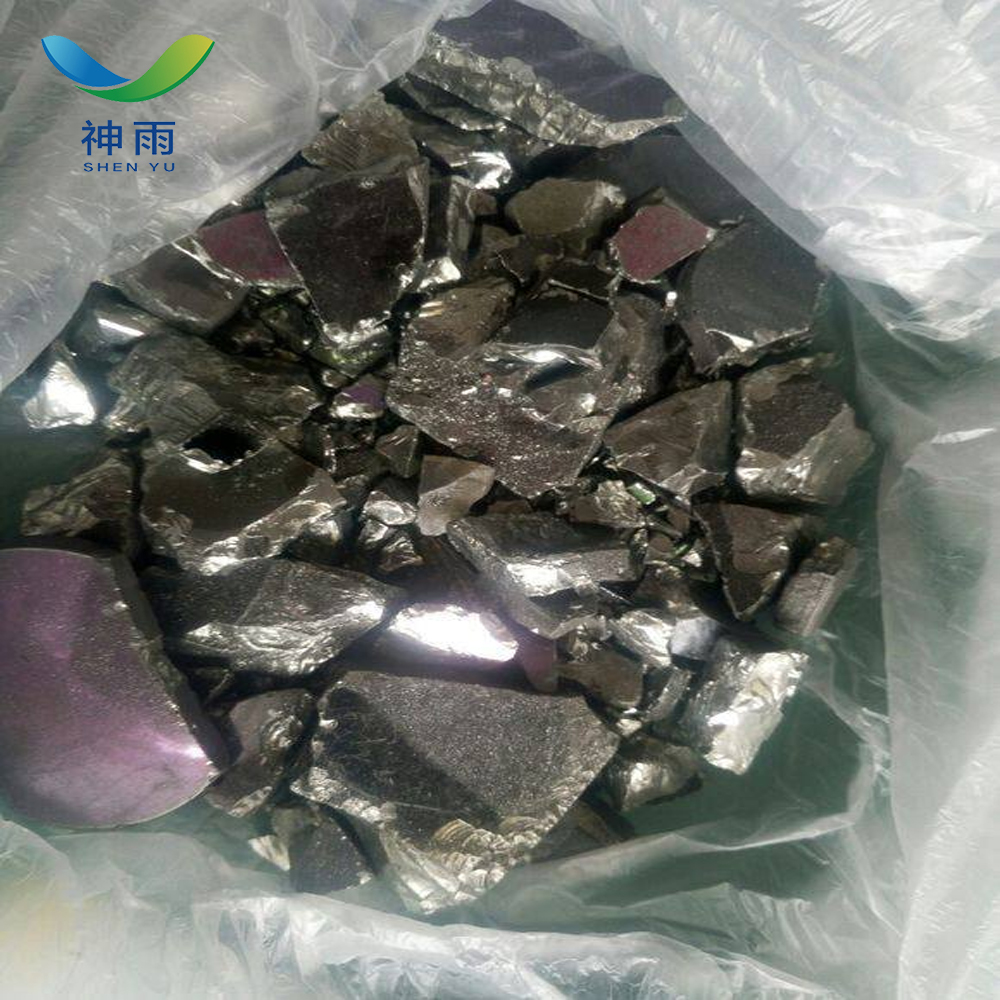 Feature:
High Purity
Low Price
Fast delivey
Good service
Germanium Product details:
English Name: Germanium
English synonyms: GERMANIUM, 99.9999%; Germanium, Pieces 3-9mm; Germanium, Powder 10 Mesh; Germanium pieces, 2cm (0.8in) & down, 1000, 1000 mu; 0. 8in) & down, Puratronic (R), 99.9999+% (metals basis); Germanium, plasma standard solution, standard (10000),
CAS: 7440-56-4
Molecular formula: Ge
Molecular weight: 72.64
EINECS: 231-164-3
Melting point 937 degree C (lit.)
Boiling point 2830 C (lit.)
Density 5.35 g/mL at 25 degree C (lit.)
Storage condition Flammables area
Form powder
Color Silver

Germanium Application
1. manufacture of semiconductor devices.
2. for purification of germanium and semiconductor industry
Germanium Attention:
[Ingestion]
If victim is conscious and alert, give 2-4 cupfuls of milk or water. Never give anything by mouth to an unconscious person. Get medical aid immediately.
[Inhalation]
Get medical aid immediately. Remove from exposure to fresh air immediately. If not breathing, give artificial respiration. If breathing is difficult, give oxygen.
[Skin]
Get medical aid immediately. Flush skin with plenty of soap and water for at least 15 minutes while removing contaminated clothing and shoes. Wash clothing before reuse.
[Eyes]
Flush eyes with plenty of water for at least 15 minutes, occasionally lifting the upper and lower eyelids. Get medical aid immediately.

Storage: Store in a tightly closed container. Do not store in glass. Store in a cool, dry area away from incompatible substances.
Package: 25kg/Bag
Other related items of our company:
1. Basic Organic Chemicals
2. Inorganic Chemicals
3. Pharmaceutical Intermediates
4. Daily Chemicals
5. Active Pharmaceutical Ingredients