Product Description
Inorganic Chemistry Lithium Fluoride

Description:
Lithium Fluoride Molecular formula: LiF
Lithium Fluoride C A S: 7789-24-4
Lithium Fluoride Physical properties: white cubic crystal or powder.
Lithium Fluride was heated to volatilization 1100 ~ 1200 ℃.
Its melting point 462 ℃.
Dissolved in acid, slightly soluble in water (water solubility of 25 0.13G / 100ml),
not soluble in ethanol and acetone. Relative density (d20) 2.640.
A melting point of 848 ℃. Boiling point 1681 ℃.
Chemical properties: generating hydrogen fluoride and hydrofluoric acid lithium (LiHF2)
lithium hydroxide and lithium fluoride generated, lithium hydroxide complex salt (LiF • LiOH)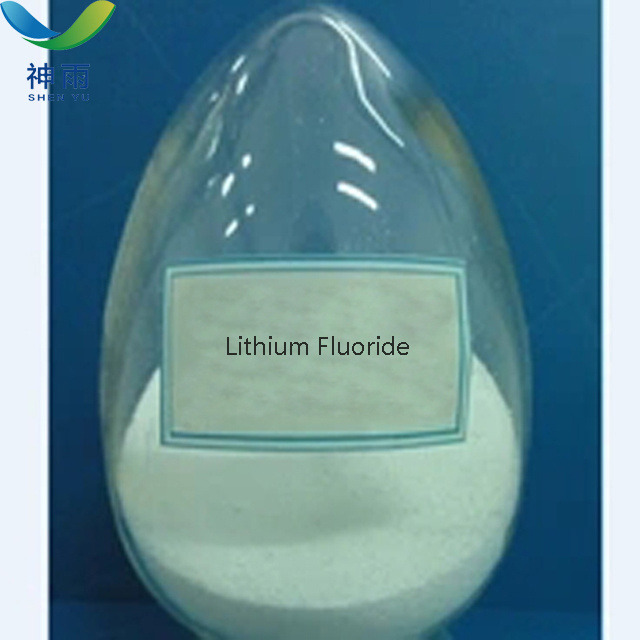 Lithium Fluoride application:
Lithium Fluoride is used as a desiccant. Flux. Aluminum welding flux. For infrared spectrophotometer prism production, electronic components, enamels and glazes manufacturing.
In the ceramic industry, for reducing kiln mild improvement in thermal shock resistance, abrasion resistance and acid resistance.
And other fluoride, chloride and borate together for metal welding flux.
Lithium Fluoride is an essential component of fluorine electrolyte cell. In the high-temperature molten state batteries as an electrolyte component.
As a carrier in the breeder reactor.
Lithium Fluoride is used extensively for aluminum, magnesium alloy and solder flux is also used as the aluminum industry to improve the electrical efficiency of the additive;
neutron shielding material used in atomic energy industry, molten salt reactors used as a solvent;
optical glass material used Lithium Fluoride as an ultraviolet transparent window (transmittance 77-88%), and the lithium battery industry.

Our Company Information:
Lithium Fluoride
Shenyu energy (Shandong) development Co. LTD belongs to Shenyu Group Company.
We mainly engaged in chemical raw materials import and export, and have our own factory production of Butyldiglycol.
We have more than twenty years experience in chemical exports.
Stable prices, 95% of our company's products are for export. Our company is mainly through research and development, production,
sales and service as one of the trade and industry, to provide customers with the best service. We has been through the ISO9001:2015 quality certification,
and has a strict quality control system. We have stood in the field of chemistry to the front of the world, with high-quality personnel, advanced equipment
and perfect management mode.
We insist on the goal of "reliable quality, good service and high reputation of enterprise". Before ordering, we can provide test samples to ensure the quality of our products.
Why choose us
Lithium Fluoride
1. Supply sample.
2. Wholesale price.
3. Any question will be replied within 24 hours.
4. The packing can also be made according to the customers' requirement.
5. We can provide Commercial Invoice, Packing List, Bill of loading, COA, Health certificate and Origin certificate.
If your markets have any special requirements, just let us know.
6. Prompt delivery. We have good cooperation with many professional forwarders. We can send the products to you once you confirm the order.
7. We can accept various payment methods, L/C, T/T, D/A, D/P, O/A, Paypal, Western Union etc., and we have cooperate with Sinosure so many years.
Other related items of our company:
1. Basic Organic Chemicals
2. Inorganic Chemicals
3. Pharmaceutical Intermediates
4. Daily Chemicals
5. Active Pharmaceutical Ingredients