Product Description
Inorganic Salt Ammonium Chloroosmate CAS 12125-08-5
Ammonium Chloroosmate, red powder or deep red eight - face crystal at room temperature, molecular formula (NH4) 2OsCl6. Hazard characteristics: strong oxidizing agent. The exposure of steam to hydrogen during burning will cause an explosion. React violently to organic matter. Harmful combustion products: nitrogen oxides and chlorides. Fire extinguishing method: Firefighters must wear a full body fire protection and anti virus clothing and fire in the upper wind. When possible, remove the container from the fire to the open.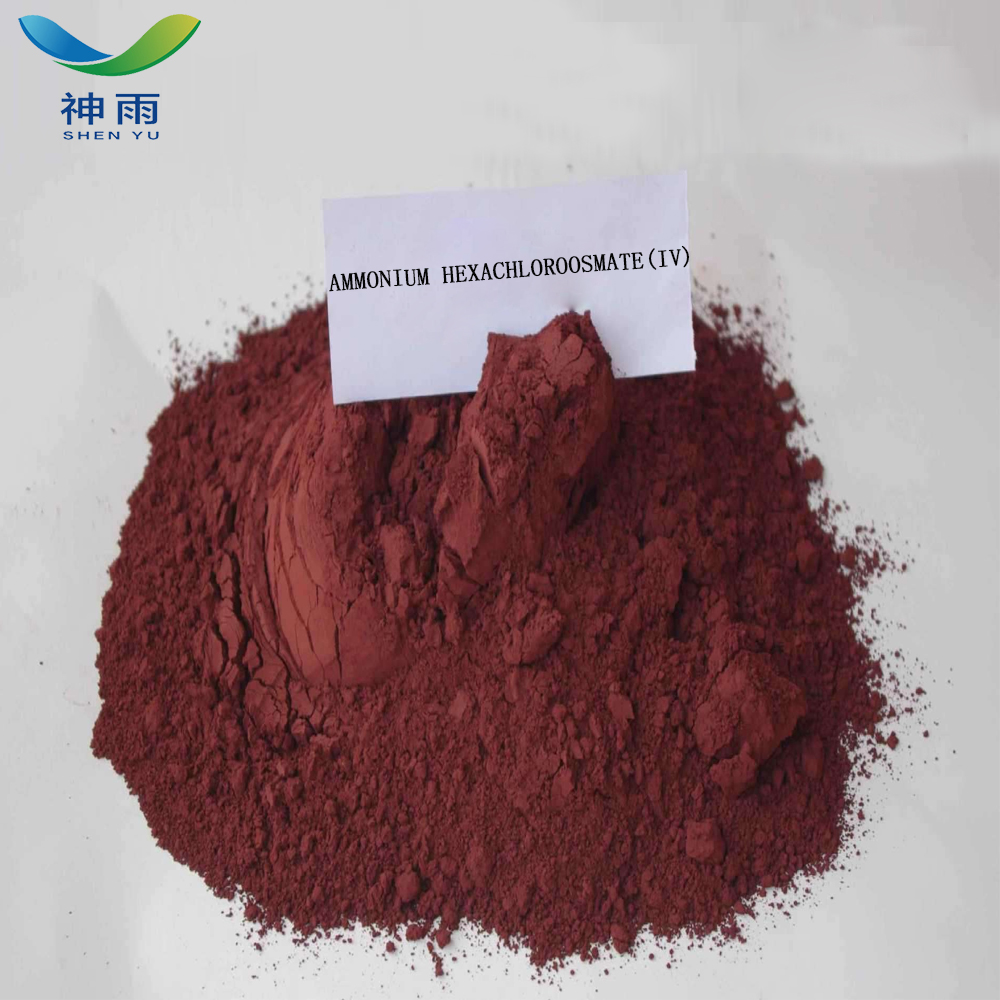 Feature:
High Purity
Low Price
Fast delivey
Good service
Ammonium Chloroosmate Product details:
English Name: Ammonium Chloroosmate
English synonyms: OSMIUM AMMONIUM CHLORIDE; OSMIUM (IV) -AMMONIUM CHLORIDE; diammonium, (oc-6-11) -osmate.
CAS: 12125-08-5
Molecular formula: Cl6H8N2Os
Molecular weight: 439.02
EINECS: 235-188-5
Melting point: 170 degree C (subl.) (lit.)
Density: 2.93 g/mL at 25 degree C (lit.)
Form: Powder
Color: Dark red to almost black
Water: solubility Soluble in water.
Sensitive: Hygroscopic
Ammonium Chloroosmate Application:
It is can be used as a other inorganic salts
Ammonium Chloroosmate Attention:
[skin contact]
Remove contaminated clothing and rinse with plenty of fresh water.
[eye contact]
Lift eyelids and rinse with flowing or normal saline. Go to a doctor.
[inhalation]
Quickly out of the scene to the fresh air. Keep the respiratory tract unobstructed. If breathing is difficult, oxygen is given. If breathing is stopped, artificial respiration is carried out immediately. Go to a doctor.
[feed]
Drink plenty of warm water and urge vomiting. Go to a doctor.
Storage: Store in a cool, ventilated storeroom. Stay away from fire and heat. Packing and sealing. It should be stored separately from (easy) fuel, reducing agent, acid, halogen, metal oxide and so on. The storage area should be equipped with appropriate material collection and leakage.
Package: 25kg/Bag
Other related items of our company:
1. Basic Organic Chemicals
2. Inorganic Chemicals
3. Pharmaceutical Intermediates
4. Daily Chemicals
5. Active Pharmaceutical Ingredients