Product Description
Inorganic Salt Ammonium iron sulfate With CAS 10045-89-3
Product description
Ammonium iron sulfate, commonly known as Mohr salt, Moore salt, or FAS, is a blue-green inorganic compound salt. Its common name derives from Karl Friedrich Mohr, a German chemist. Soluble in water, insoluble in ethanol, decomposed at 100 to 110 degrees, and can be used for electroplating. Light blue green crystals or powder. Sensitive to light. Gradually weathering and oxidizing in the air. It can dissolve in water and almost insoluble in ethanol. Relative density (d204) 1.86. In air, it is stable and reducible than ferrous sulfate. Low toxicity, median lethal dose (rat, oral) 3250mg/kg. It's exciting. At about 100 C, the crystalline water is lost. Stable in the air.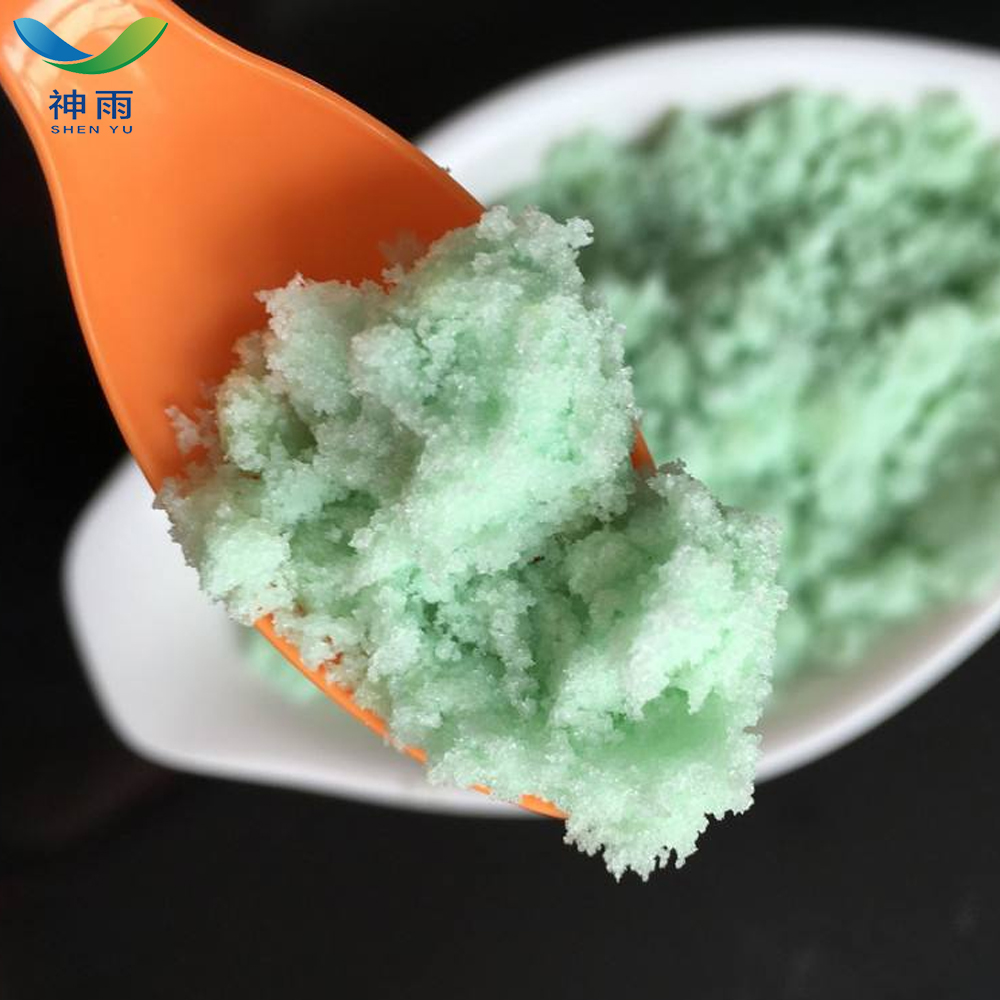 Feature:
High Purity
Low Price
Fast delivey
Good service
Ammonium iron sulfate Product details:
English Name: Ammonium iron sulfate
English synonyms: ammoniumironsulfate; ammoniumironsulfate (2:2:1); diammoniumferroussulfate; diammoniumironbis (sulphate); diammoniumironsulfate; ferrousdiammoniumdisulfate; Sulfuricacid, ammoniumiron (2+).
CAS: 10045-89-3
Molecular formula: FeH8N2O8S2
Molecular weight: 284.05
EINECS: 254-611-4
Melting point: 100 C
Form: Liquid
Color: pale green
Ammonium iron sulfate Application:
1. analytical chemistry is used to prepare ferrous ion standard solution. It is also used to print the type plate coating so as to prolong the service life of the character plate. It is also used in medicine, electroplating and so on.
2. standard solution for calibrating Potassium Permanganate and potassium dichromate
Ammonium iron sulfate Attention:
[skin contact]
Remove contaminated clothing and rinse with plenty of fresh water.
[eye contact]
Lift eyelids and rinse with flowing or normal saline. Go to a doctor.
[inhalation]
Out of the scene to the fresh air. If breathing is difficult, oxygen is given. Go to a doctor.
[feed]
Drink plenty of warm water and urge vomiting. Gastric lavage and catharsis. Go to a doctor.

Storage: Store in a cool, ventilated storeroom. Stay away from fire and heat. The packing is required to be sealed without contact with the air. It should be kept separately from oxidizing agents, acids and edible chemicals. The storage area should be equipped with appropriate material collection and leakage.
Package: 25kg/Bag
Other related items of our company:
1. Basic Organic Chemicals
2. Inorganic Chemicals
3. Pharmaceutical Intermediates
4. Daily Chemicals
5. Active Pharmaceutical Ingredients