Product Description
Low Price Ammonium thiocyanate CAS 1762-95-4
Product description
Ammonium thiocyanate, colorless crystallization. Easy tide solution. Soluble in water and ethanol, soluble in methanol and acetone, almost insoluble in chloroform and ethyl acetate. The aqueous solution is red in the presence of ferric salt solution, and no reaction occurs when ferrous salt is applied. When the dried product is heated to 159 C, it does not decompose and melted. When the temperature reaches 170 C, the molecule changes into thiourea. The relative density is 1.305. The melting point is about 149 degrees centigrade. Toxic, minimum lethal dose (mouse, oral) 330mg/kg. It's exciting. Appearance and character: colorless, lustrous monoclinic crystal or columnar crystal, at 92 C, it is rhombohedral crystal. It is soluble in water and is endothermic when dissolved in water. It dissolves in ethanol, alkali metal hydroxide, acetone, pyridine and liquid sulfur dioxide, and is difficult to dissolve in chloroform (trichloromethane). The solution is red under sunlight.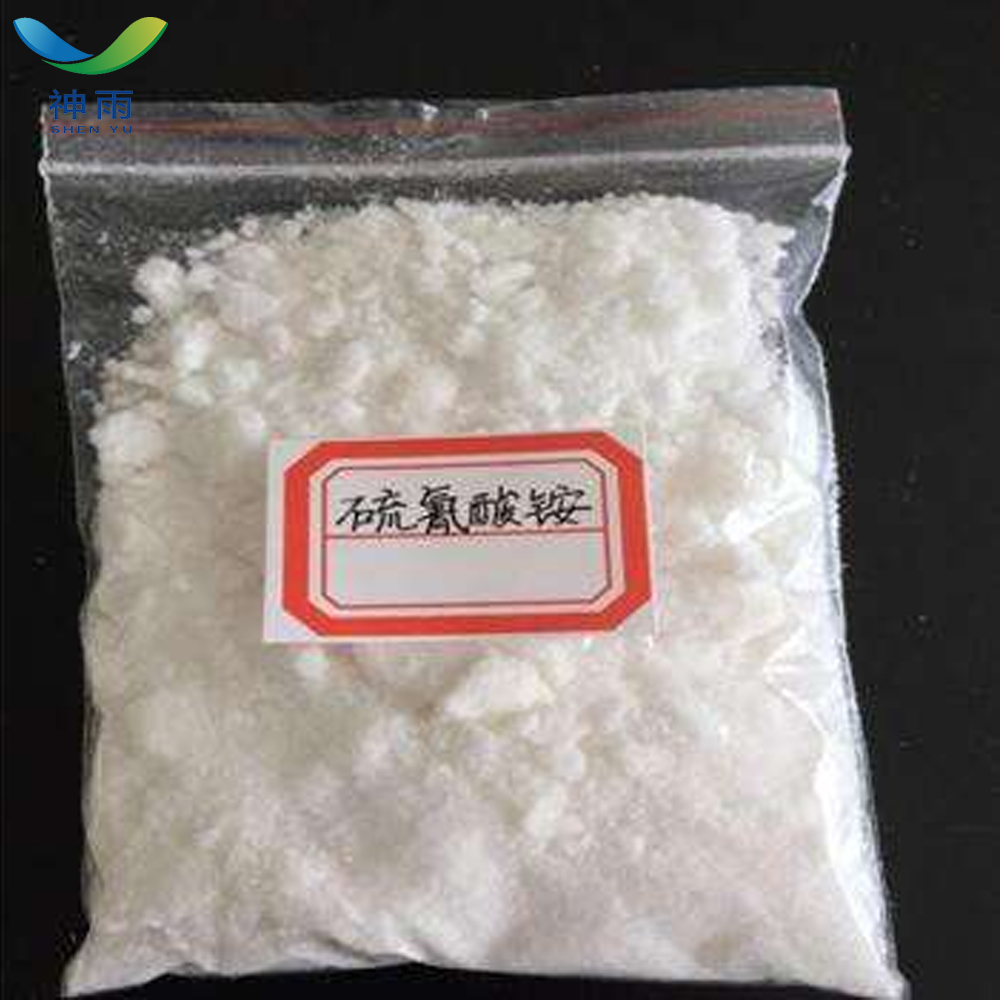 Feature:
High Purity
Low Price
Fast delivey
Good service
Ammonium thiocyanate Product details:
English Name: Ammonium thiocyanate
English synonyms: AMMoniuM thiocyanate, 98%, ACS reagent; AMMoniuM thiocyanate powder; Ammonium thiocyanate concentrate; Ammonium thiocyanate 99.99%. M thiocyanate Vetec (TM) reagent grade, 98%; AMMONIUM THIOCY
CAS: 1762-95-4
Molecular formula: CH4N2S
Molecular weight: 76.12
EINECS: 217-175-6
Melting point: 152-154 degree C (lit.)
Density: 1.3
Flash point: 190 C
Storage conditions: Store at RT.
Solubility H2O: 1 M at 20 degree C, clear, colorless
Form: Solid
Color:clear colorless or white
PH value: 4.8-5.8 (50g/l, H2O, 20 C)
Water solubility: 163 g/100 mL (20) C
Sensitivity: Light Sensitive & Hygroscopic
Ammonium thiocyanate Application:
1. used as a polymerization catalyst for dyes and organic synthesis. It is also used for the separation of pesticides, defoliant and antibiotics. It is also the raw material for manufacturing cyanide and thiourea.
2. used as auxiliary material for hydrogen peroxide production, and also for dyes, organic synthesis, pesticides, medicine and so on.
3. is the auxiliary raw material for the manufacture of hydrogen peroxide. Used as a polymerization catalyst for dyestuff and organic synthesis. It is used for separation of pesticides and antibiotics, analytical reagent and so on. It is also the raw material for manufacturing cyanide, ferrocyanide and thiourea. It is also used for zinc coating, printing and dyeing diffusers, and electroplating additives.
4. used as analytical reagent, and also for separation of antibiotics.
5. the determination and determination of trace iron, determination of silver and mercury, polymerization catalyst, isolation of antibiotics, analysis of pesticide content, analysis of water quality, and preparation of thiocyanate root and standard solution.
Ammonium thiocyanate Attention:
[skin contact]
Remove contaminated clothing and rinse with plenty of fresh water.
[eye contact]
Lift eyelids and rinse with flowing or normal saline. Go to a doctor.
[inhalation]
Out of the scene to the fresh air. If breathing is difficult, oxygen is given. Go to a doctor.
[feed]
Drink plenty of warm water and urge vomiting. Gastric lavage and catharsis. Go to a doctor.

Storage: Store in a cool, ventilated storeroom. Stay away from fire and heat. The packing is required to be sealed without contact with the air. It should be kept separately from oxidizing agents, acids and edible chemicals. The storage area should be equipped with appropriate material collection and leakage.
Package: 25kg/Bag
Other related items of our company:
1. Basic Organic Chemicals
2. Inorganic Chemicals
3. Pharmaceutical Intermediates
4. Daily Chemicals
5. Active Pharmaceutical Ingredients