Product Description
Organic Intermediate 8-Hydroxyquinoline With CAS 148-24-3
8- hydroxyquinoline is a white or yellowish crystalline or crystalline powder. It is white or yellowish crystalline or crystalline powder, insoluble in water and ether, soluble in ethanol, acetone, chloroform, benzene or dilute acid, can be sublimated. Less corrosive. As a pharmaceutical intermediate, it is the raw material for synthesizing Kexieling, chloroiodoquinoline and paracetamol, and also the intermediate of dyes and pesticides. Used as complexing agent and extractant for precipitation and separation of metal ions.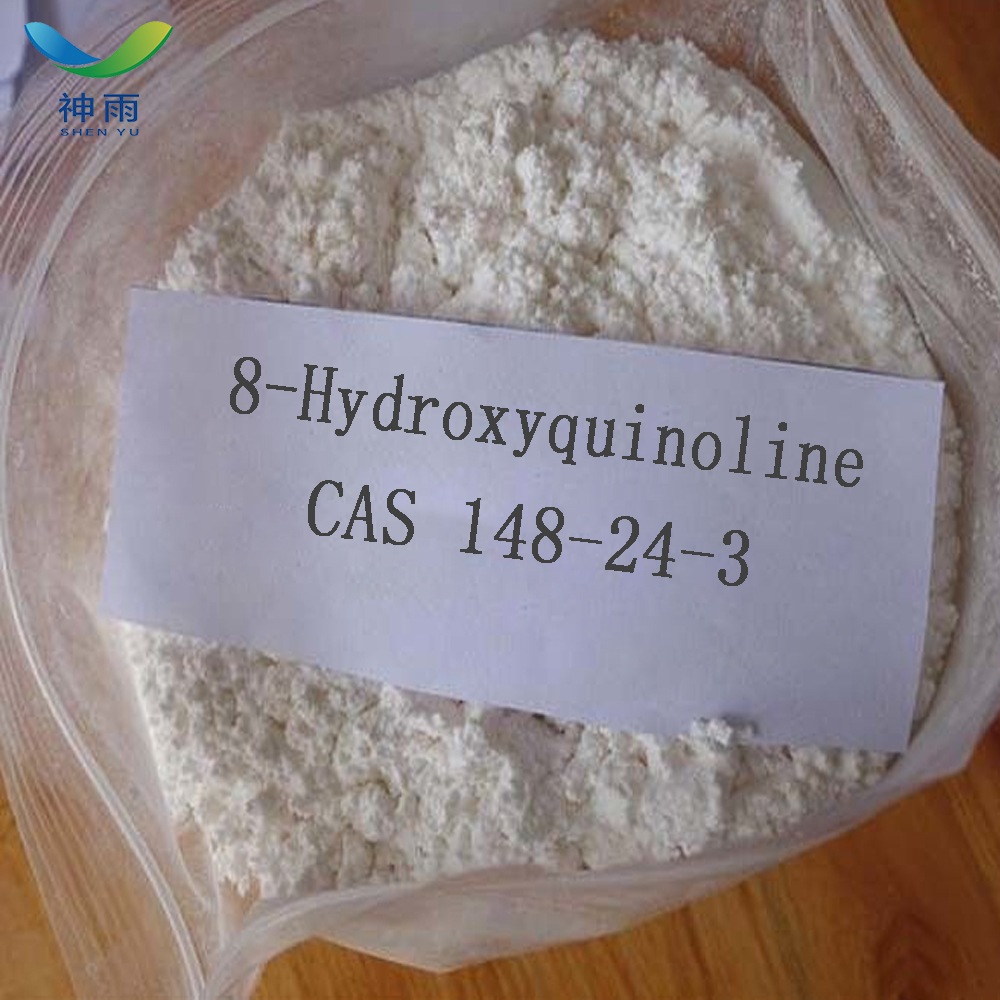 Feature:
High Purity
Low Price
Fast delivey
Good service
8-Hydroxyquinoline Product details:
English Name: 8-Hydroxyquinoline
English synonyms: 8-hydroxy-quinolin; 8-OQ; 8-Oxyquinolin; 8-Quinol; 8-Quinol; 8-Quinolol; Fennosan; Fennosan H 30; fennosanh 30;
CAS: 148-24-3
Molecular formula: C9H7NO
Molecular weight: 145.1
EINECS: 205-711-1
Melting point 70-73 degree C (lit.)
The boiling point is 267 degrees C752 mm Hg (lit.).
Density 1.0340
Refractive index 1.4500 (estimate)
Flash point 267 degree C
Storage conditions Store at RT.
Solubility 0.56g/l
Acidity factor (pKa) 5.017 (at 20 C)
Morphological Liquid
Color White to pale yellow or light beige

8-Hydroxyquinoline Application:
It is an intermediate of halogenated quinoline antiamoeba drugs, including quinolidoform, chloroiodoquinoline, bisiodoquinoline, etc. These drugs exert anti-amoeba effects by inhibiting intestinal symbiotic bacteria, are effective against amebic dysentery, and have no effect on extraintestinal amoeba. In recent years, it has been reported abroad that this drug can cause subacute myelo-optic neuropathy, so it has been banned in Japan and the United States. Diiodoquinoline causes this disease less than chloroiodoquinoline. 8- hydroxyquinoline is also an intermediate of dyes and pesticides. Its sulfate and copper salts are excellent preservatives, disinfectants and fungicides. The product is a complexometric titration indicator for chemical analysis.

8-Hydroxyquinoline Attention:
[Ingestion]
If victim is conscious and alert, give 2-4 cupfuls of milk or water. Never give anything by mouth to an unconscious person. Get medical aid immediately.
[Inhalation]
Get medical aid immediately. Remove from exposure to fresh air immediately. If not breathing, give artificial respiration. If breathing is difficult, give oxygen.
[Skin]
Get medical aid immediately. Flush skin with plenty of soap and water for at least 15 minutes while removing contaminated clothing and shoes. Wash clothing before reuse.
[Eyes]
Flush eyes with plenty of water for at least 15 minutes, occasionally lifting the upper and lower eyelids. Get medical aid immediately.

Storage: Store in a tightly closed container. Do not store in glass. Store in a cool, dry area away from incompatible substances.
Package: 25kg/Bag
Other related items of our company:
1. Basic Organic Chemicals
2. Inorganic Chemicals
3. Pharmaceutical Intermediates
4. Daily Chemicals
5. Active Pharmaceutical Ingredients