Product Description
Potassium Metabisulfite with CAS 16731-55-8
Potassium pyrosulfite is a chemical with the molecular formula K2S2O5. Potassium pyrosulfite is slowly oxidized into potassium sulfate in the air and is oxidized more quickly in the wet air. Exposure to acids releases highly irritating sulfur dioxide gases. It's strongly reductive. Decompose when heated to 190 ℃, ground into a powder heat burns. Potassium pyrosulfite is decomposed by acid to form sulfur dioxide. Easily soluble in water, slightly soluble in ethanol, insoluble in ether. Potassium pyrosulfite is stable in dry air and can release sulfur dioxide easily in humid air. Water solution can be oxidized by air to potassium sulfate.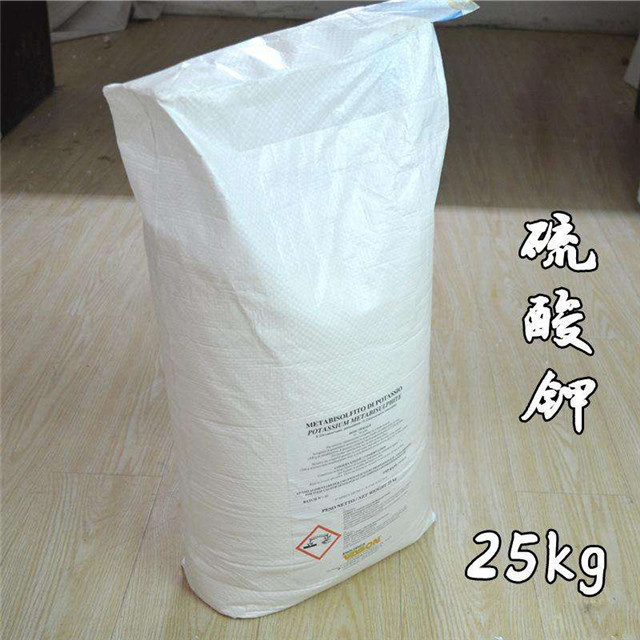 Property:
CAS:16731-55-8
MF:K2O5S2
MW:222.32
EINECS:240-795-3
Melting point:190°C
Density 2.34 g/cm3
storage temp. Store at +5°C to +30°C.
solubility H2O: 0.1 M at 20 °C, clear, colorless
form Powder/Solid
color White to slightly yellow
PH2.5-4.5 (25℃, 0.1M in H2O)
Water Solubility Soluble in water. Insoluble in ethanol.
use
1. Potassium pyrosulfite is used as food bleach, preservative and antioxidant.
2. Used as analytical reagent. It is also used as developer, reducing agent and bacterial inhibitor.
3. Potassium pyrosulfite is used as an additive in thiosulphate silver plating, and its sodium salt is also used in the treatment of chromium-containing wastewater.
Operating instructions
Closed operation to provide adequate local ventilation. Operators must be specially trained and strictly follow the operating procedures. It is recommended that the operator wear a hood-type electric air filter respirator, wear a rubber cloth antitoxic clothing, and wear rubber gloves. Keep away from fire and heat, no smoking in the workplace. Use explosion-proof ventilation systems and equipment. Avoid producing dust. Avoid contact with oxidants and acids. Light loading and light unloading should be carried to prevent damage to the packaging and container. Equipped with the corresponding varieties and quantities of fire equipment and leakage emergency treatment equipment. Empty containers can leave harmful residue.
Emergency management editor
Ingestion: giving milk or water (if conscious). Vomiting. Go to a doctor.
Eyes: rinse with running water (15 minutes). Go to a doctor.
Skin: take off the contaminated clothes. Rinse with water and soap.
Inhalation: transfer to fresh air. Rest and keep warm.
Other related items of our company:
1. Basic Organic Chemicals
2. Inorganic Chemicals
3. Pharmaceutical Intermediates
4. Daily Chemicals
5. Active Pharmaceutical Ingredients