Product Description
Supply Guanidine Carbonate Price From Shenyu Company
Guanidine carbonate is a kind of organic fine chemical product with extensive uses, mainly used in the synthesis of flame retardants, flocculants, foaming agents, sulfonamides and so on. The method of producing free guanidine hydrochloride by melting dicyandiamide with ammonium chloride and reacting guanidine with carbon dioxide under the action of alkali to form guanidine carbonate. It is easy to produce impurities such as melamine, its dimer and trimer when melting at high temperature, and there are Cl-, Na+, which are difficult to be completely removed even in purity. In this paper, guanidine carbonate, the so-called ashless guanidine carbonate, was synthesized by one-step reaction of ammonia nitrile with carbon dioxide and ammonia. After purification, high purity guanidine carbonate was obtained.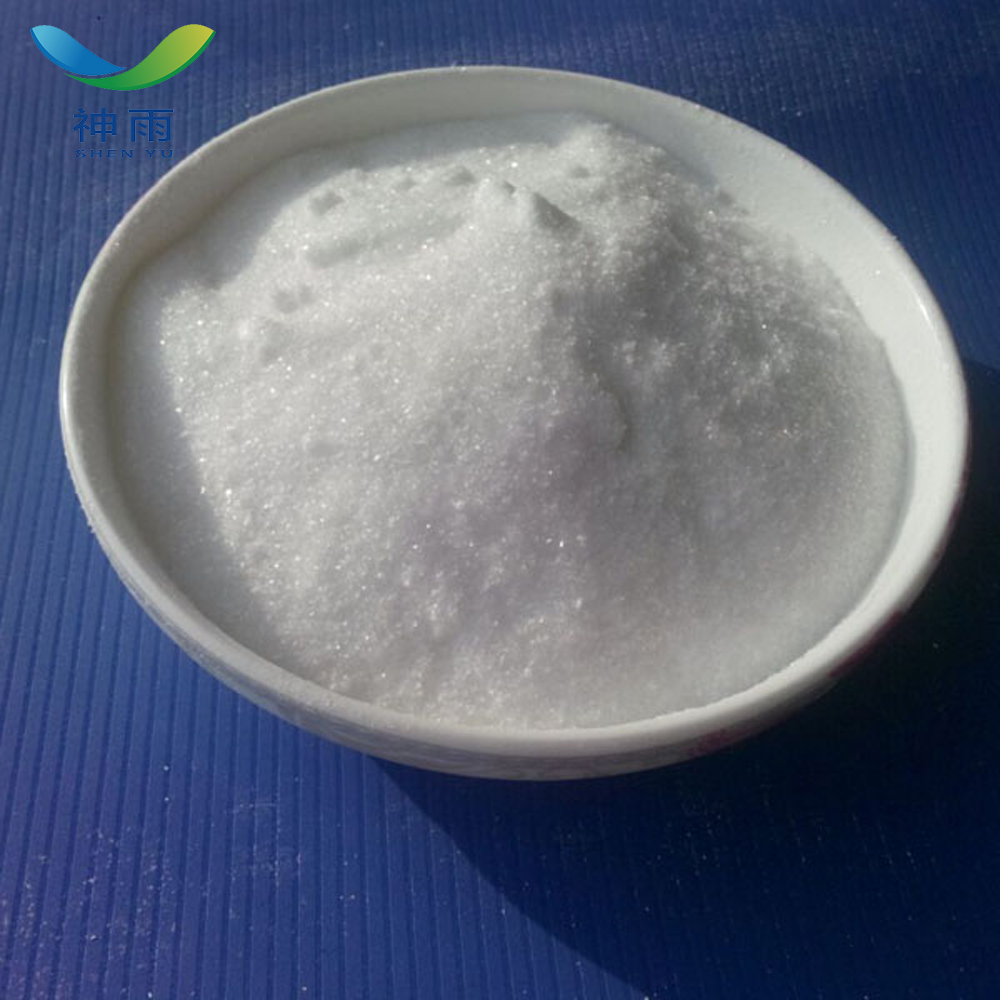 Feature:
High Purity
Low Price
Fast delivey
Good service
Guanidine carbonate Product details:
English Name: Guanidine carbonate
English synonyms: Carbonic acid, compound with guanidine (1:2); Guanidine carbonic acid; Guanidne carbonate; Guanidinium carbonate, synthesis grade; Guanidine carbonate salt 99%; Guanidine carbonate (2:1); C2H10N6H2CO3; Guanidine carbonate medicine grade, > 99% (Assay)
CAS: 593-85-1
Molecular formula: C2H7N3O3
Molecular weight: 121.1
EINECS: 209-813-7
Melting point >300 degree C (lit.)
Density 1.25
Storage conditions Store below +30 degree C.
Solubility 450g/l
Form Crystalline Powder
Color White to almost white

Guanidine carbonate Application:
This product is an organic synthetic raw material and analytical reagent. It is used as pH regulator, antioxidant, resin stabilizer and guanidine soap of amino resin, additive of cement paste and surfactant. In terms of synthetic detergents, the use of moisture resistant agents and synergist. In the determination of zinc, cadmium and manganese, it is used as precipitant and also for the separation of magnesium in alkali metals.

Guanidine carbonate Attention:
[Ingestion]
If victim is conscious and alert, give 2-4 cupfuls of milk or water. Never give anything by mouth to an unconscious person. Get medical aid immediately.
[Inhalation]
Get medical aid immediately. Remove from exposure to fresh air immediately. If not breathing, give artificial respiration. If breathing is difficult, give oxygen.
[Skin]
Get medical aid immediately. Flush skin with plenty of soap and water for at least 15 minutes while removing contaminated clothing and shoes. Wash clothing before reuse.
[Eyes]
Flush eyes with plenty of water for at least 15 minutes, occasionally lifting the upper and lower eyelids. Get medical aid immediately.

Storage: Store in a tightly closed container. Do not store in glass. Store in a cool, dry area away from incompatible substances.
Package: 25kg/Bag
Other related items of our company:
1. Basic Organic Chemicals
2. Inorganic Chemicals
3. Pharmaceutical Intermediates
4. Daily Chemicals
5. Active Pharmaceutical Ingredients