Product Description
CAS 10424-65-4 Tetramethylammonium hydroxide pentahydrate
Product Overview
Tetramethylammonium hydroxide (TMAH) is the strongest organic base, colorless and odorless. At room temperature, the vapor pressure is low, and it is completely decomposed and gasified at 135~145 °C. The high-purity product has no trace residue at 140 °C. The tetramethylammonium hydroxide solution is colorless and transparent with slight ammonia odor, and the 1 (wt)% solution has a pH of 12.9, which is a strong alkali having the same strength as caustic. The tetramethylammonium hydroxide aqueous solution was concentrated under reduced pressure to obtain hygroscopic needle crystals (mp, 63 ° C) of five crystal waters, and then concentrated and dehydrated to form crystals of three crystal waters (mp, 63 ° C), and then Tetramethylammonium hydroxide which becomes one crystal water is decomposed into trimethylamine and dimethyl ether at 135-140 degree.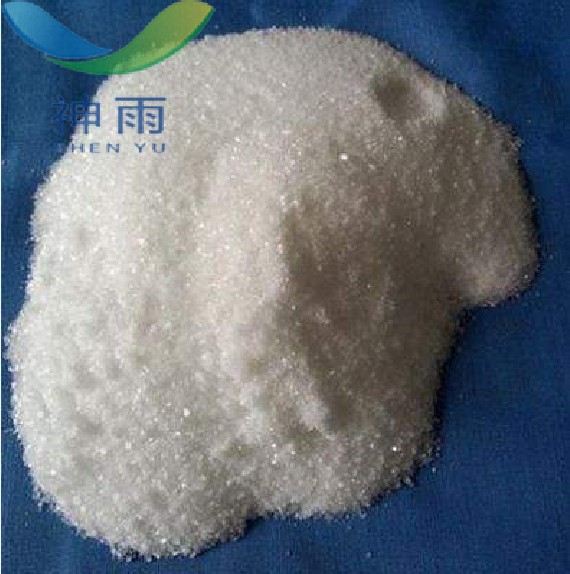 Physical Properties
CAS No.: 10424-65-4
Molecular formula: C4H23NO6
Molecular weight: 181.23
EINECS number: 200-882-9
Melting point 67-70 °C (lit.)
Vapor density 1.1 (vs air)
Vapor pressure 97 mm Hg ( 20 °C)
Storage conditions 0-6 ° C
Form Hygroscopic Crystals
Color White
Explosive limit 36%
Water soluble
Sensitivity Air Sensitive & Hygroscopic


Application
Tetramethylammonium hydroxide is an organic base and has a wide range of uses in industrial research.
Domestic tetramethylammonium hydroxide is mainly used as a main catalyst in the synthesis of silicone products such as silicone oil, silicone rubber and silicone resin. Although the dosage is not large, it has a great influence on the yield and quality of the product.
Foreign tetramethylammonium hydroxide is mainly used in polyester polymers, textiles, plastic products, food, leather, wood processing, electroplating, microorganisms, etc.
At present, this product enters the cutting-edge technology field, such as in the printing of circuit boards and the manufacturing of microscopes, as an anisotropic etchant for Si-SiO2 interface in cleaning agents for integrated circuit boards and semiconductor micromachining technology. With the development of science and technology, the demand for this type of chemical reagents is increasing day by day, and higher requirements are placed on the quality and quantity of tetramethylammonium hydroxide.

Other related items of our company:
1. Basic Organic Chemicals
2. Inorganic Chemicals
3. Pharmaceutical Intermediates
4. Daily Chemicals
5. Active Pharmaceutical Ingredients