Product Description
High Purity Gold trichloride as Catalyst
Product Overview
Chemical formula AuCl3, molecular weight 303.33, yellow or ruby crystal, deliquescent, relative density 3.9, 265 ° C sublimation. Soluble in cold water, the aqueous solution is strongly acidic, soluble in ethanol, ether, slightly soluble in ammonia and chloroform, insoluble in CS2. Heat to 254 ° C decomposition. Dissolved in hydrochloric acid to form golden yellow needle crystal chloroauric acid HAuCl4 · 4H2O. It can be prepared by the action of gold and aqua regia or by reacting excess chlorine with gold at 200 ° C for photography, gold plating, special inks, pharmaceuticals, porcelain gold and red glass. Gold trichloride is the main salt in the sulphite gold plating process. The sulphite gold plating solution is a non-cyanide plating solution. The plating solution is non-toxic, has good dispersing ability and covering ability, high cathode current efficiency and fast deposition speed. The coating crystal is bright and fine, and the pores are small. The plating layer has good bonding force with the base metal such as copper, silver or nickel or the intermediate plating layer.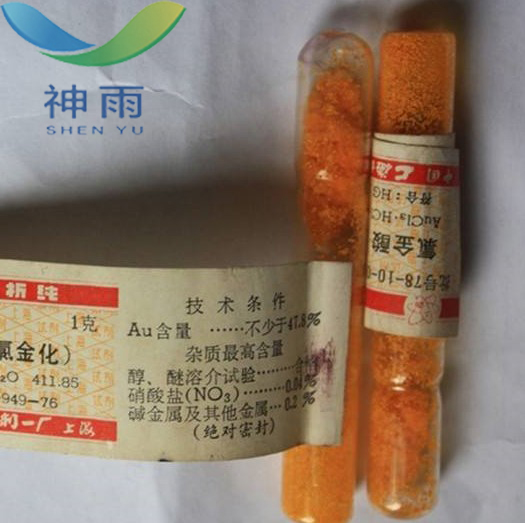 Physical Properties
CAS No: 13453-07-1
Molecular formula: AuCl3
Molecular weight: 303.33
EINECS number: 240-948-4
Melting point 254 ° C
Density 3.9 g/mL at 25 °C
Storage conditions 2-8 ° C
Form Crystalline Powder, Crystals or Chunks
Color yellow
Water soluble
Sensitivity Hygroscopic

Application
As Catalyst
Our service:
1. Customer design is accepted for pharmaceutical intermediates.
2. Small order is acceptable.
3. Sample is available with freight collect.
4. Professional sales team with rich experience both in product and business.
5. Third-party inspection is accepted.
6. 7×24 hours working time and quick response, your request will be processed by our professional staff in different shift periods.
7. All documents will be ready upon your requirement.
8. Factory Price and high quality can be guaranteed.
9. After-sales service.
10. Welcome to visit our company.
11. Have cooperated with a lot of importers from world wide for more than 10 years.
12. Fast and safety delivery by professional freight forwarder.


Other related items of our company:
1. Basic Organic Chemicals
2. Inorganic Chemicals
3. Pharmaceutical Intermediates
4. Daily Chemicals
5. Active Pharmaceutical Ingredients