Product Description
High Purity in Stock Titanium Tetrachloride Description:
Titanium Tetrachloride(TiCl4) is a colorless fuming liquid with a pungent odor
Titanium Tetrachloride is corrosive to metals and tissue.
Titanium Tetrachloride is very toxic by inhalation
Titanium Tetrachloride is activates pyrrolidines for improved conversion
via a modified Bouveault reaction, to the corresponding α,α-dimethylamines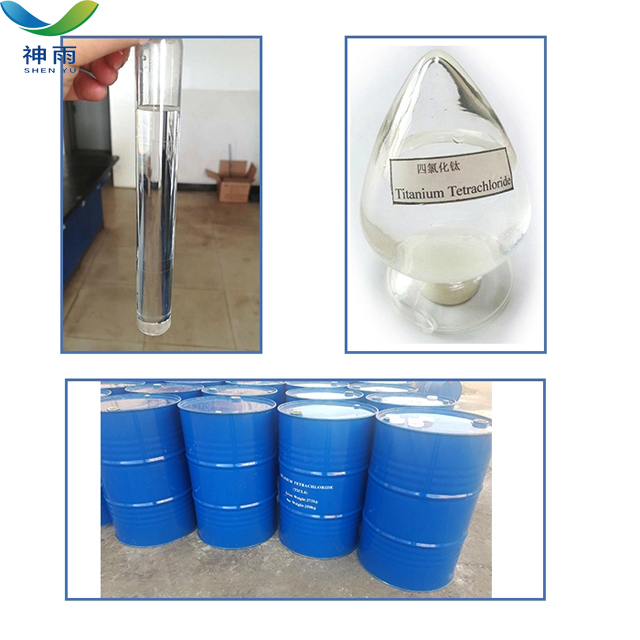 Titanium Tetrachloride Application:
1.Titanium Tetrachloride is the production of titanium metal
The world's supply of titanium metal, about 250,000 tons per year, is made from TiCl4.
The conversion takes place by the reduction of the chloride with magnesium metal, and yields titanium metal and magnesium chloride.
This procedure is known as the Kroll process:
2.Titanium Tetrachloride is Mg + TiCl4 → 2 MgCl2 + Ti
Liquid sodium has also been used instead of magnesium as the reducing agent, as in the Hunter process.
3.Titanium Tetrachloride is used as the production of titanium dioxide
Around 90% of the TiCl4 production is used to make the pigment titanium dioxide (TiO2).
The conversion involves hydrolysis of TiCl4, a process that forms hydrogen chloride
TiCl4 + 2 H2O → TiO2 + 4 HCl
In some cases, TiCl4 is oxidised directly with oxygen:
TiCl4 + O2 → TiO2 + 2 Cl2
4.Titanium Tetrachloride is used as smoke screens
Titanium Tetrachloride has been used to produce smoke screens since it produces a heavy, white smoke that has little tendency to rise
Titanium Tetrachloride
Shenyu energy (Shandong) development Co. LTD belongs to Shenyu Group Company.
We mainly engaged in chemical raw materials import and export, and have our own factory production of Butyldiglycol.
We have more than twenty years experience in chemical exports.
Stable prices, 95% of our company's products are for export. Our company is mainly through research and development, production,
sales and service as one of the trade and industry, to provide customers with the best service. We has been through the ISO9001:2015 quality certification,
and has a strict quality control system. We have stood in the field of chemistry to the front of the world, with high-quality personnel, advanced equipment
and perfect management mode.
We insist on the goal of "reliable quality, good service and high reputation of enterprise". Before ordering, we can provide test samples to ensure the quality of our products.
Why choose us
Titanium Tetrachloride
1. Supply sample.
2. Wholesale price.
3. Any question will be replied within 24 hours.
4. The packing can also be made according to the customers' requirement.
5. We can provide Commercial Invoice, Packing List, Bill of loading, COA, Health certificate and Origin certificate.
If your markets have any special requirements, just let us know.
6. Prompt delivery. We have good cooperation with many professional forwarders. We can send the products to you once you confirm the order.
7. We can accept various payment methods, L/C, T/T, D/A, D/P, O/A, Paypal, Western Union etc., and we have cooperate with Sinosure so many years.
Other related items of our company:
1. Basic Organic Chemicals
2. Inorganic Chemicals
3. Pharmaceutical Intermediates
4. Daily Chemicals
5. Active Pharmaceutical Ingredients