Product Description
High Purity Potassium Thiocyanate with CAS No. 333-20-0
Product Overview
Potassium thiocyanate, formula KSCN, also known as potassium thiocyanate, English Potassium Thiocyanate, is a colorless monoclinic crystal. Relative density 1.886. Melting point is about 172.3°C. Soluble in water and cooled by a large amount of heat absorption, it is also soluble in alcohol (ethanol) and acetone. At low temperatures, hemihydrate crystals (KSCN.0.5H2O) are obtained, are stable at -29-6.8°C, and glow to a temperature of about 430, but then return to colorless after they cool. Decomposes when heated to 500. It is Fe3+ (iron salt) which generates the red-colored iron thiocyanate iron ion FeSCN2+ (iron thiocyanate). It is a very sensitive method for detecting Fe3+ ions, and can eliminate all other metal ions known to date. It does not react with ferrous salts. Deliquescence should be sealed and stored. There is low toxicity. However, potassium cyanide is a highly toxic substance, and the country has already restricted production.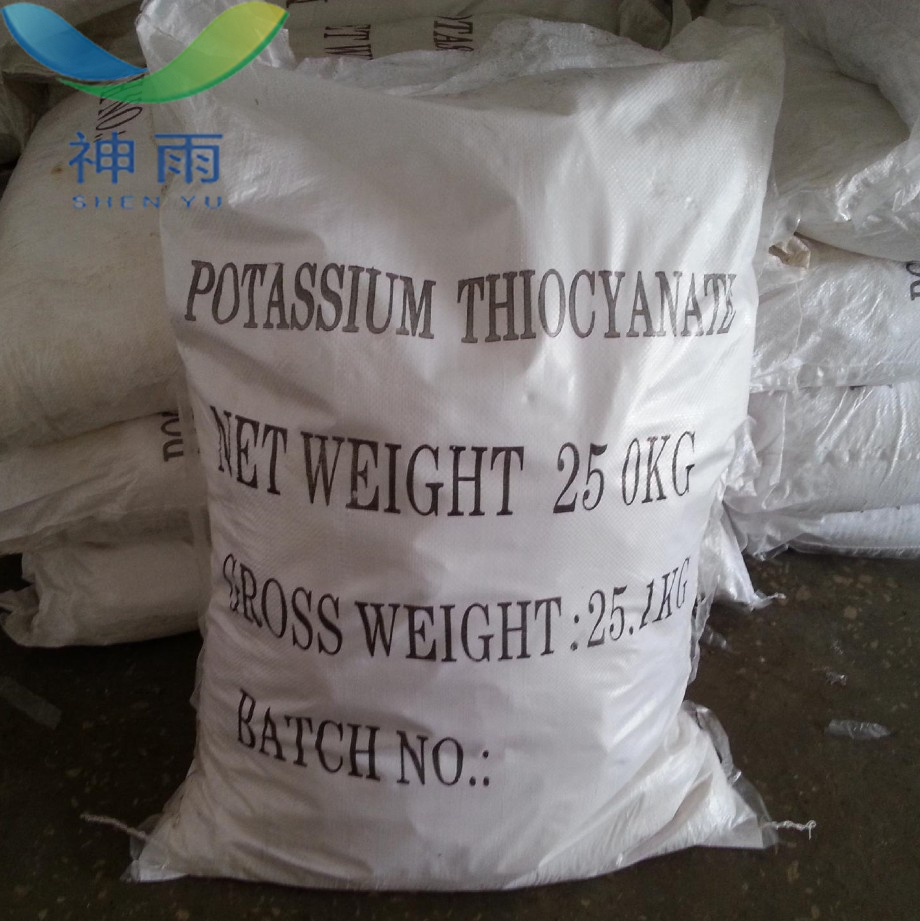 Physical Properties
CAS Number: 333-20-0
Molecular formula: CKNS
Molecular Weight: 97.18
EINECS number: 206-370-1
Melting point 173 °C (lit.)
Boiling point 500°C
Density 1.886
Flash point 500°C
Storage Conditions Store at RT.
Solubility H2O: 8 M at 20 °C, clear, colorless
Form Liquid
Colorless or white
PH 5.3-8.7 (25°C, 50mg/mL in H2O)
Water solubility 2170 g/L (20 oC)
Sensitivity Hygroscopic
Application
It is used in electroplating industry as deplating agent, refrigerant, also used in dyes, photographic, pesticide and steel analysis, but also used in the manufacture of mustard oil and drugs.
Used as a reagent for the determination of barium and sulfate
Used in pesticides, medicine, electroplating, chemical reagents, etc.
Used as analytical reagent and refrigerant, also used in pharmaceutical industry, dye industry, mustard oil manufacturing and photography
For the electroplating industry as a deplating agent, can also be used for refrigerant. Also used in the dye industry, photographic industry, pesticides and steel analysis.
Prepare thiocyanate titrant. Verification of trivalent iron, copper and silver. Urine test. Tungsten color reagent. Volumetric method for the determination of titanium indicators. Coolant. Photographic thickeners.
Other related items of our company:
1. Basic Organic Chemicals
2. Inorganic Chemicals
3. Pharmaceutical Intermediates
4. Daily Chemicals
5. Active Pharmaceutical Ingredients