Product Description
High Quality 99% Sodium bromide Powder
Product description:
Sodium bromide is a white crystalline or powder. It has salty or microstrip bitterness. Absorption of water from the air, but not the deliquescence. Dissolve in water. Low toxicity and irritation. It is used for the determination of cadmium in analytical chemistry, photolithography, and pharmaceuticals. The physical and chemical properties are colorless cubic crystal or white granular powder. Odorless, alkali but slightly bitter. The relative density is 3.203 (25 degrees C). The melting point is 747 degrees centigrade. There is moisture absorption in the air. Soluble in water (100 121g/100ml solubility in water), aqueous solution is neutral. Slightly soluble in alcohol. At 51, the anhydrous sodium bromide crystal was precipitated in the solution, and two water was generated below 51. Its bromine ion can be replaced by chlorine.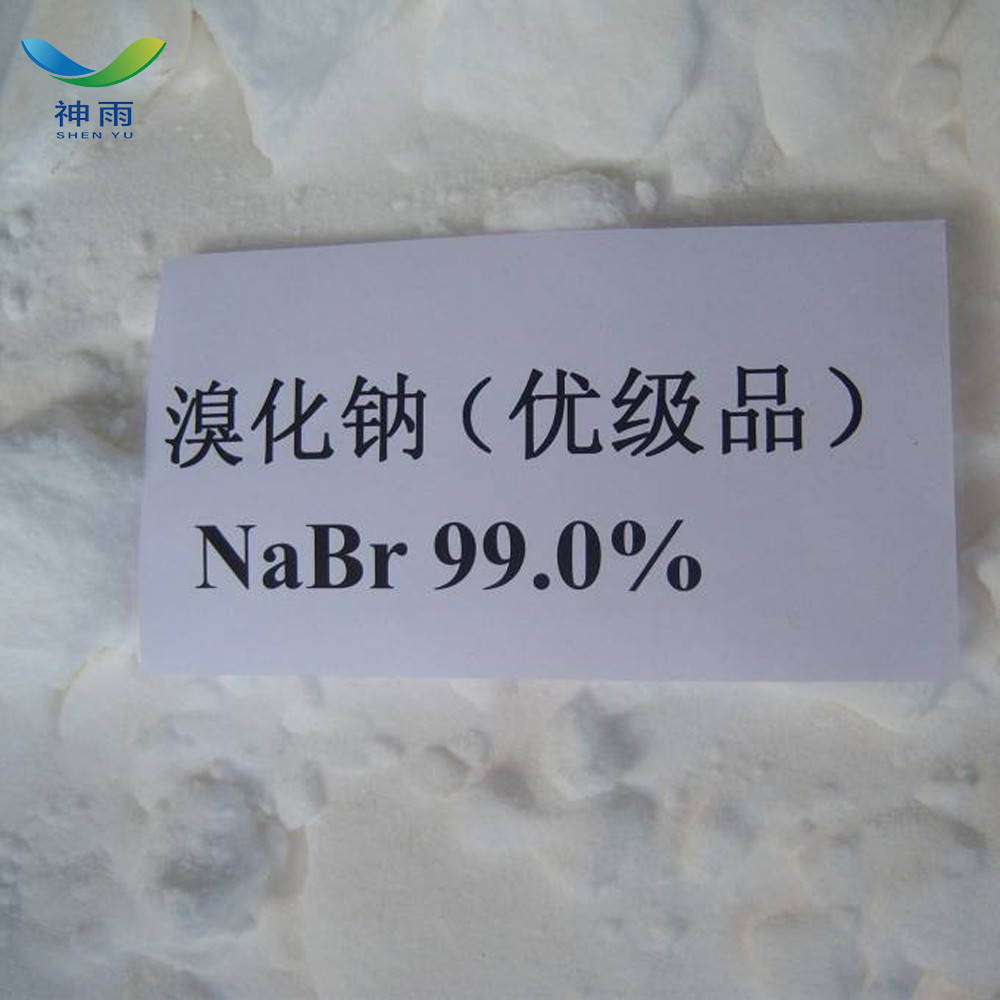 Feature:
High Purity
Low Price
Fast delivey
Good service
Product details:
English Name: Sodium bromide
English synonyms: bromuredesodium; Hydrobromic acid sodium salt; NaBr; Sedoneural; Sodium bromide (NaBr); SodiumBromide (NaBr); minorities;
CAS: 7647-15-6
Molecular formula: BrNa
Molecular weight: 102.89
EINECS: 231-830-3
Melting point: 755 degree C (lit.)
Boiling point: 1390 C
Density: 3203 g/cm3
Vapor pressure: 1 mm Hg (806 degree C)
Refractive index: 1.6412
Flash point: 1390 C
Storage conditions: Store at room temperature.
Solubility H2O: 1 M at 20 degree C, clear, colorless
Form: Powder
Color: White
PH value: 5.74 (430g/l, H2O, 22.5 C)
Water solubility: 905 g/L (20 C)
Sensitive: Hygroscopic
Sodium bromide Application:
1. used as raw materials for preparing photographic sensitizers, pharmaceutical sedatives, brominating agents for printing and dyeing industry, and also for the synthesis of flavors and other chemicals.
2. photoreceptor industry is used to prepare film photosensitive liquid. Medicine is used to produce diuretics and sedatives. It is used in the production of synthetic fragrances in the perfume industry. It is used as brominator in printing and dyeing industry. In addition, it is also used in organic synthesis and so on.
3. for photosensitive industries, spices, medicine and printing and dyeing industries.
4. used as analytical reagent, as well as for the synthesis of inorganic and organic compounds and the pharmaceutical industry.
5. used in photosensitive film, medicine, perfume, dyestuff and so on.
6. trace determination of cadmium. Make bromine. Inorganic and organic synthesis. Photographic plate making. Pharmacy.
Sodium bromide Attention:
[Ingestion]
If victim is conscious and alert, give 2-4 cupfuls of milk or water. Never give anything by mouth to an unconscious person. Get medical aid immediately.
[Inhalation]
Remove from exposure to fresh air immediately. If not breathing, give artificial respiration. If breathing is difficult, give oxygen. Get medical aid.
[Skin]
Flush skin with plenty of soap and water for at least 15 minutes while removing contaminated clothing and shoes. Get medical aid if irritation develops or persists.
[Eyes]
Flush eyes with plenty of water for at least 15 minutes, occasionally lifting the upper and lower eyelids. Get medical aid immediately.



Storage: Store in a cool, dry place. Store in a tightly closed container.
Package: 25kg/Bag
Other related items of our company:
1. Basic Organic Chemicals
2. Inorganic Chemicals
3. Pharmaceutical Intermediates
4. Daily Chemicals
5. Active Pharmaceutical Ingredients