Product Description
High quality Benzoic acid cas 65-85-0
Product Description:
Benzoic acid is also known as benzoic acid, whose molecular formula is C6H5COOH.
The simplest aromatic acid whose carboxyl group is directly linked to
the carbon atom of the benzene ring is a compound formed
when a hydrogen on the benzene ring is replaced by a carboxyl group (-cooh).
Is a colorless, tasteless flake crystal.
Melting point is 122.13 ℃, boiling point 249 ℃, relative density 1.2659 (15/4 ℃).
At 100 ℃ sublimation rapidly, its steam has a strong irritating, easy cause cough after inhaling.
Slightly soluble in water, easily soluble in ethanol, ether, chloroform, benzene, toluene, carbon disulfide,
carbon tetrachloride and turpentine and other organic solvents.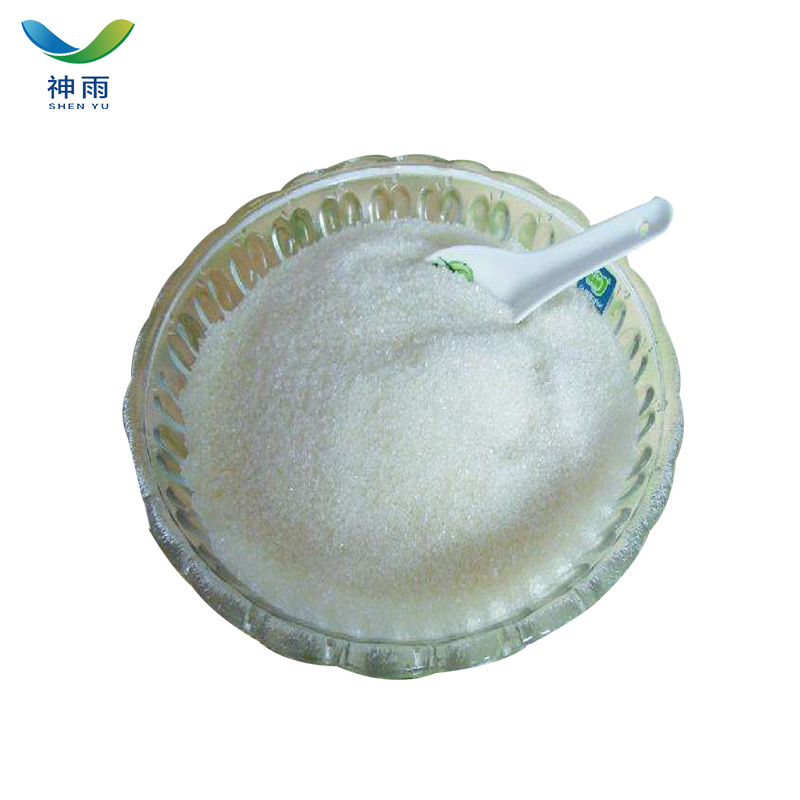 Benzoic acid Details:
English name: Benzoic acid
English synonyms: uniseptbza;FEMA 2131;CARBOXYBENZENE;DRACYLIC ACID;
BENZENE CARBOXYLIC ACID;Benzenemethonic acid;Benzeneformic acid;'LGC' (2405).
CAS no. : 65-85-0
Molecular formula: C7H6O2
Molecular weight: 122.12
EINECS no. : 200-618-2
Melting point: 121-125 ° C (lit.)
Boiling point: 249 ° C (lit.)
Density: 1.08
Vapor density: 4.21 (vs air)
Vapor pressure: 10 mm Hg (132 ° C)
Index of refraction: 1.504
FEMA: 2131 | BENZOIC ACID
Flash: 250 ° F
Store at RT.
Solubility: soluble, clear, colorless, 95% ethanol, 1 gm / 3 ml)
Acidity coefficient (pKa) : 4.19 (at 25 ℃)
Characteristics: Solid
Color: White to yellow-beige to orange
PH: 2.5 3.5 (20 ℃) H2O,( 56954883,saturated solution)
Water solubility: Slightly soluble. 0.34 g / 100 mL

Benzoic acid Application:
1. Benzoic acid is an important acid food preservative.
Under acidic conditions, it has an inhibitory effect on mold, yeast and bacteria,
but a weak effect on acid-producing bacteria.
The optimal pH value for bacteriostasis is 2.5 ~ 4.0, generally 4.5 ~ 5.0 lower than the pH value.
2. Preservatives;
Antimicrobial agents.
3. Due to the small solubility of benzoic acid,
it must be fully stirred or dissolved in a small amount of hot water or ethanol.
Benzoic acid tends to evaporate with water vapor when used in
concentrated juice for cool drinks, so it is often used as sodium salt.
One gram of sodium is equivalent to 0.847 grams of benzoic acid.
4.Usually used as a deodorant or as a preservative.
Also used as a deodorant in juice drinks.
It can be used as perfume for perfume essence.
Can also be used in chocolate, lemon, orange, berry, nuts,
preserves and other edible flavor.
Tobacco flavor is also commonly used.
Our Company Information:
Benzoic acid
Shenyu energy (Shandong) development Co. LTD belongs to Shenyu Group Company.
We mainly engaged in chemical raw materials import and export,
and have our own factory production of Butyldiglycol.
We have more than twenty years experience in chemical exports.
Stable prices, 95% of our company's products are for export.
Our company is mainly through research and development, production,
sales and service as one of the trade and industry, to provide customers with the best service.
We has been through the ISO9001:2015 quality certification,
and has a strict quality control system. We have stood in the field of chemistry to the front of the world,
with high-quality personnel, advanced equipment
and perfect management mode.
We insist on the goal of "reliable quality, good service and high reputation of enterprise".
Before ordering, we can provide test samples to ensure the quality of our products.
Why choose us:
Benzoic acid
3. Any question will be replied within 24 hours.
4. The packing can also be made according to the customers' requirement.
5. We can provide Commercial Invoice, Packing List, Bill of loading, COA,
Health certificate and Origin certificate.
If your markets have any special requirements, just let us know.
6. Prompt delivery. We have good cooperation with many professional forwarders.
We can send the products to you once you confirm the order.
7. We can accept various payment methods, L/C, T/T, D/A, D/P, O/A, Paypal, Western Union etc.,
and we have cooperate with Sinosure so many years.
Other related items of our company:
1. Basic Organic Chemicals
2. Inorganic Chemicals
3. Pharmaceutical Intermediates
4. Daily Chemicals
5. Active Pharmaceutical Ingredients