Product Description
Hish Quality Metel Material Indium CAS 7440-74-6
Indium is silver white with light blue metal. It is very soft and can be nicked with fingernails. Indium is highly plastic and ductile, and can be compressed into sheets. Indium is mainly used for manufacturing low melting alloy, bearing alloy, semiconductor, electric light source and other raw materials. Indium is nontoxic, but should avoid contact with skin and ingestion. Indium is a silver gray, soft metallic fusible metal. The melting point is 156.61 degrees centigrade. The boiling point is 2060 degrees centigrade. Relative density d7.30. Liquid indium can infiltrate glass and stick to the surface of contact, leaving black marks.Indium has a weak radioactivity. There are two main isotopes in natural indium. One is In-113, and the other is In-115. Therefore, avoid direct contact as far as possible during use.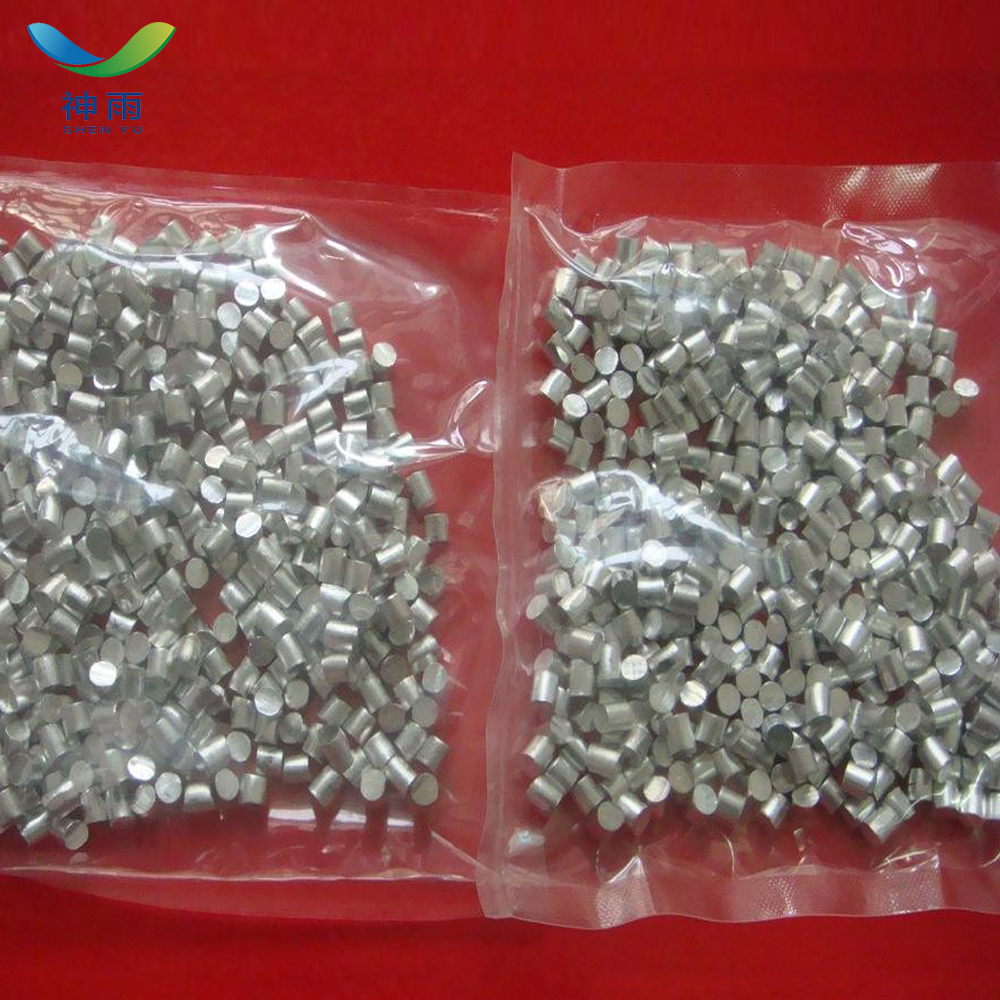 Feature:
High Purity
Low Price
Fast delivey
Good service
Indium Product details:
English Name: Indium
English synonyms: Indium, shot, 2-5mm diam., 99.9+% metals basis, INDIUM, SHOT, 2-5MM DIAM., 99.999%.
CAS: 7440-74-6
Molecular formula: In
Molecular weight: 114.82
EINECS: 231-180-0
Melting point 156 C
Boiling point 2000 C
Density 7.3 g/mL at 25 degree C (lit.)
Vapor pressure <0.01 mm Hg (25 degree C)
Flash point 2072 C
Storage condition Flammables area
Form wire
Color White
Water solubility insoluble

Indium Application:
1. for compound semiconductors, high purity alloys and dopants for semiconductor materials.
2. manufacture of low melting point alloy and indium salt
3. is mainly used to make bearings and extract high purity indium, and also for electronics and electroplating industry.
4. is mainly used to make bearings and extract high purity indium, and also for the electronics industry and electroplating industry.
5. is mainly used as coating (or alloy) to enhance corrosion resistance of metal materials and widely used as electronic devices. An alloy coating is used as a reflector. Indium alloys are used as reactor control rods and so on. Indium phosphide, indium, and so on are all semiconductor materials.


Indium Attention:
[Ingestion]
If victim is conscious and alert, give 2-4 cupfuls of milk or water. Never give anything by mouth to an unconscious person. Get medical aid immediately.
[Inhalation]
Get medical aid immediately. Remove from exposure to fresh air immediately. If not breathing, give artificial respiration. If breathing is difficult, give oxygen.
[Skin]
Get medical aid immediately. Flush skin with plenty of soap and water for at least 15 minutes while removing contaminated clothing and shoes. Wash clothing before reuse.
[Eyes]
Flush eyes with plenty of water for at least 15 minutes, occasionally lifting the upper and lower eyelids. Get medical aid immediately.

Storage: Store in a tightly closed container. Do not store in glass. Store in a cool, dry area away from incompatible substances.
Package: 25kg/Bag
Other related items of our company:
1. Basic Organic Chemicals
2. Inorganic Chemicals
3. Pharmaceutical Intermediates
4. Daily Chemicals
5. Active Pharmaceutical Ingredients