Product Description
Hot Sale Metel Holmium with CAS 7440-60-0
Holmium, atomic number 67, atomic weight 164.93032, element name comes from the birthplace of the discoverer. In 1878, Sorit discovered holmium from the spectra of erbium. In the following year, Clive of Sweden separated holmium from the erbium by chemical method. The content of holmium in the earth's crust is 0.000115%, which is found in monazite and rare earth minerals with other rare earth elements. The natural stable isotopes are only holmium 165. Holmium is silver white metal, soft and ductile, melting point 1474 degrees C, boiling point 2695 degree C, density 8.7947 g / cubic centimeter. Holmium is stable in dry air and oxidize rapidly at high temperature; holmium oxide is the strongest substance known to be paramagnetic. Holmium compounds can be used as additives for new ferromagnetic materials; Holmium iodide is used to make metal halogen lamp-holmium lamp; Holmium laser is also widely used in medical field.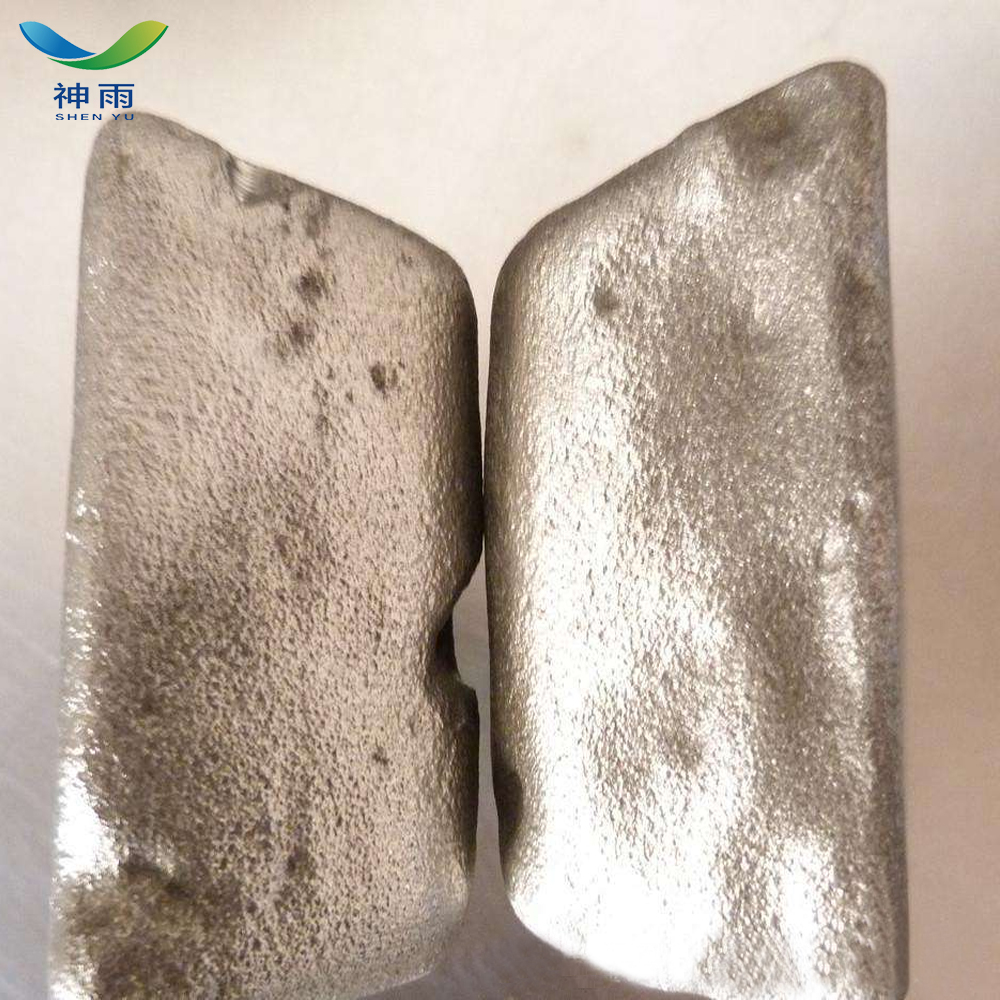 Feature:
High Purity
Low Price
Fast delivey
Good service
Holmium Product details:
English Name: Holmium
English synonyms: HolMiuM powder, -200 Mesh, 99.9% (REO); HolMiuM / HolMiuM Standard; HOLMIUM ICP STANDARD TRACEABLE.
CAS: 7440-60-0
Molecular formula: Ho
Molecular weight: 164.93
EINECS: 231-169-0
Melting point 1474 C
Boiling point 2695 C
Density 8.8 g/mL at 25 degree C (lit.)
Form ingot
Color Silver-gray

Holmium Application:
(1) used as a metal halogen lamp additive, metal halogen lamp is a gas discharge lamp, it is developed on the basis of high pressure mercury lamp, which is characterized by a variety of different rare earth halides in the bulb. At present, rare earth iodides are used mainly, emitting different spectral lines and colors when discharging. In holmium lamp, the working substance is holmium iodide, which can obtain higher metal atom concentration in the arc region, thus greatly improving the radiation efficiency.
(2) holmium can be used as additive for yttrium iron or yttrium aluminum garnet.
(3) holmium doped yttrium aluminum garnet (Ho:YAG) can emit 2 m laser, and the absorption rate of human tissue to 2 m m laser is higher than that of Hd:YAG, which is 3 orders of magnitude higher than that of Hd:YAG. Therefore, Ho:YAG laser can not only improve the efficiency and accuracy of surgery, but also reduce the thermal damage area to a smaller extent. The free beam produced by holmium crystal eliminates fat without excessive heat and reduces heat damage to healthy tissues. It is reported that the treatment of glaucoma by holmium laser in the United States can reduce the pain of the patient's operation. The level of China's 2 - M laser crystal has reached the international level, and the laser crystal should be developed vigorously.
(4) in the magnetostrictive alloy Terfenol-D, a small amount of holmium can be added to reduce the [3] of the field required for the saturation magnetization of the alloy.
(5) the other optical communication devices, such as fiber laser, fiber amplifier, fiber sensor and so on, will play a more important role in the rapid development of optical fiber communication.


Holmium Attention:
[Ingestion]
If victim is conscious and alert, give 2-4 cupfuls of milk or water. Never give anything by mouth to an unconscious person. Get medical aid immediately.
[Inhalation]
Get medical aid immediately. Remove from exposure to fresh air immediately. If not breathing, give artificial respiration. If breathing is difficult, give oxygen.
[Skin]
Get medical aid immediately. Flush skin with plenty of soap and water for at least 15 minutes while removing contaminated clothing and shoes. Wash clothing before reuse.
[Eyes]
Flush eyes with plenty of water for at least 15 minutes, occasionally lifting the upper and lower eyelids. Get medical aid immediately.

Storage: Store in a tightly closed container. Do not store in glass. Store in a cool, dry area away from incompatible substances.
Package: 25kg/Bag
Other related items of our company:
1. Basic Organic Chemicals
2. Inorganic Chemicals
3. Pharmaceutical Intermediates
4. Daily Chemicals
5. Active Pharmaceutical Ingredients