Product Description
Industiral Propylene glycol with cas 57-55-6
Product description:
The scientific name of propylene glycol is "1, 2-propylene glycol".
Chemical formula CH3CHOHCH2OH.
Molecular weight 76.10.
We have a chiral carbon in the molecule.
Racemate is a hygroscopic viscous liquid with a slight spicy taste.
The proportion of 1.036 (25/4 ℃), freezing point - 59 ℃.
Boiling point 188.2 ℃, 83.2 ℃ (1333 mpa), mixed soluble in water, acetone, ethyl acetate and chloroform,
soluble in ether.Soluble in many essential oils, but not in petroleum ethers, paraffins and fats.
It is more stable to heat, light and low temperature.
Left-handed body the boiling point of 187 ~ 189 ℃, polarimetric D20 - [alpha] 15.0 °.
Propylene glycol can be oxidized into propanal, lactic acid, pyruvate and acetic acid at high temperature.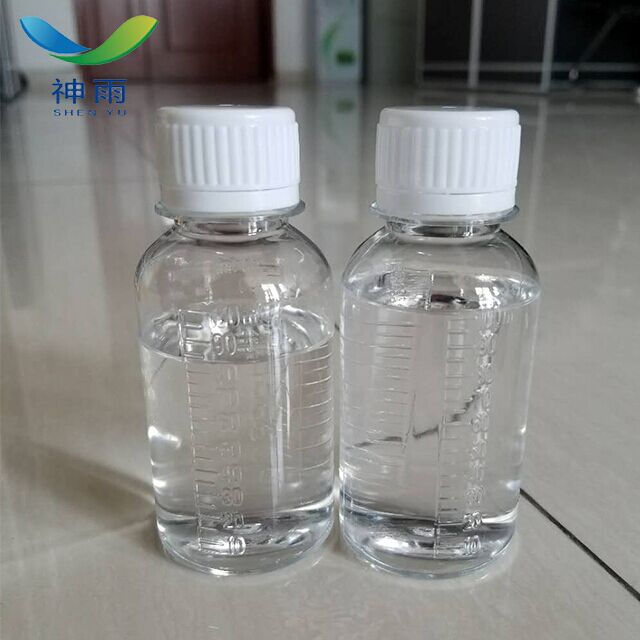 Feature:
High Purity
Low Price
Fast delivey
Good service
propylene glycol

Product details:
English name: Propylene glycol
English synonym: 1, 2-propanediol, GR ACS 99.5%;
CAS number: 57-55-6
Molecular formula: C3H8O2
Molecular weight: 76.09
EINECS no. : 200-338-0
Melting point: 60 ° C
Boiling point: 187 ° C (lit.)
Density: 1.036 g/mL at 25 ° C (lit.)
Vapor density :2.62 (vs air)
Vapor pressure: 0.08 mm Hg (20 ° C)
Index of refraction :n20/D 1.432(lit.)
FEMA :2940 BBC b0 PROPYLENE GLYCOL
Flash: 225 ° F
Store at RT.
Characteristics: Viscous Liquid
Color: APHA: 10 or less
PH: 6-8 (100 g/l, H2O, 20 ℃)
(V) thermonuclear force limit of all thermonuclear bombs (thermonuclear limit):
2.4-17.4%(V)
Water solubility :miscible


propylene glycol Application:
1.Propylene glycol solution performance is good, less toxicity and irritation, widely used for injection
(such as intramuscular injection, intravenous injection) and non pharmaceutical preparations for injection
(e.g., oral solution, eye ophthalmic preparation, ear preparations, tooth preparations, rectal vaginal preparations,
transdermal preparations, etc.) of the solvent, extraction solvent and preservatives, is better than glycerin solvent.
2.Propylene glycol is similar to ethanol as a bacteriostatic agent, and its inhibitory effect on mold is similar to glycerol,
slightly lower than ethanol.Propylene glycol is commonly used as a plasticizer for water-borne film coating materials.
The same amount of mixture with water can delay the hydrolysis of some drugs and increase the stability of
preparation products.
propylene glycol Storage:
Warehouse ventilation and low temperature drying.
Package: 200L/Drum
Other related items of our company:
1. Basic Organic Chemicals
2. Inorganic Chemicals
3. Pharmaceutical Intermediates
4. Daily Chemicals
5. Active Pharmaceutical Ingredients