Product Description
Industrial Grade and Food Grade Ferrous sulfate
Product Overview
Blue-green monoclinic crystals or granules, odorless. Weathering in dry air, surface oxidation to brown basic iron sulfate in moist air. It became a tetrahydrate at 56.6°C and became a monohydrate at 65°C. Soluble in water, almost insoluble in ethanol. The aqueous solution is slowly oxidized in air when it is cold, and oxidizes quickly when it is hot. Adding alkali or exposure can accelerate its oxidation. Relative density (d15) 1.897. Irritating. Anhydrous ferrous sulfate is a white powder, crystal water containing light green crystals, crystals commonly known as "green", soluble in water solution is light green. Ferrous sulphate can be used for chromatographic analysis reagents, spot analysis to determine platinum, selenium, nitrite and nitrate. Ferrous sulphate can also be used as a reducing agent, ferrite, water purification, polymerization catalyst, photoengraving, and so on.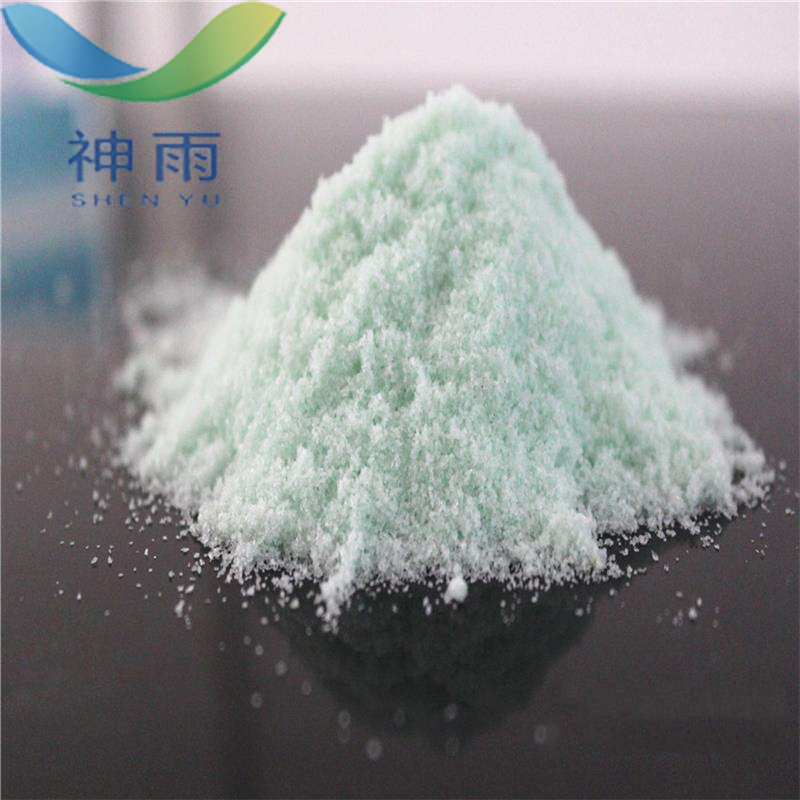 Classification
Ferrous sulfate monohydrate, ferrous sulfate pentahydrate, ferrous sulfate heptahydrate, ferrous sulfate particles and so on.
Grade: Feed Grade, Agricultural Grade, Industrial Grade, Food Grade.
Agricultural grade ferrous sulfate

Agricultural grade ferrous sulfate can effectively improve soil, remove moss and lichens, and can also be used as a pesticide to prevent and treat diseases of wheat and fruit trees. It can also be used as a fertilizer. It is a catalyst for plants to produce chlorophyll and plays an important role in plant growth. Suitable for the addition of ferrous sulfate flowers are: flowers such as Camellia, Chamei, Rhododendron, Ruixiang, Clivia, chrysanthemum, plum, etc.; leaves such as cycad, kidney fern, Monstera, spring, plume, rubber tree, Podocarpus, five-pin pine. It should be noted that if ferrous sulfate is changed from blue-green to brown due to poor preservation, the ferrous sulfate at this time has been oxidized to iron sulfate, which cannot be absorbed by flower plants.
Feed grade monohydrate ferrous sulfate

Feed grade monohydrate ferrous sulfate is removed by the wet process capacity, recrystallized dehydration, and the stainless steel equipment drying process. The product has high main element content, good solubility, pure color, no caking, good fluidity, no crushing, no Screening features. The addition of ferrous sulfate to the diet can effectively prevent hypochromic cell anemia in animals caused by widespread iron deficiency. Prevention and treatment of animals with iron deficiency, shoulder edema, dyspnea, impaired body function, uncontrolled temperature regulation, and abnormal body temperature. Promote the growth and development of livestock and poultry and aquatic animals, enhance disease resistance, and increase feed remuneration. Ferrous sulphate is a supplement for iron needed for animal husbandry and is closely related to animal hematopoiesis, oxygen transport, and intracellular biological oxidation processes. Iron is an important component of hemoglobin, myoglobin, cytochrome, and various oxidases.
Ferrous sulfate flocculant

Ferrous sulfate flocculant is one of many inorganic chemical coagulants. It is widely used in wastewater treatment such as printing and dyeing wastewater, papermaking wastewater, electroplating wastewater, etc., because of its high decoloration, phosphorus removal, and coagulation effect. A large number of applications in the treatment of papermaking wastewater.
Ferrous sulphate heptahydrate

Ferrous sulphate heptahydrate, commonly known as green wolfberry, chemical formula FeSO4 · 7H2O, molecular weight of 278.05. Irritating to human respiratory tract, inhalation causes coughing and shortness of breath. Irritating to eyes, skin and mucous membranes. Misuse caused by weakness, abdominal, nausea, blood in the stool, lung and liver damage, shock, coma, etc., severe cases can be fatal.
Industrially used for the manufacture of iron salts, inks, red iron oxide and indigo, used as mordants, tanning agents, water purifying agents, wood preservatives and disinfectants, etc.; used as fertilizers, herbicides and pesticides in agriculture. Decomposition products: (high temperature) SO2(g), SO3(g)


Dry ferrous sulfate

Dry ferrous sulfate is as its name suggests. After drying, the ferrous sulfate is dried. Ferrous sulphate is dried, also known as purified ferrous sulfate. The ferrous sulfate after purification has higher content than common ferrous sulfate heptahydrate, and the application is even more convenient. For a wide range, of course, its cost per ton is also equivalent to 2 times that of ordinary ferrous sulfate. Because it requires the direct sulphide drying of the ferrous sulfate, its excess crystal water is removed.
It is widely used in flocculation clarification and decolorization of printing and dyeing, papermaking, domestic sewage and industrial wastewater. Ferrous sulfate can also be used to treat chromium-containing wastewater and cadmium-containing wastewater. High alkalinity and high chroma wastewater treatment can reduce the amount of neutralizing acid. A lot of input.
1. Used as flocculant for the treatment of industrial wastewater such as printing and dyeing plants, paper mills, electroplating factories, circuit board factories, food factories, pharmaceutical factories, chemical fertilizer plants, and pesticide plants.
2. It is suitable for removing phosphorus from domestic sewage treatment plants.
3. For iron salt, coloring agents, preservatives, disinfectants.
4. Used as fertilizer and adjust soil pH.
Package
25-50KG/Bag, or according to your requirement
Other related items of our company:
1. Basic Organic Chemicals
2. Inorganic Chemicals
3. Pharmaceutical Intermediates
4. Daily Chemicals
5. Active Pharmaceutical Ingredients