Product Description
Industrial Grade Magnesium chloride with CAS No. 7786-30-3
Product Overview
Magnesium chloride, chemical formula MgCl2. This material can form a hexahydrate, namely magnesium chloride hexahydrate (MgCl2.6H2O), which contains six crystal waters. Halogen-free magnesium chloride is often referred to as halo powder in industry, and magnesium chloride hexahydrate is often referred to as a halogen tablet, a halogen particle, a halogen block, and the like. Whether it is anhydrous magnesium chloride or magnesium chloride hexahydrate they all have a common nature: easy to absorb moisture, easy to accommodate water. Therefore, we should pay attention to storing it in a cool and dry place when it is stored. The pure magnesium chloride is a colorless monoclinic crystal, and the industrial product is usually yellow-brown with a bitter and salty taste. Easy to absorb moisture and lose 2 crystal water when dissolved in water at 100°C. Its aqueous solution is neutral at room temperature. At 110°C, some of the hydrogen chloride starts to decompose and the strong heat is converted to oxychloride, and when it is rapidly heated, it is decomposed at about 118°C. Its aqueous solution has an acidic melting point of 118°C (decomposition, six waters) and 712°C (anhydrous).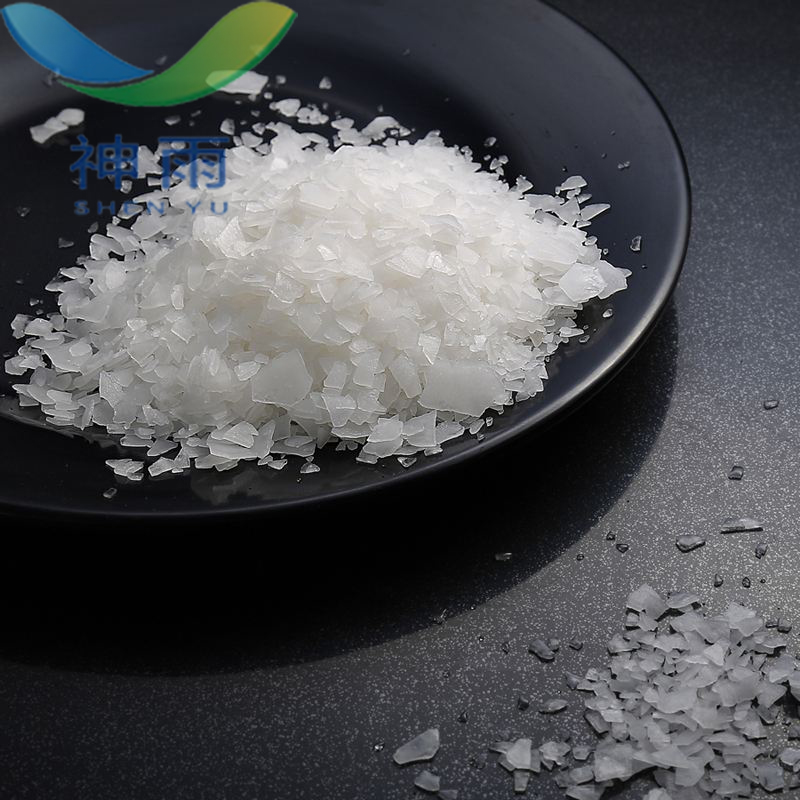 Physical Properties
CAS No. : 7786-30-3
MF: Cl2Mg
MW: 95.21
EINECS: 232-094-6
Melting Point: 714 °C(lit.)
Boiling Point: 1412°C
Density: 2.32 g/mL at 25 °C(lit.)
Refractive Index: n20/D 1.336
Storage Condition: 2-8°C
Solubility: H2O: soluble
Form: powder
Color: colorless
PH: 5.0-7.5 (25℃, 1M in H2O)
Solubility in Water: 400 G/L (20 ºC)
Sensitivity: Hygroscopic
Application
1. Curing agent. Nutrition enhancer. Flavoring agent (combined with magnesium sulfate, salt, dicalcium phosphate, calcium sulfate, etc.). Japanese sake, etc. Fermentation agent. Water remover (for fish cake, dosage 0.05%~ 0.1%). tissue modifier (combined with polyphosphates as elastic enhancer for surimi products). Due to the bitter taste, the amount used is less than 0.1%.
2. Wheat flour treatment agent; dough quality improver. oxidant. canned fish modifier. Maltose saccharification treatment agent.
Package
25, 50, 1000KGS/Bag, or according to your requirement.
Other related items of our company:
1. Basic Organic Chemicals
2. Inorganic Chemicals
3. Pharmaceutical Intermediates
4. Daily Chemicals
5. Active Pharmaceutical Ingredients