Product Description
Inorganic Salt 98% Sodium fluoride Powder
Product description:
Sodium fluoride is a colorless sparkling crystal or white powdery compound with a specific gravity of 2.25 and a melting point of 993 degrees C boiling point of 1695 degrees Celsius. Soluble in water, hydrofluoric acid, slightly soluble in alcohol. Aqueous solution is weakly alkaline, soluble in hydrofluoric acid and sodium hydrogen fluoride, which corrode glass. Poisonous! Widely used in the coating industry as phosphating accelerators, agricultural insecticides, sealing materials, preservatives and other fields.
Sodium fluoride is an ionic compound with a molecular formula of NaF. At room temperature, it is a colorless crystal or white solid with no odour [1]; it is also an important fluoride product. It is widely used in the fields of wood preservative, liquor sterilizing agent, electrolytic aluminum regulator, dental fluoridant and so on.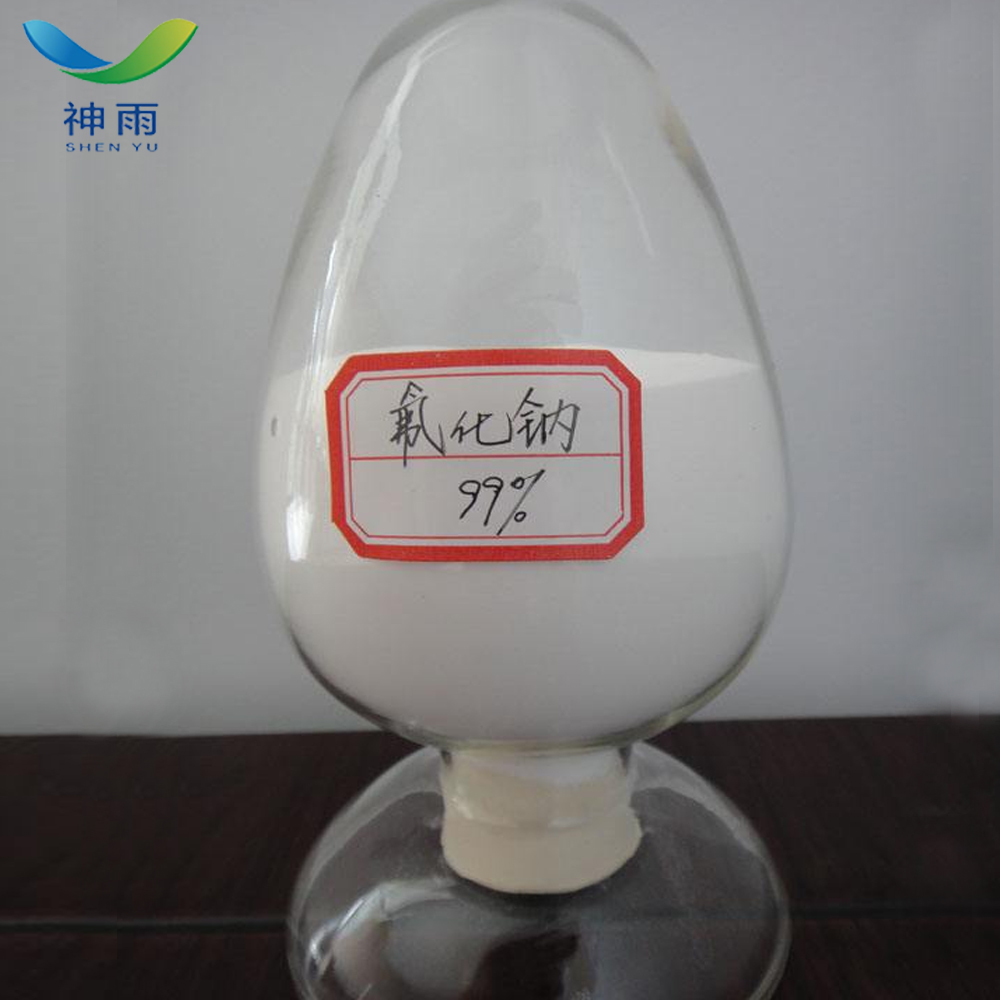 Feature:
High Purity
Low Price
Fast delivey
Good service
Product details:
English Name: Sodium fluoride
English synonyms: Alcoa sodium fluoride; alcoasodiumfluoride; Antibulit; Cavi-trol; Chemifluor; credo; Credoduraphat; Dentalfluoro
CAS: 7681-49-4
Molecular formula: FNa
Molecular weight: 41.99
EINECS: 231-667-8
Melting point: 993 degree C (lit.)
Boiling point: 1700 C
Density: 1.02 g/mL at 20 degree C
Vapor pressure: 1.4 mm Hg (0 degree C)
Refractive index: 1.336
Flash point: 1704 C
Storage condition: 2-8 degree C
Solubility H2O: 0.5 M at 20 degree C, clear, colorless
Form: powder
Color: White to off-white
PH value: 7.0-10.0 (25 C, 0.5M in H2O)
Sodium fluoride Application:
1. Can be used as a degassing agent for high carbon steel, such as boiling steel, flux for electrolytic or electrolytic refining of aluminum, waterproof treatment for paper, antiseptic of wood preservatives (an electric rod such as sodium fluoride and nitrocresol or two nitrophenol as the base), antiseptic materials (drinking water, toothpaste, etc.), fungicides, insecticides, preservatives, etc. Use;
2. It is used for the prevention of dental caries and dental caries in children who lack fluoride in drinking water.
3, small doses are mainly used for osteoporosis and Paget osteopathy.
4. It can be used as raw material for fluoride production and fluorine absorbent for fluorine chemical industry.
5. It can be used as light metal fluorine salt treatment agent, refining protectant and UF3 adsorbent in nuclear industry.
6. Steel and other metal cleaning fluids, flux and flux.
7, ceramics, glass and enamel flux and shading agent, leather manufacturing and leather treatment agent;
8. As a phosphating accelerator in black metal surface treatment, the phosphating solution is stable and the phosphating film performance is improved.
9, as an additive in the production of sealing materials and brake pads, it will increase the wear resistance.
10 as an additive in concrete, it will enhance the decay resistance of concrete.
Sodium fluoride Attention:
[skin contact]
Remove contaminated clothing and rinse with plenty of fresh water.
[eye contact]
Lift eyelids and rinse with flowing or normal saline. Go to a doctor.
[inhalation]
Quickly out of the scene to the fresh air. Keep the respiratory tract unobstructed. If breathing is difficult, oxygen is given. If breathing is stopped, artificial respiration is carried out immediately. Go to a doctor.
[feed]
Drink plenty of warm water and urge vomiting. Go to a doctor

Storage:
Sodium fluoride should be placed in low temperature, dry and ventilated storeroom. Tight doors and windows to prevent direct sunlight. It can be stored in the same store as nitrate other than ammonium nitrate, but it is isolated from organic matter, combustibles and reducing agents and is isolated from fire sources.
Package:25kg/Bag
Other related items of our company:
1. Basic Organic Chemicals
2. Inorganic Chemicals
3. Pharmaceutical Intermediates
4. Daily Chemicals
5. Active Pharmaceutical Ingredients