Product Description
Industrial Grade Octadecanamine CAS 124-30-1
Octadecanamine, white wax like crystal, easily soluble in chloroform, soluble in alcohol, ether, benzene, slightly soluble in acetone, insoluble in water, with the nature of amines, and obtained by ammonification of stearic acid and hydrogenation. It is mainly used in the preparation of eighteen alkane quaternary ammonium salts and a variety of additives, such as cationic grease thickening agent, mineral flotation agent, asphalt emulsifier, antistatic agent, corrosion inhibitor for water treatment, surface active agent, bactericide, color film, and so on.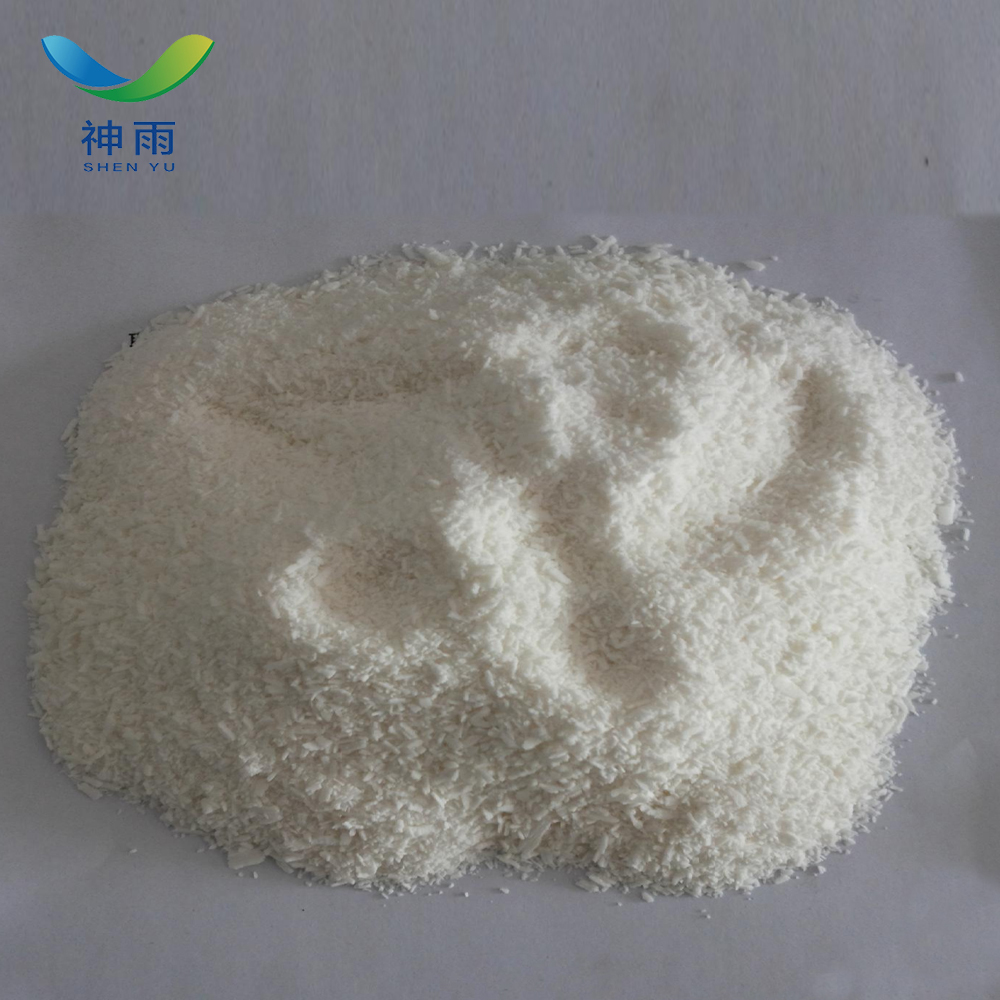 Feature:
High Purity
Low Price
Fast delivey
Good service
Octadecanamine Product details:
English Name: Octadecanamine
English synonyms: 1-Octadecanamine; Adogenen 142; adogenen142; Alamine 7; Alamine 7D; alamine7; alamine7d; Amine 18-90
CAS: 124-30-1
Molecular formula: C18H39N
Molecular weight: 269.51
EINECS: 204-695-3
Melting point 50-52 degree C (lit.)
Boiling point 232 C32 mm Hg (lit.)
Density 0.862
Vapor pressure 10 mm Hg (72 degree C)
Refractive index 1.4522
Flash point 300 F
Storage conditions Store below +30 C.

Octadecanamine Application:
1. couplers for making color photographs, used as resins, emulsifiers, fungicides, raw materials for surface active agents and textile auxiliaries.
2. used as an intermediate in organic synthesis, used in the production of eighteen alkanes and a variety of additives, such as cationic grease thickener, mineral dressing agent, pesticide and asphalt emulsifier, fabric antistatic agent, softener, wetting agent and waterproof agent, surfactant, bactericide, color agent, color film, and refining unit. Corrosion agent. Octadecyl diethanolamine [10213-78-2] was synthesized by the reaction of Octadecylamine with ethylene oxide at a molar ratio of 1:2 at 150-190 C. Eighteen alkyl two ethanolamine is a non-ionic antistatic agent which can be used in polypropylene, polystyrene and ABS resin.
3. organic synthesis. Corrosion inhibitor. Emulsifier. Bactericide.

Octadecanamine Attention:
[Ingestion]
If victim is conscious and alert, give 2-4 cupfuls of milk or water. Never give anything by mouth to an unconscious person. Get medical aid immediately.
[Inhalation]
Get medical aid immediately. Remove from exposure to fresh air immediately. If not breathing, give artificial respiration. If breathing is difficult, give oxygen.
[Skin]
Get medical aid immediately. Flush skin with plenty of soap and water for at least 15 minutes while removing contaminated clothing and shoes. Wash clothing before reuse.
[Eyes]
Flush eyes with plenty of water for at least 15 minutes, occasionally lifting the upper and lower eyelids. Get medical aid immediately.

Storage: Store in a tightly closed container. Do not store in glass. Store in a cool, dry area away from incompatible substances.
Package: 25kg/Bag
Other related items of our company:
1. Basic Organic Chemicals
2. Inorganic Chemicals
3. Pharmaceutical Intermediates
4. Daily Chemicals
5. Active Pharmaceutical Ingredients