Product Description
Industrial Sodium Chlorate with CAS No. 7775-09-9
Product Overview
The chemical formula of sodium chlorate is NaClO3 with a relative molecular weight of 106.44. Usually white or slightly yellow equiaxed crystals. Salty and cool, soluble in water, slightly soluble in ethanol. Strong oxidation in acidic solution, oxygen decomposition above 300°C. Sodium chlorate is unstable. When mixed with phosphorus, sulfur, and organic matter, they are prone to combustion and explosion when they are struck, and they easily absorb moisture to form agglomerates. It is mainly used in the manufacture of chlorine dioxide, sodium chlorite, perchlorate and other chlorates. Note that the reaction between sodium chlorate and hydrochloric acid to form chlorine dioxide and chlorine does not result in pure chlorine. The former can easily cause explosions and cause accidents.
Industrial sodium chlorate is salty and cool, with a relative density of 2.490 and a melting point of 255°C. Soluble in ethanol, liquid ammonia, glycerol. Heating to more than 300 ° C easy to release oxygen. The oxidizing power is very low in a neutral or slightly alkaline solution, but it is a strong oxidant in acidic solutions or in the presence of induced oxidants and catalysts (such as ammonium sulfate, copper sulfate, yellow blood salts, etc.). Chlorine dioxide is released by the action of acids such as sulfuric acid. Has a strong oxidizing power, mixed with sulfur, phosphorus and organic matter or by the impact easily lead to combustion and explosion. Deliquescence, can absorb moisture in the air with high humidity as a solution.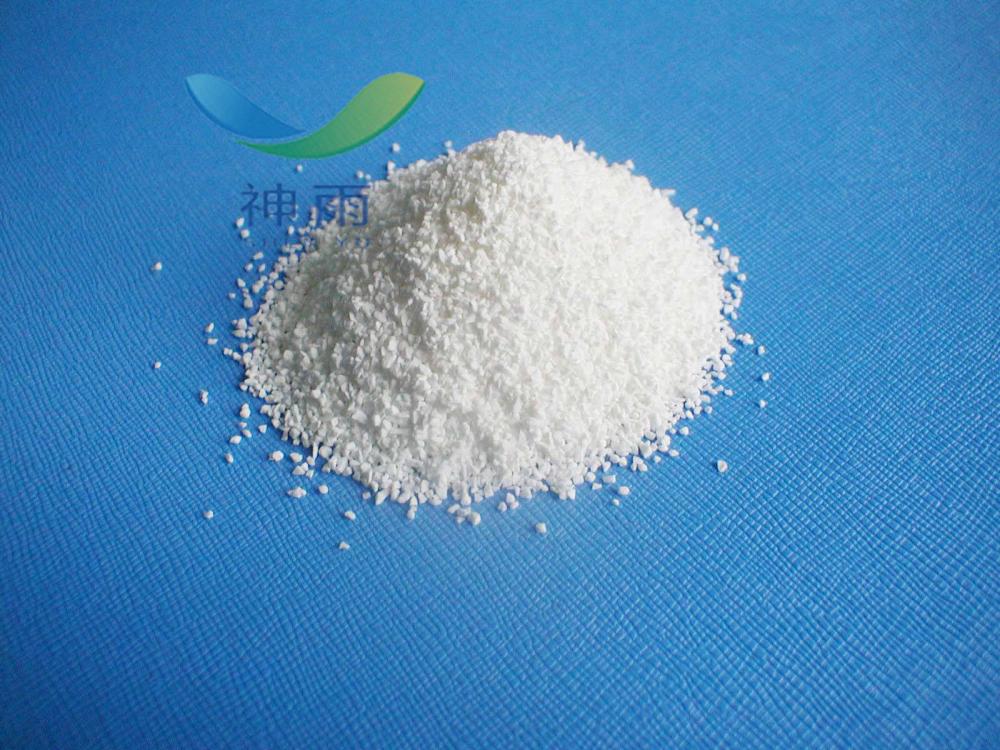 Physical Properties
CAS No. : 7775-09-9
MF: ClNaO3
MW: 106.44
EINECS: 231-887-4
Melting Point: 248-261 °C(lit.)
Density: 2.49
Storage condition: room temp
Solubility in water: soluble(lit.)
Form: Solid
Color: White
PH: 5-7 (50g/l, H2O, 20℃)
Solubility in Water: 1000 g/L (20 ºC)
Application
1. It is mordant and oxidant, used in printing and dyeing industry and inorganic industry.
2. For the manufacture of chlorine dioxide, sodium chlorite and perchlorate.
3. Herbicides used in agriculture, such as non-cultivation and non-cultivated weed control in land reclamation. A variety of plants can be killed and have an effect on the roots of Asteraceae and Gramineae. It has a significant effect on deep-rooted perennial grasses. All green plants have strong phytotoxicity, and plant roots and stems have a systemic effect on them. It is generally applied during the vigorous growth of plants. The dosage depends on the type, quantity and size of weeds. Water spray or direct dusting can be used together with residual organic herbicides such as dimeron, diuron, herbicid, etc. as a mixture of herbicides.
4. Pharmaceutical industry for the manufacture of medicinal zinc oxide, sodium dithiosuccinate. Pigment industry for the manufacture of advanced zinc oxide and Hua Lan.
5. It is a bleaching agent for papermaking and tanning. Ore processing.
6. It can also be used to extract bromine from seawater and produce printing inks, explosives, etc.
7. It can also be used for the verification of silicon dioxide. Nutritional agents. Adhesives.
Package
25, 50, 1000KGS/Bag, or according to customer's requirement.
Other related items of our company:
1. Basic Organic Chemicals
2. Inorganic Chemicals
3. Pharmaceutical Intermediates
4. Daily Chemicals
5. Active Pharmaceutical Ingredients