Product Description
Pharmaceutical Hydroquinone with CAS No. 123-31-9
Product Overview
Hydroquinone is an organic compound in which two para hydrogens of benzene are replaced by hydroxyl groups. White crystals. Also called hydroquinone. Poisonous, adults mistaken for 1 gram, you can have headaches, dizziness, tinnitus, pale and other symptoms. Hydroquinone encounters fire, heat and flammability, reacts with strong oxidants, and releases carbon monoxide by high heat. Hydroquinone is mainly used in the preparation of black and white developer, anthraquinone dyes, azo dyes, rubber antioxidants, stabilizers and antioxidants. Hydroquinone is flammable and easily exposed to light in the air. Its aqueous solution can be oxidized to brown in air and oxidized faster in alkaline media. Soluble in ether and ethanol, slightly soluble in benzene. It is reducible, and the brown benzoquinone (C6H4O2) is obtained through mild oxidation. The benzoquinone is reduced to obtain hydroquinone. P-benzoquinone-hydroquinone redox pairs exist in many biomolecules, such as coenzyme Q and so on.
The phenolic hydroxyl of hydroquinone is weakly acidic and can lose one or two protons to generate the corresponding phenolate anion. It is mainly used as reducing agent, developer (reduction of silver halide to silver), polymerization inhibitor of monomer (acrylic acid, methyl methacrylate), and skin whitening agent. Hydroquinone ether is a raw material for the production of dyes and perfumes.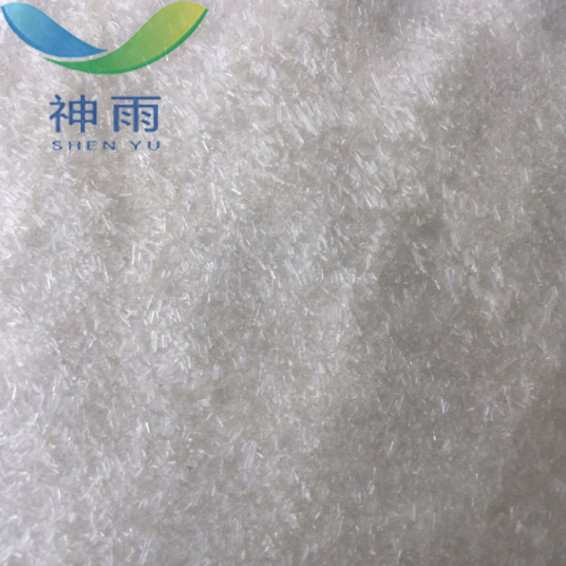 Physical Properties
CAS No. : 123-31-9
MF: C6H6O2
MW: 110.11
EINECS: 204-617-8
Melting Point: 172-175 °C(lit.)
Boiling Point: 285 °C(lit.)
Density: 1.32
Vapor Density: 3.81 (vs air)
Vapor Pressure: 1 mm Hg ( 132 °C)
Flash Point: 165 °C
Storage: Refrigerator
Solubility: H2O: 50 mg/mL, clear
Acidity coefficient (pKa): 10.35(at 20℃)
Form: Needle-Like Crystals or Crystalline Powder
Color: White to off-white
Solubility: 70 g/L (20 ºC)
Sensitivity: Air & Light Sensitive
Application
1. Hydroquinone is mainly used as a photographic developer. Hydroquinone and its alkylates are widely used as polymerization inhibitors added during the storage and transportation of monomers. The commonly used concentration is about 200 ppm.
2. Used as an antioxidant for rubber and gasoline.
3. In the field of treatment, hydroquinone is added to the hot water and cooling water of the closed-circuit heating and cooling system, which acts as a corrosion inhibitor to the water side metal. The deoxidizer for hydroquinone is used in the boiler water to add hydroquinone to the boiler water during preheating and deoxygenation to remove residual dissolved oxygen.
4. It is anthraquinone dyes, azo dyes, and pharmaceutical raw materials.
5. As corrosion inhibitors, stabilizers and antioxidants for detergents, also used as hair dyes for cosmetics.
6. Photometric determination of phosphorus, magnesium, barium, copper, silicon and arsenic. The polarographic and volumetric determinations of niobium. Heteropoly acid reducing agent, copper and gold reducing agent
Package
25KGS/Bag, Paper bag packaging lined with plastic, or according to your requirement.
Other related items of our company:
1. Basic Organic Chemicals
2. Inorganic Chemicals
3. Pharmaceutical Intermediates
4. Daily Chemicals
5. Active Pharmaceutical Ingredients