Product Description
PVC Heat Stabilizer Lithium Stearate CAS 4485-12-5
Lithium stearate, fine white powder. The content of lithium oxide is 5.3~5.6%. The content of free acid is 0. 2%. The water is less than 1%. The melting point is 220. - 221.5 centigrade. The particle size (above 99% is less than 74 microns). Solubility at 18 C (gram /100 ml solvent): water 0.9, ethanol 0.4, ethyl ether 0.04. This product can be used as PVC heat stabilizer for transparent products. When it is used with the plasticizer of phthalic acid two formic acid, the products do not have white mist, and the transparency of the film is good. This product is more easily fused to ketones than other stearate salts, and has less influence on the embossing operation. This product can be used as a non-toxic substitute for barium soap and lead soap. This product can also be used in conjunction with phosphatidic acid plasticizers. This product can also be used as an external lubricant. It is suitable for nylon, phenolic resin and hard polyvinyl chloride (the maximum amount of 0.6). This product is used in the production of lithium grease in the lubricating oil, waterproof, impervious construction, etc.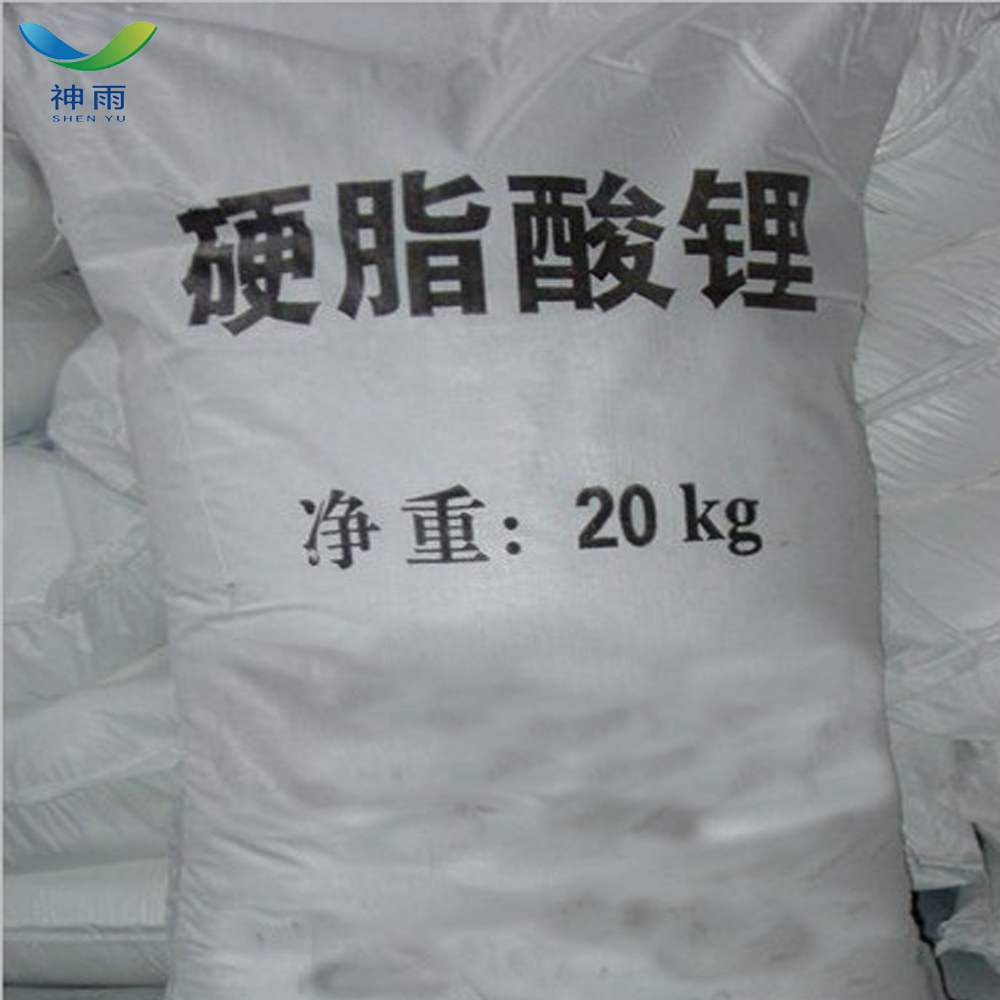 Feature:
High Purity
Low Price
Fast delivey
Good service
Lithium stearate Product details:
English Name: Lithium stearate
English synonyms: LITHIUM STEARATE; STEARIC ACID LITHIUM SALT; lithalure; lithiumoctadecanoate; litholite; Octadecanoicacid, lithiumsalt; stavinor;
CAS: 4485-12-5
Molecular formula: C18H35LiO2
Molecular weight: 290.41
EINECS: 224-772-5
Melting point 220 C
Form Powder
Color White
Water solubility Insoluble in water.

Lithium stearate Application:
Used as a high temperature lubricant, plastic industrial stabilizer, etc.
Lithium stearate Attention:
[Ingestion]
If victim is conscious and alert, give 2-4 cupfuls of milk or water. Never give anything by mouth to an unconscious person. Get medical aid immediately.
[Inhalation]
Get medical aid immediately. Remove from exposure to fresh air immediately. If not breathing, give artificial respiration. If breathing is difficult, give oxygen.
[Skin]
Get medical aid immediately. Flush skin with plenty of soap and water for at least 15 minutes while removing contaminated clothing and shoes. Wash clothing before reuse.
[Eyes]
Flush eyes with plenty of water for at least 15 minutes, occasionally lifting the upper and lower eyelids. Get medical aid immediately.

Storage: Store in a tightly closed container. Do not store in glass. Store in a cool, dry area away from incompatible substances.
Package: 25kg/Bag
Other related items of our company:
1. Basic Organic Chemicals
2. Inorganic Chemicals
3. Pharmaceutical Intermediates
4. Daily Chemicals
5. Active Pharmaceutical Ingredients