Product Description
Red Ferric oxide Fe2O3 CAS 1309-37-1
Ferric oxide, chemical type Fe2O3. Also known as burning limonite, burnt ocher, iron Dan, iron oxide, red powder, Venice red (mainly iron oxide) and so on. It is easy to dissolve in strong acid, medium strong acid, and its appearance is red brown powder. Its red brown powder is a kind of low grade pigment. It is called iron oxide red in industry. It is used in paint, ink, rubber and other industries. It can be used as catalyst for polishing glass, gemstone and metal. It can be used as iron making material. Iron oxide is the main component of rust. The main cause of rust is that iron metal react with water and oxygen in the environment in the presence of impurity carbon, and iron metal will rust. It can be used as catalyst, polishing agent for glass, gem and metal in paint, ink and rubber industry, and can be used as raw material for iron making. The largest application of iron oxide is the use of pigment. It is divided into iron oxide red, iron oxide yellow and iron oxide black, and iron oxide brown is made of iron oxide red, iron oxide black (and iron oxide yellow), and iron oxide orange is made of ferric oxide red and iron oxide yellow, and iron oxide green is made from blue phthalocyanine blue and iron oxide yellow. Stability: stable, soluble in hydrochloric acid, dilute sulphuric acid to form ferric salt. Iron ions are produced in the replacement reaction.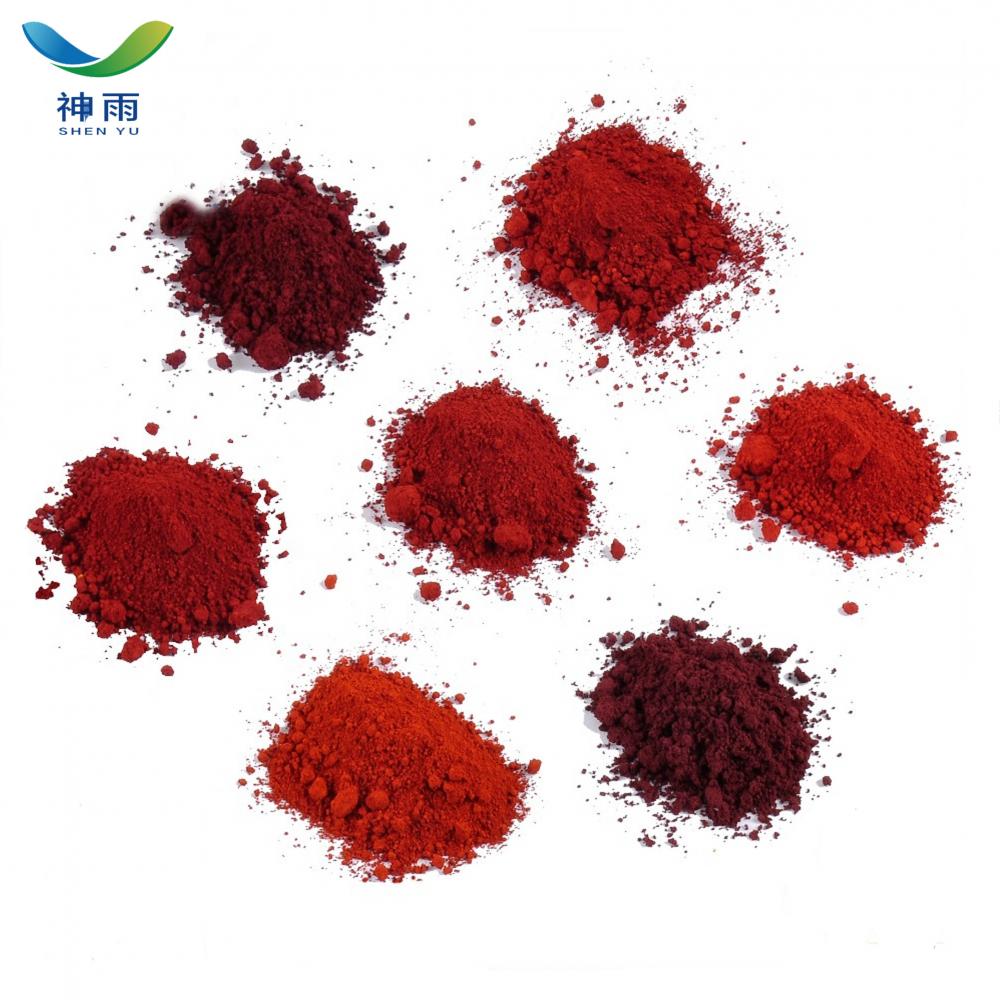 Feature:
High Purity
Low Price
Fast delivey
Good service
Ferric oxide Product details:
English Name: Ferric oxide
English synonyms: Ferric oxide (II, III), magnetic nanoparticles solution, Ferric (III) oxide; Iron (III). On (LLL) oxide
CAS: 1309-37-1
Molecular formula: Fe2O3
Molecular weight: 159.69
EINECS: 215-168-2
Melting point: 1538 C
Density: 5.24
Flash point: >230 F
Storage condition: 2-8 degree C
Solubility: It is soluble In Warm Hydrochloric Acid Slightly Soluble in Sulfuric Acid.
Form: pieces
Color: black
PH value 3.7 + 0.3
Water solubility: INSOLUBLE

Ferric oxide Application:
1. used for coloring of paint, rubber, plastics, building and so on.
The 2. is inorganic pigment, which is used as antirust pigment in paint industry. It is also used as a colorant for rubber, artificial marble, ground terrazzo, colorants and filling agents for plastics, asbestos, artificial leather, leather wiping pulp, precision instruments, polishing agents for optical glass, and raw materials for making ferromagnetic components of magnetic materials.
3. used for ferrite materials, such as electronic industry, communication machines, televisions, computers and other magnetic materials and line output transformers, switching power supplies, and high U and high UQ cores.
4. used as analytical reagent, catalyst and polishing agent, as well as pigment ingredients.
5. for all kinds of pills, pills, coat, coloring, and coloring.
6. used as magnetic materials, pigments and reducing agents, polishing agents, catalysts, etc.
7., used for coloring of sugar coated tablets and capsules.
8. a pigment used as an antirust paint. The mica ferric oxide antirust paint made of this product has good water permeability and excellent rust resistance and can replace red lead.
9. to eat red pigment. Japan is used for red bean rice and konjac food. For identification of bananas that used preservatives to handle fruit handles. The United States is mostly used for cat food, dog food and packaging materials.
10. inorganic red pigment. It is mainly used for transparent coloring of coins, and also for coloring paints, inks and plastics.
11. it is mainly used as magnetic materials, pigments, polishing agents, catalysts, etc., and is also used in telecommunications and instrumentation industries.
12. analytical reagent, catalyst, stained glass filter (green), ferrite. Polishing agent. Pigments are made up.
13. for paint, ink and plastic coloring.
14. inorganic red pigment. It is widely used in paint, rubber, plastic cosmetics, architectural fine grinding materials, precision hardware instruments, optical glass, enamel, cultural and educational supplies, leather, magnetic alloy and high alloy steel.
Ferric oxide Attention:
[Ingestion]
If victim is conscious and alert, give 2-4 cupfuls of milk or water. Get medical aid immediately.
[Inhalation]
Remove from exposure to fresh air immediately. Get medical aid if cough or other symptoms appear.
[Skin]
Get medical aid if irritation develops or persists. Flush skin with plenty of soap and water.
[Eyes]
Immediately flush eyes with plenty of water for at least 15 minutes, occasionally lifting the upper and lower eyelids. Get medical aid immediately.
Storage: Keep from contact with oxidizing materials. Store in a cool, dry, well-ventilated area away from incompatible substances.
Package: 25kg/Bag
Other related items of our company:
1. Basic Organic Chemicals
2. Inorganic Chemicals
3. Pharmaceutical Intermediates
4. Daily Chemicals
5. Active Pharmaceutical Ingredients