Product Description
Iron Oxide Yellow CAS 1309-33-7
Yellow Iron Oxide, chemical Fe (OH) 3, a brown or reddish brown powder or a dark brown flocculent precipitate or colloid, used to make pigments and drugs, used as a water purifying agent (colloid), and also used as a detoxification agent for arsenic. Brown or reddish brown powder or dark brown floc, under certain conditions the dispersion is a colloid. The density is 3.4 to 3.9g/cm3. It is bisexual, but its alkalinity is stronger than acid. The new iron hydroxide is soluble in inorganic acid and organic acid, and also soluble in hot alkali.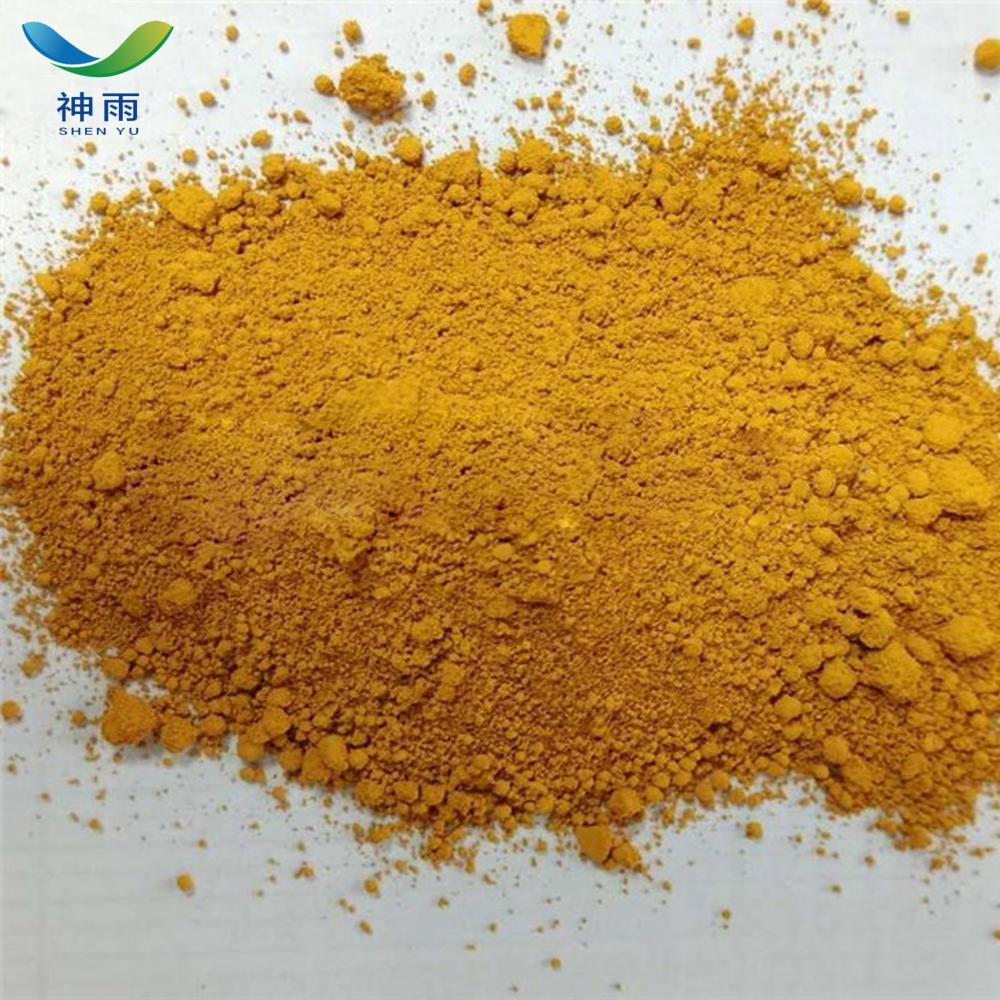 Feature:
High Purity
Low Price
Fast delivey
Good service
Yellow Iron Oxide Product details:
English Name: YELLOW IRON OXIDE
English synonyms: Fe (OH) 3; Iron hydroxide (Fe (OH) 3); ironhydroxide (Fe (OH) 3); irontrihydroxide; FERRISPEC (R);
CAS: 1309-33-7
Molecular formula: FeHO2
Molecular weight: 88.85
EINECS: 243-746-4
Form: crystalline
Yellow Iron Oxide Application:
1. used as pharmaceutical preparations, water purifying agents, and also for pigment manufacturing.
2. used in the manufacture of pharmaceuticals, pigments, and as an antidote for arsenic. It can also be used as catalyst, water purifying agent and so on.
Yellow Iron Oxide Attention:
[Ingestion]
If victim is conscious and alert, give 2-4 cupfuls of milk or water. Get medical aid immediately.
[Inhalation]
Remove from exposure to fresh air immediately. Get medical aid if cough or other symptoms appear.
[Skin]
Get medical aid if irritation develops or persists. Flush skin with plenty of soap and water.
[Eyes]
Immediately flush eyes with plenty of water for at least 15 minutes, occasionally lifting the upper and lower eyelids. Get medical aid immediately.
Storage: Keep from contact with oxidizing materials. Store in a cool, dry, well-ventilated area away from incompatible substances.
Package: 25kg/Bag
Other related items of our company:
1. Basic Organic Chemicals
2. Inorganic Chemicals
3. Pharmaceutical Intermediates
4. Daily Chemicals
5. Active Pharmaceutical Ingredients