Sodium Dichromate with CAS 7789-12-0
Red to orange crystals. Slightly hygroscopic. About 400 ℃ 100 ℃ without losing the crystal water, starts to break down. Soluble in water, insoluble in ethanol, water solution is acidic. The pH of 1% water solution is 4, 10% water solution is 3.5. The relative density is 2.348. Melting temperature of 356.7 ℃ (no water). Strong oxidation, friction with organic matter or impact can cause combustion. Extremely toxic (T+), 50% lethal (rat, oral) 50mg/kg (no water product). According to the epidemiological investigation, there is a strong risk of cancer in humans. Corrosive.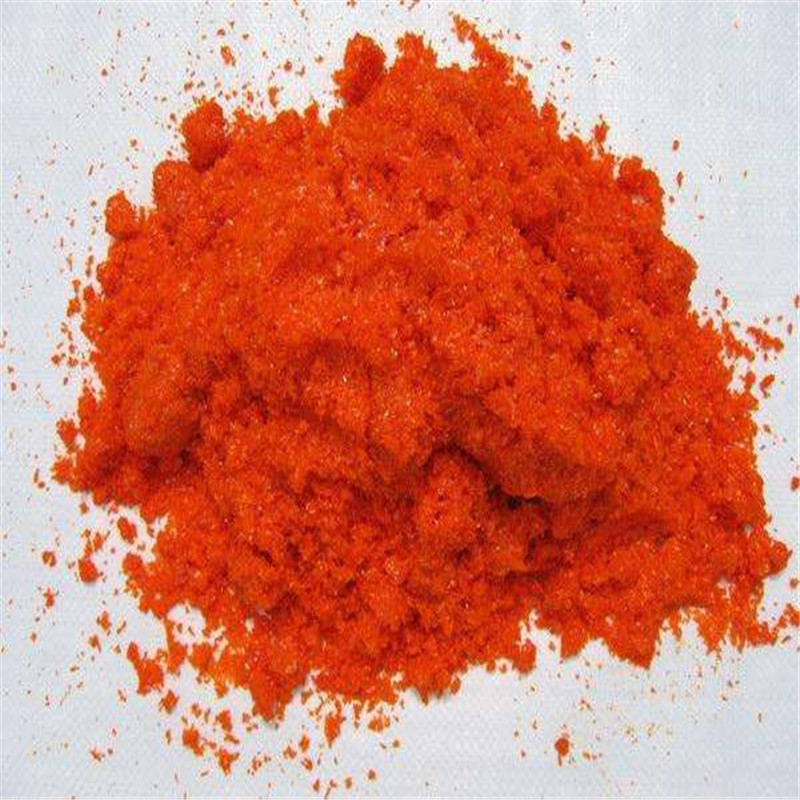 Synonyms: SODIUM DICHROMATE; SODIUM DICHROMATE 2 h2o. SODIUM DICHROMATE - 2 - HYDRATE; SODIUM DICHROMATE DIHYDRATE; SODIUM DICHROMATE, HYDROUS; SODIUM BICHROMATE; SODIUM BICHROMATE DIHYDRATE; Chromicacid (h2cr2o7), disodiumsalt, dihydrate;
CAS no. : 7789-12-0;
Molecular formula: Cr2H4Na2O9;
Molecular weight: 298;
EINECS no. : 234-190-3;
Mol documentation: 7789-12-0. Mol.
Appearance and properties: orange crystal, easy to moisture.
Melting point (℃) : 357 (anhydrous)
Relative density (water =1) : 2.35
Boiling point (℃) : 400 (anhydrous)
Molecular formula: Na2Cr2O7·2H2O
Molecular weight: 297.99
Solubility: soluble in water, insoluble in alcohol.
Use
Used for production of chromic anhydride, potassium dichromate, ammonium dichromate, basicity chromium, lead, chromium sulfate, copper and chrome yellow, red, chrome yellow, chrome oxide green materials, such as the production of alkaline lake blue dye, saccharin, synthetic camphor and oxidant of synthetic fiber. The pharmaceutical industry is used in the production of sulfosone, benzocaine, folic acid, refunol and other oxidants. The printing and dyeing industry is used as an oxidant for the dyeing of aniline dyes, a post-treatment agent for the dyeing of sulfide VAT dyes, and a mordant for the dyeing of acid mordant dyes. Tannins are used in the leather industry. The electroplating industry is used for passivation treatment after galvanization to increase the brightness. The glass industry is used as a green coloring agent.