Product Description
Sulfanilamide with CAS 63-74-1
Sulfanilamide, white granule or powder crystalline, odorless, slightly bitter taste. Slightly soluble in cold water, ethanol, methanol, ether and acetone, easily soluble in boiling water, glycerol, hydrochloric acid, potassium hydroxide and sodium hydroxide solution, not soluble in chloroform, ether, benzene, petroleum ether. It can be made from acetylaniline by chlorosulfonation, amination, hydrolysis and neutralization.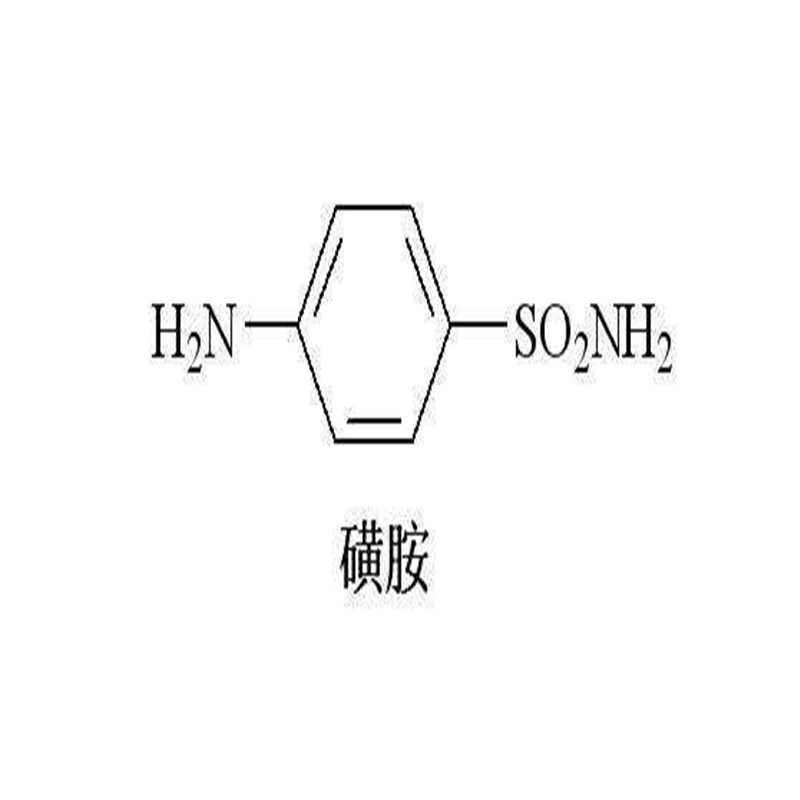 CAS:63-74-1
MF:C6H8N2O2S
MW:172.2
EINECS:200-563-4
Synonyms:p-amino-benzenesulfonamid ;p-Aminobenzensulfonamide;p-Aminophenylsulfonamide;Prontalbin;Prontosil album;Prontosil i;Prontosil white;prontosilalbum
Properties
Melting point:164-166 °C(lit.)
Density 1.08
storage temp. 0-6°C
solubility 5.37g/l
form Liquid
color white to faintly beige
PH 5.8-6.1 (5g/l, H2O, 20℃)
Water Solubility 7.5 g/L at 25 ºC
Λmax 257nm(H2O)(lit.)
Merck 14,8925
BRN 511852
InChIKey FDDDEECHVMSUSB-UHFFFAOYSA-N
Use
1. Determination of nitrite. Biochemical studies. Organic synthesis.
2. This product is an important intermediate of sulfonamides. This product for hemolytic streptococcus, meningitis, aureus antibacterial effect is strong, but because of poor effects, toxicity, rarely used for internal use, external use as "agent or ointment can control wound infection, but can cause an allergic reaction, so rarely used, now used as intermediates for synthesis of other sulfa drugs, foreign agricultural" yellow grass spirit "is also used as a synthetic materials.
3. Used as an analytical reagent, such as a spectrophotometric reagent for the determination of nitrite and sodium ferrocyanide nitrite. Used in biochemical research, organic synthesis and pharmaceutical industry.
4. The main raw materials for the synthesis of sulfonamides can be used for the preparation of crystalline sulfonamides for external use to reduce inflammation, and other sulfonamides, such as sulfamami
dine, sulfamethoxazine, and sulfamethyrimidine, etc. [1].
Other related items of our company:
1. Basic Organic Chemicals
2. Inorganic Chemicals
3. Pharmaceutical Intermediates
4. Daily Chemicals
5. Active Pharmaceutical Ingredients