Product Description
Supply Top Quality Ferroferric Oxide Powder Price
Ferroferric Oxide, chemical type Fe3O4. Commonly known as iron oxide black, magnet, magnet, black iron oxide, magnetic black crystal, it is also known as magnetic iron oxide. It can not be considered "ferrous ferric acid" [Fe (FeO2) 2], nor can it be considered as a mixture of ferrous oxide (FeO) and iron oxide (Fe2O3), but it can be considered approximately as a compound of iron oxide and iron oxide (FeO. Fe2O3). This substance is soluble in acid solution, insoluble in water, alkali solution and organic solvents such as ethanol and ether. The natural Fe3O4 is insoluble in acid solution, and it is easy to oxidize in air under wet condition. It is usually used as a pigment and polishing agent, and can also be used for making audio tapes and telecommunication equipment.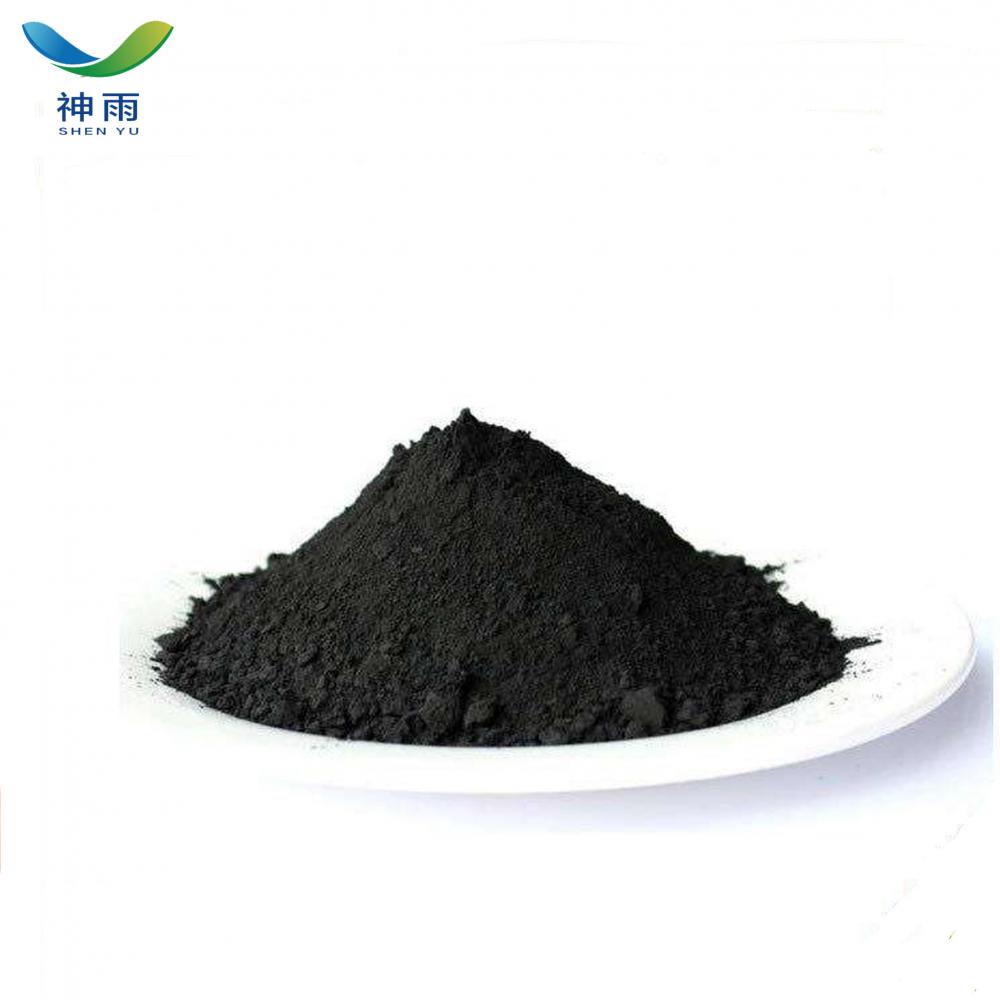 Feature:
High Purity
Low Price
Fast delivey
Good service
Ferroferric Oxide Product details:
English Name: Ferroferric Oxide
English synonyms: FERROSOFERRIC OXIDE BLACK; FERROUS/FERRIC OXIDE; FERROUS (IC) OXIDE BLACK; IRON (II) OXIDE.
CAS: 1317-61-9
Molecular formula: Fe3O4-2
Molecular weight: 231.53
EINECS: 215-277-5
Melting point: 1538 degree C (lit.)
Density: 4.8-5.1 g/mL at 25 degree C (lit.)
Refractive index: 3
Flash point: 7 C
Storage condition: 2-8 degree C
Form: powder
Color: black
Water soluble: Insoluble in water and organic solvents. Soluble in concentrated mineral acids.
Ferroferric Oxide Application:
1. be used for food melanin.
2. used as analytical reagent, and also in pharmaceutical industry, pigment preparation and electronics industry.
3. as the main raw material for ammonia catalyst
4. used as a watercolor, oil color, ink paint. The paint industry is used to make antirust paint and other primers. The construction industry is used for coloring artificial marble and cement floor. The electronic telecommunication industry is used to make magnetic steel and also used as cathode plate of alkaline dry battery. It is used in machine manufacturing for steel flaw detection.
5., used for coloring of sugar coated tablets and capsules.
6. for pigments and polishing agents, etc. for coloring paints, plastics and buildings.
7. used in medicine, metallurgy, electronics and textile industries, as well as catalysts, polishing agents, paints and ceramics, such as pigments, glass colorants. Special magnetic iron oxide can be used to make audio tapes and telecommunication equipment.
Ferroferric Oxide Attention:
[Ingestion]
If victim is conscious and alert, give 2-4 cupfuls of milk or water. Get medical aid immediately.
[Inhalation]
Get medical aid immediately. Remove from exposure to fresh air immediately. If not breathing, give artificial respiration. If breathing is difficult, give oxygen.
[Skin]
Flush skin with plenty of soap and water for at least 15 minutes while removing contaminated clothing and shoes. Get medical aid if irritation develops or persists.
[Eyes]
Immediately flush eyes with plenty of water for at least 15 minutes, occasionally lifting the upper and lower eyelids. Get medical aid.

Storage: Store in a cool, dry, well-ventilated area away from incompatible substances.
Package: 25kg/Bag
Other related items of our company:
1. Basic Organic Chemicals
2. Inorganic Chemicals
3. Pharmaceutical Intermediates
4. Daily Chemicals
5. Active Pharmaceutical Ingredients