Product Description
98.5% Min Ammonium persulfate (APS) CAS 7727-54-0
Product description:
Ammonium persulfate is a colorless monoclinic crystal, sometimes slightly greenish, with deliquescence. Widely used in the battery industry; it is also used as a polymerizing initiator and depulsing in the fiber industry; used as a surface treatment agent for metal and semiconductor materials, etches for printed circuits; also widely used in oil fracturing, flour and starch processing, oil industry, and used in photographic industry. Sea wave. Ammonium persulfate can also be used as initiator for emulsion polymerization of vinyl monomers such as vinyl acetate and acrylic ester. It is also used as curing agent for urea formaldehyde resin and has the fastest curing speed. It is also used as an oxidant for starch adhesives, which reacts with the protein in starch components to improve adhesion. The reference dosage is 0.2% to 0.4% of starch. It is also used as a surface treatment agent for metal copper.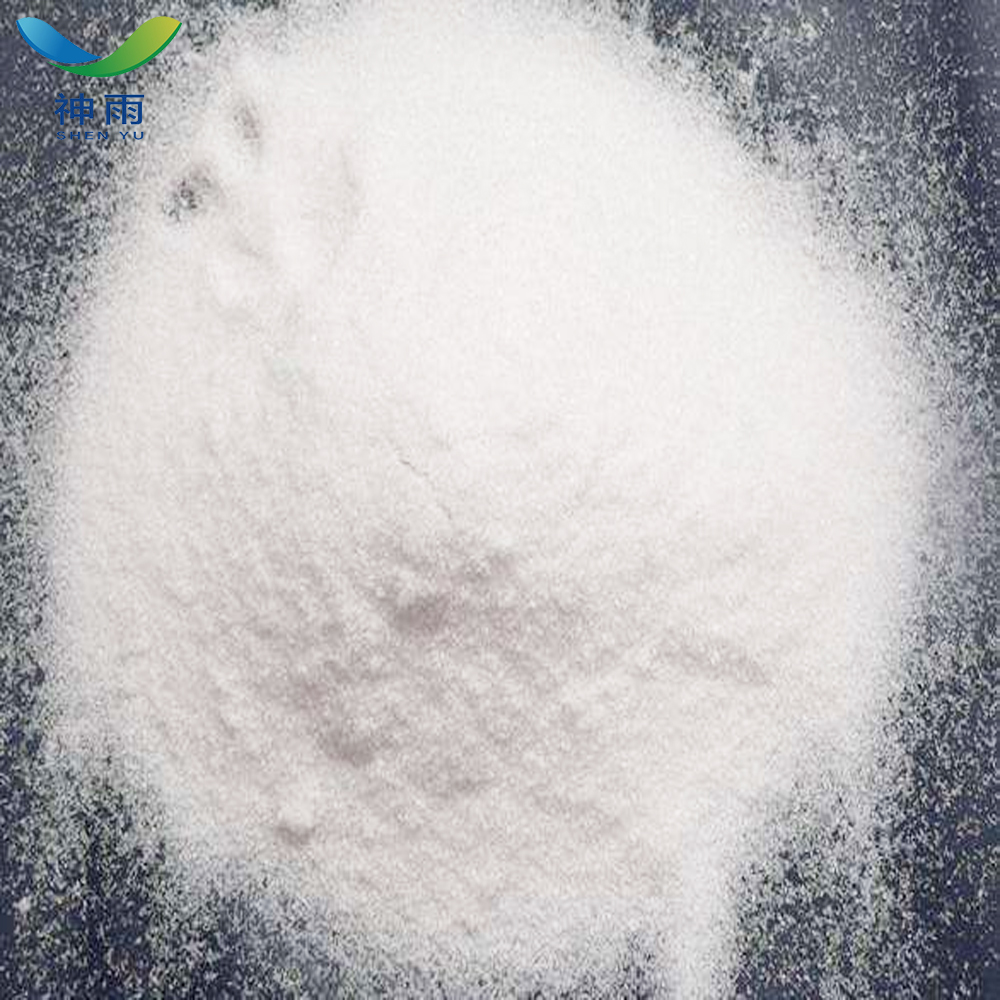 Feature:
High Purity
Low Price
Fast delivey
Good service
Ammonium persulfate Product details:
English Name: Ammonium persulfate
English synonyms: AP; APS; AMMONIUM PEROXODISULFATE; AMMONIUM PEROXODISULPHATE; AMMONIUM PEROXYDISULFATE; AMMONIUM PEROXYDISULPHATE; AMMONIUM PERSULFATE.
CAS: 7727-54-0
Molecular formula: H8N2O8S2
Molecular weight: 228.2
EINECS: 231-786-5
Melting point: 120 C
Density: 1.98
Vapor density: 7.9 (vs air)
Refractive index: 1.50
Storage conditions: Store at RT.
Solubility H2O: soluble
Form: powder
Color: White to yellow
PH value: 1.0-2.5 (25 C, 1M in H2O)
Water solubility: 582 g/L (20 C) decomposes
Sensitivity: Moisture Sensitive
Ammonium persulfate Application:
1. used as analytical reagent, photographic fixing agent and reducing agent.
2. used as food preservative, oxidant and initiator of macromolecule polymer.
3. the chemical industry is used as raw material for the manufacture of persulfate and hydrogen peroxide, the promoter for organic polymer polymerization, and the initiator for polymerization of vinyl chloride monomer. Oil and soap are used as bleaching agents. It is also used for corroding metal plate when cutting and cutting and oil recovery in petroleum industry. Food grade is used as wheat modifier and beer yeast mould inhibitor.
4. wheat flour conditioner (limit of less than 0.3g/kg, Japanese standard, 1999); beer yeast inhibitor (limit 0.1%, FAO/WHO, 1984).
5. verification and determination of manganese, iron and steel analysis, oxidants.
Ammonium persulfate Attention:
[skin contact]
Immediately remove the contaminated clothing and rinse with plenty of fresh water for at least 15 minutes. Go to a doctor.
[eye contact]
Immediately lift eyelids, rinse with plenty of flowing water or normal saline for at least 15 minutes. Go to a doctor.
[inhalation]
Quickly out of the scene to the fresh air. Keep the respiratory tract unobstructed. If breathing is difficult, oxygen is given. If breathing is stopped, artificial respiration is carried out immediately. Go to a doctor.
[feed]
Rinse your mouth with water and drink milk or egg white. Go to a doctor.
Storage: Store in cool, dry, well ventilated storehouse. Stay away from fire and heat. The packing must be sealed to prevent moisture. It should be stored separately with reducing agent, active metal powder and so on. The storage area should be equipped with appropriate material collection and leakage.
Package: 25kg/Bag
Other related items of our company:
1. Basic Organic Chemicals
2. Inorganic Chemicals
3. Pharmaceutical Intermediates
4. Daily Chemicals
5. Active Pharmaceutical Ingredients