Product Description
99% Ethylene Glycol Price
Ethylene Glycol, also known as glycol, is the simplest aliphatic glycol, with the chemical properties of alcohols,
such as the formation of ether, ester, can be oxidized to form aldehyde or acid, can condensation to form ether.
They can be replaced by halogens.React with acyl chloride or anhydride, form double ester commonly.
Heated by a catalyst (manganese dioxide, aluminum oxide, zinc oxide or sulfuric acid),
Ethylene Glycol can be dehydrated within or between molecules to form cyclic glycol glycol acetal, which reacts
with nitric acid to form glycol dinitrate (an explosive). Ethylene Glycol is the raw material for the production of
polyester resin, alkyd resin, polyester fiber, but also used as automobile antifreeze and aircraft engine refrigerant,
in 1980 the United States used for antifreeze glycol and polyester production of the same consumption.In addition,
can also synthesize polyester fiber and other polymer compounds.The freezing point of explosive can be reduced by
the combination of glycol dinitrate and nitroglycerin. Ethylene Glycol can also be used as raw material and
high boiling point solvent for drugs and plastics.Ethylene Glycol (ethylene glycol) was prepared from ethylene
oxide (ethylene oxide) as raw material by hydrolysis.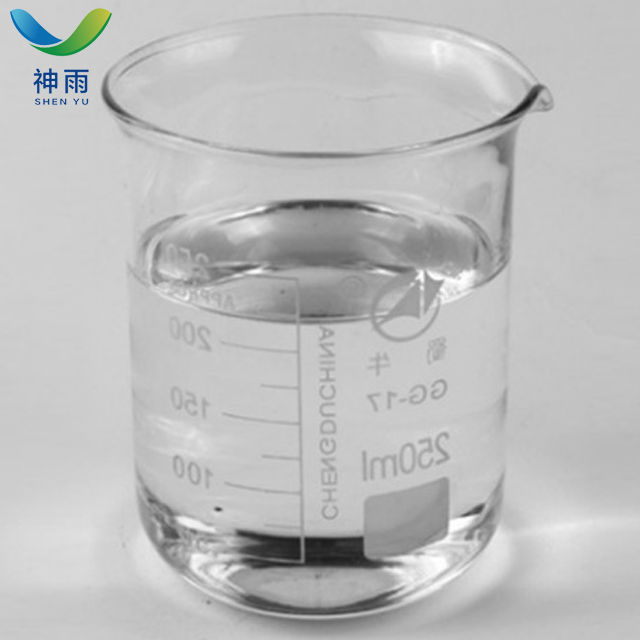 Feature:
High Purity
Low Price
Fast delivey
Good service
Product details:
English name: Ethylene glycol
Melting point: 13 ° C (lit.)
Boiling point: 196-198 ° C (lit.)
Density: 1.113 g/mL at 25 ° C (lit.)
Vapor density :2.1 (vs air)
Vapor pressure: 0.08 mm Hg (20 ° C)
Index of refraction :n20/D 1.431(lit.)
Flash: 230 ° F
Storage conditions: 2-8 ° C
Solubility :water: miscible
Characteristics: Viscous Liquid
Acidity coefficient (pKa) : 14.22 (at 25 ℃)
Color: blue
Relative polarity :0.79
PH: 6-7.5 (100 g/l, H2O, 20 ℃)
Thermonuclear limit :3.2%(V)
Water solubility :miscible

Ethylene Glycol Application:
1.Mainly used in the production of polyester resin, alkyd resin, plasticizer, antifreeze agent,
but also used in cosmetics and explosives.
2.Used as analytical reagent, chromatographic reagent and capacitive medium.
3.Glycol is an intermediate between the fungicides pentacyclazole and oxazolam.
Ethylene Glycol Attention:
This product is of low toxicity.
The patients who take it by mistake should be treated according to the emergency treatment principle of oral
poisoning in general. 600ml of 1/6mol sodium lactate solution and 10ml of 10% calcium gluconate solution can be
given intravenous drip.Artificial kidney dialysis can be used in patients with severe poisoning.
The container containing ethylene glycol shall be marked with "poison", and the product shall be sealed and vented
when heated to prevent inhalation of steam or aerosol.Avoid direct contact with skin for a long time.

Ethylene Glycol Storage:
Warehouse ventilation and low temperature drying.
Package: 200L/Barrel
Other related items of our company:
1. Basic Organic Chemicals
2. Inorganic Chemicals
3. Pharmaceutical Intermediates
4. Daily Chemicals
5. Active Pharmaceutical Ingredients