Ammonium Bicarbonate with CAS 1066-33-7
Ammonium bicarbonate is a white compound that is granular, plate-shaped or columnar crystalline and has ammonia odor. Ammonium bicarbonate is a kind of carbonate, so it must not be placed with acids, because acids react with ammonium bicarbonate to form carbon dioxide, which degrades ammonium bicarbonate. However, in rural areas, ammonium bicarbonate can be used to react with acid. Ammonium bicarbonate is placed in vegetable greenhouses, sealed in the greenhouses, and ammonium bicarbonate is placed on a high place to add dilute hydrochloric acid. Ammonium bicarbonate reacts with hydrochloric acid to form ammonium chloride, water and carbon dioxide. Carbon dioxide can promote photosynthesis in plants and increase vegetable production, and the ammonium chloride produced can be used as fertilizer again. Ammonium bicarbonate has ammonium ion in its formula, which is an ammonium salt, and the ammonium salt cannot be put in the same place as the base, so ammonium bicarbonate should not be put together with sodium hydroxide or calcium hydroxide.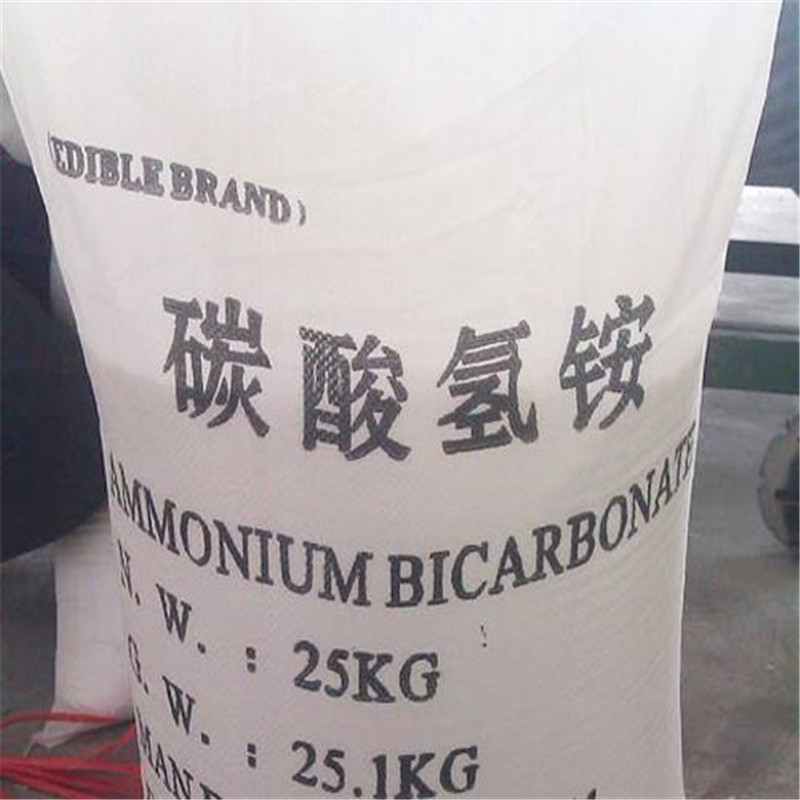 CAS:1066-33-7
MF:CH5NO3
MW:79.06
EINECS:213-911-5
Melting point:105 °C
Density 1,586 g/cm3
vapor density 2.7 (vs air)
storage temp. Store at RT.
solubility H2O: 1 M at 20 °C, clear, colorless
form Solid
color White
PH7.0-8.5 (25℃, 1M in H2O)
Water Solubility 220 g/L (20 ºC)
Stability:Stable. Incompatible with strong acids, alkali metals.
Synonyms:
acidammoniumcarbonate ;ammoniumbicarbonate(1:1) ;monoammoniumcarbonate ;AMMONIUM BICARBONATE;AMMONIUM ACID CARBONATE;AMMONIUM HYDROGEN CARBONATE;AMMONIUM CARBONATE, ACIDIC;AMMONIUM CARBONATE TS
Use
1. As nitrogen fertilizer, it is applicable to all kinds of soil and can provide ammonium nitrogen and carbon dioxide required for crop growth at the same time.
2. Used as an analytical reagent, also used in the synthesis of ammonium salt and fabric degreasing;
3. It can promote the growth and photosynthesis of crops, and promote the growth of seedlings and leaves.
4. Used as advanced food starter. It is used with sodium bicarbonate as raw material for bread, biscuits, pancakes and other leavening agents. It is also used as raw material for foaming powder juice. It is also used for blanching and rinsing green vegetables, bamboo shoots, medicine and reagents.
5. Used as a buffer; Filling agent. [5]
Ammonium bicarbonate is widely used in the plastics and rubber industries, pottery making, chrome tannins and synthetic catalysts.
7. Ammonium bicarbonate has the advantages of fast efficiency, low price, economy, unconsolidated soil, suitable for all kinds of crops and soil, can be used as base fertilizer, and can also be used as fertilizer, which is welcomed by farmers. It is the most widely used nitrogen fertilizer product except urea in China. The disadvantage of ammonium carbon is that it is volatile and the utilization rate of nitrogen is low. Therefore, in the production should achieve the advantages and disadvantages, reasonable use.
Other related items of our company:
1. Basic Organic Chemicals
2. Inorganic Chemicals
3. Pharmaceutical Intermediates
4. Daily Chemicals
5. Active Pharmaceutical Ingredients