Bromine with CAS 7726-95-6
Bromine is a dark reddish-brown liquid and the only non-metallic element that is liquid at room temperature. Bromine was discovered in 1842, and bromine and its compounds have been used extensively.
In November 2017, in accordance with the provisions of article 2 of the regulations on the administration of precursor chemicals, the state council agreed to add bromine as the second class of precursor chemicals in the catalogue of classification and varieties of precursor chemicals attached to the regulations on the administration of precursor chemicals.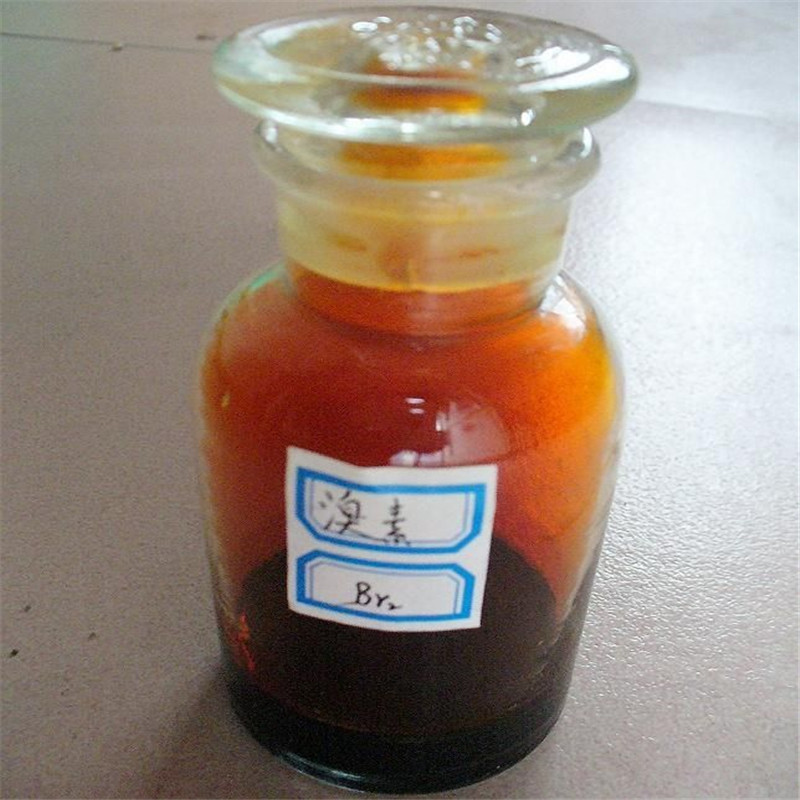 English name: Bromine
Alias: bromine, liquid bromine
Formula: Br2
Molecular weight: 159.8
CAS No. : 7726-95-6
Relative density: 3.119 (20 ℃)
Melting point: 7.2 ℃
Boiling point: 58.78 ℃
Properties: bromine is a red-brown fuming liquid.
Use
Mainly used for the preparation of bromide, as a general analytical reagent, oxidant, ethylene and heavy hydrocarbons absorbent and organic synthesis of bromide.
The impact on the environment
Health hazard
Invasion: inhalation, ingestion, percutaneous absorption.
Health hazards: the skin, mucous membrane has strong stimulation and corrosion. Mild poisoning, general weakness, chest tightness, dry cough, nausea or vomiting; More inhalation, headache, dyspnea, severe cough, tears, eyelid edema and spasm. Some have bronchial asthma, bronchitis or pneumonia. A few people have allergic dermatitis, and high levels of bromine can cause skin burns and even ulcers. Long-term inhalation, in addition to the symptoms of mucosal irritation, accompanied by neurasthenia signs.
Toxicological information and environmental behaviour
1. Acute toxicity: LC50:750ppm, 9 min (inhaled by mice).
2. Hazardous characteristics: strong oxidation. Contact with combustible materials (such as benzene, active metals) and organic materials (such as sugar, cellulose, etc.) can cause violent reactions and even combustion. Strong reaction with reducing agent. Highly corrosive.
Combustion (decomposition) product: hydrogen bromide.
3. On-site emergency monitoring method: gas detection tube method
4. Laboratory monitoring methods: gas chromatography, with reference to analytical chemistry manual (volume 4, chromatographic analysis), chemical industry press, methyl orange colorimetric method, silver bromide turbidimetric method, determination of hazardous substances in the air of chemical enterprises, chemical industry press
5. Environmental standards:
Maximum allowable concentration of hazardous substances in the air of the former Soviet union workshop: 0.5mg/m3 (percutaneous absorption)
The maximum allowable concentration of hazardous substances in drinking water of the former Soviet union (1975) was 0.2mg/L
Japan's water quality standard for aquatic products: 1.0 PPM
Other related items of our company:
1. Basic Organic Chemicals
2. Inorganic Chemicals
3. Pharmaceutical Intermediates
4. Daily Chemicals
5. Active Pharmaceutical Ingredients