Product Description
High Quality Cobalt oxide with Competitive Price
Product Overview
Cobaltous oxide, chemical formula CoO. It is a black-gray hexagonal powder. Its relative density is 6.45. Soluble in acid, insoluble in water, alcohol, ammonia. It is easily reduced to metallic cobalt by carbon monoxide. It reacts easily with silica, alumina or zinc oxide at high temperatures to form a variety of pigments. Co2O3 is a high-valent oxide of cobalt with a theoretical cobalt content of 71.06%, an oxygen content of 28.94%, and a density of 6.079/cm3. Cobalt tetroxide (Co3O4) is formed upon heating. Cobalt oxide is a compound that is unstable and is not to be in a free state. Actually, the general cobalt oxide still contains a certain amount of cobalt trioxide. Co2O3 is stable only when it is hydrated, and this hydrate is dehydrated at 265 °C to convert to the intermediate oxide cobalt trioxide (Co3O4). Cobalt oxide can be reduced to cobalt tetraoxide (Co3O4) by H2 at 125 ° C, reduced to CoO at 200 ° C, and reduced to metallic cobalt at 250 ° C. Cobalt oxide is insoluble in water and soluble in acid to form the corresponding salt. Cobalt oxide is the most stable oxide of cobalt, showing grayish green, brown, pink, and dark gray due to differences in process and purity. The gray-green CoO powder tends to turn brown in air, and the pink CoO powder is relatively stable in air, and does not generate high-valent oxides even when placed for a long time.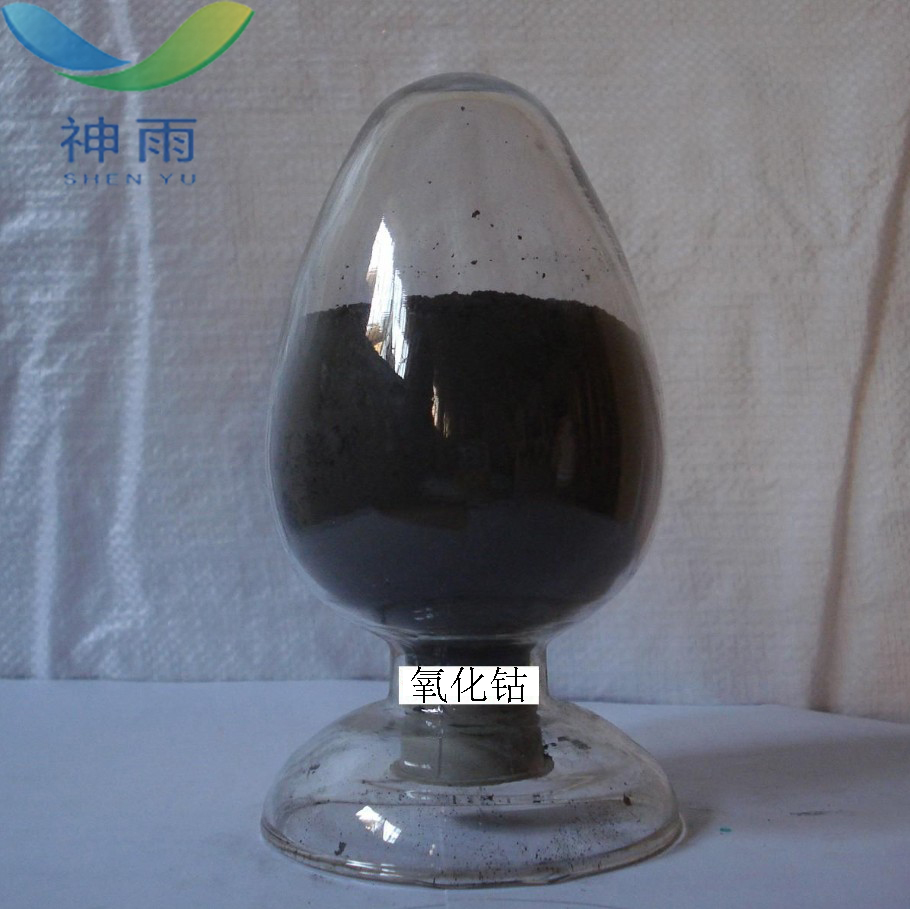 Physical Properties
CAS No.: 1307-96-6
Molecular formula: CoO
Molecular weight: 74.93
EINECS number: 215-154-6
Melting point 1785 °C
Density 6.45
Form Powder
Color Green-brown
Water solubility insoluble
Sensitivity Air Sensitive
Stability Stable, but may be moisture sensitive.

Application
Used as analytical reagents, catalysts, also in the manufacture of cobalt salts and colored glass
Used as colorants for paint pigments, ceramic glazes and glass, used as the raw materials for the manufacture of cathode materials for lithium batteries.
Mainly used as a sealant for glass, enamel, ceramics, magnetic materials, etc.
Livestock nutrient.
Cobalt and nickel-free cobalt salts are prepared.
Production of samarium cobalt alloy.
Cobalt oxide is also a raw material for the production of cobalt blue, cobalt green and blue green pigment.
Industrial cobalt oxide can be obtained by refining natural arsenic cobalt ore and cobaltite.
Cobalt oxide is a by-product of the refining of nickel ore.
It can also act as a decolorizing agent in combination with selenium.

Other related items of our company:
1. Basic Organic Chemicals
2. Inorganic Chemicals
3. Pharmaceutical Intermediates
4. Daily Chemicals
5. Active Pharmaceutical Ingredients