Product Description
High quality Pentaerythritol with best price cas 115-77-5
Product description:
Pentaerythritol is also known as 2, 2-bis (hydroxymethyl)-1, 3-propylene glycol, tetramethylmethane, MetabAuxil,
Penetek. Tollens was first discovered in 1882.
The precipitate from dilute hydrochloric acid is a tetragonal colorless ditetrahedral crystal.
Relative molecular weight 136.15. Relative density 1.399.
Melting point 262 ℃ (industrial products containing 10% ~ 15% e four two shrinkage two season, melting point of
180 ~ 225 ℃).The boiling point of 276 ℃ (4.00 x 103 pa).The refractive index is 1.54 ~ 1.56.Can be sublimated.
Slowly soluble in cold water, soluble in hot water, insoluble in carbon tetrachloride, ethyl ether, benzene, petroleum ether,
ethanol, acetone, 25 ℃ when the solubility of (g / 100 g) : water, methanol, ethanol 0.75 7.23 0.33, butylamine 16,
dimethyl sulfoxide, ethanolamine 16.5 4.5.When pentaerythritol is heated above the melting point,
polymerization occurs, and dipentaerythritol are produced.Stable in air.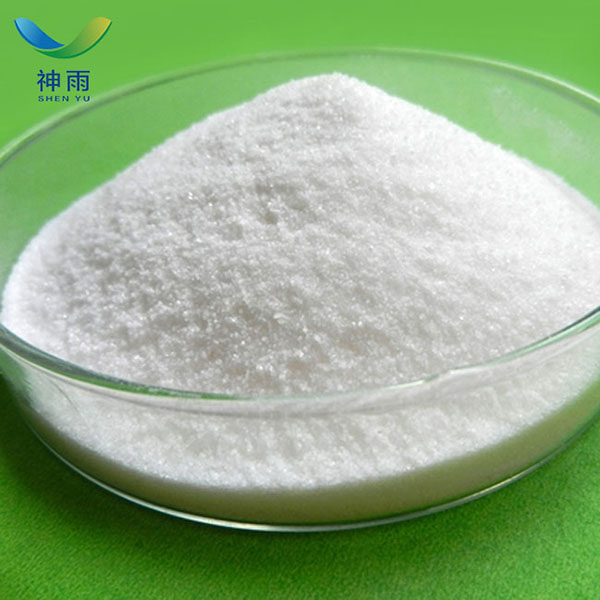 Feature:
High Purity
Low Price
Fast delivey
Good service
Pentaerythritol Product details:
English name: Pentaerythritol
English synonym: 2,2-bis(hydroxymethyl)-3-propanediol;PE;Hercules Mono - PE;Hercules P6.
CAS no. : 115-77-5
Molecular formula: C5H12O4
Molecular weight: 136.15
EINECS no. : 204-104-9
Melting point: 257 ° C
Boiling point: 276 ° C30 mm Hg (lit.)
Density: 1.396
Vapor pressure: < 1 mm Hg (20 ° C)
The refractive index: 1.548
Flash: 240 ° C
Storage conditions: Store below 30 ° C +.
Solubility :H2O: 0.1g /mL, clear, colorless
Characteristics: Crystals
Color: White,
PH: 3.5 4.5 (100 g/l, H2O, and 35 ℃)
Water solubility :1 g/18 mL (15 h)
Pentaerythritol Application:
1.Pentaerythritol as a quaternary alcohol, easy esterification of acid and ester, so most of the alkyd resin coating materials,
mainly used as building coatings and automotive primer.
2.Industrial use of pentaerythritol with nitric acid in 5 ~ 15 ℃ esterification available pentaerythritol tetranitrate
(also known as PETN, too), is a kind of high performance high explosives, its bigger than TNT explosive,
much as a booster, or mix with TNT.It was used extensively in world war ii.

3.Pentaerythritol and rosin acid reaction can make pentaerythritol rosin ester, it and dry oil mixture can get a kind of paint,
its hardness, water resistance and weather resistance is better, used for varnish, floor ink.
Pentaerythritol

Storage:
Warehouse ventilation and low temperature drying
Package: 25kg/bag
Other related items of our company:
1. Basic Organic Chemicals
2. Inorganic Chemicals
3. Pharmaceutical Intermediates
4. Daily Chemicals
5. Active Pharmaceutical Ingredients