Product Description
Hot Sale Terpineol with CAS 8000-41-7
Terpineol is also known as pine oil, lavender oil, gamma ray oil, orange leaf oil, orange oil, and orange oil. It is a kind of spice obtained by hydration and dehydration by the hydration of alpha pinene or beta pinene in turpentine. Terpineol is one of the earliest synthetic perfumes for industrial production. It has been used mainly as soap flavor for more than 100 years. Turpentine is a large spice product. The world's annual output is thousands of tons. It is widely used in various daily chemical flavor formulas, especially in soap and synthetic detergent flavor formulas, the dosage can reach 30%. There is no restriction on IFRA.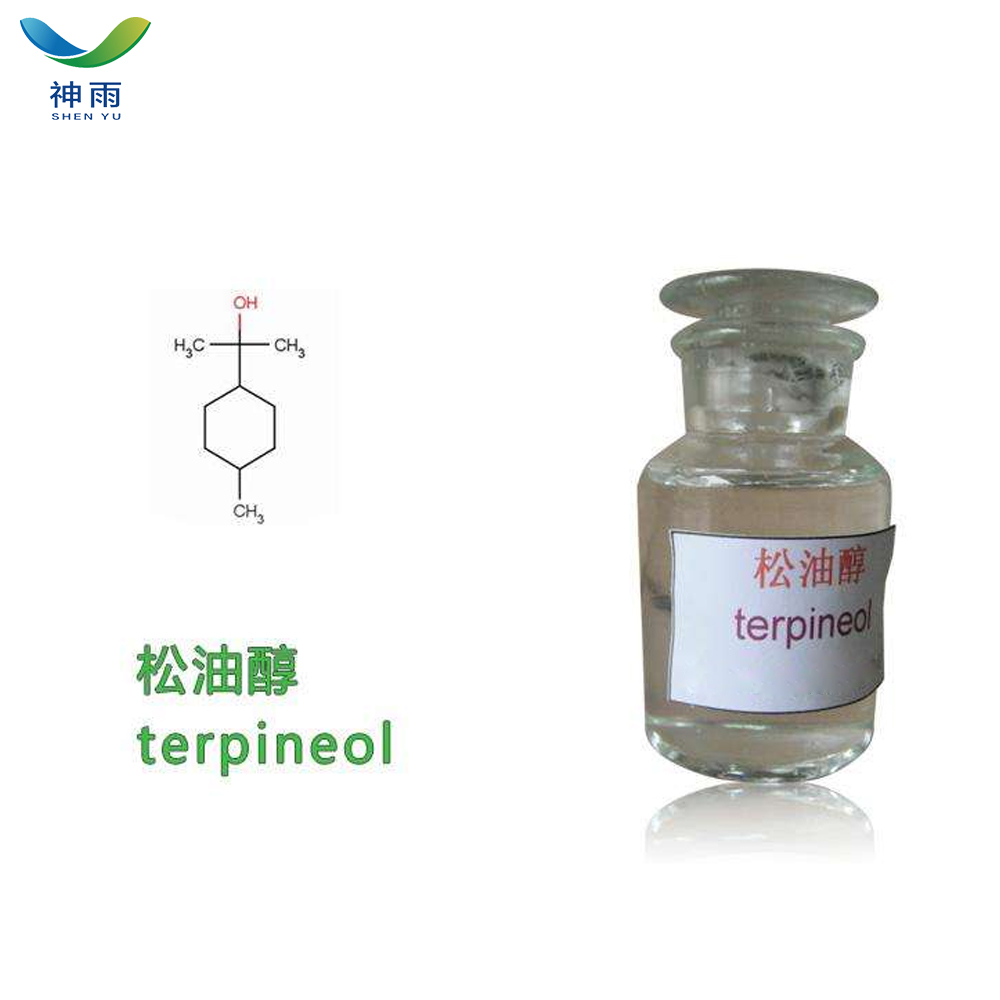 Feature:
High Purity
Low Price
Fast delivey
Good service
Terpineol Product details:
English Name: Terpineol
English synonyms: TERPINEOL; TERPINEOL 101 (ALPHA); TERPINEOL 200 (ALPHA); TERPINEOL 318 TYPE; TERPINEOL 350; TERPINEOL, A-; TERPINEOL-ALPHA; Terpineol - Terpineol.
CAS: 8000-41-7
Molecular formula: C10H18O
Molecular weight: 154.25
EINECS: 232-268-1
Melting point 18 C
Boiling point 214-224 C
Density 0.937
Refractive index 1.481-1.486
Flash point 95 C
Storage conditions Store below +30 C.
Solubility ethanol: soluble1.25ml/10ml, clear to slightly hazy, colorless to light yellow (50% ethanol)


Terpineol Application:
It is divided into two kinds of flavors and medicinal specifications. Spice grade pine oil has good aroma adaptability and stability in air and in many flavoring media. It is widely used in various flavors and is used as a fresh flavoring agent. As the flavour, it is often used in lily, lilac, Lilan, acacia, and Acacia. It is also an important spice in Magnolia, gardenia, Narcissus and pine needles. It is used widely in pharmaceutical, motor, ink and other industries. The distillate of 40% to 80% alcohol content is called synthetic pine oil, which is mainly used as flotation frothing agent for nonferrous metals.

Terpineol Attention:
[Ingestion]
If victim is conscious and alert, give 2-4 cupfuls of milk or water. Never give anything by mouth to an unconscious person. Get medical aid immediately.
[Inhalation]
Get medical aid immediately. Remove from exposure to fresh air immediately. If not breathing, give artificial respiration. If breathing is difficult, give oxygen.
[Skin]
Get medical aid immediately. Flush skin with plenty of soap and water for at least 15 minutes while removing contaminated clothing and shoes. Wash clothing before reuse.
[Eyes]
Flush eyes with plenty of water for at least 15 minutes, occasionally lifting the upper and lower eyelids. Get medical aid immediately.

Storage: Store in a tightly closed container. Do not store in glass. Store in a cool, dry area away from incompatible substances.
Package: 25kg/Bag
Other related items of our company:
1. Basic Organic Chemicals
2. Inorganic Chemicals
3. Pharmaceutical Intermediates
4. Daily Chemicals
5. Active Pharmaceutical Ingredients