Product Description
Low Price 99% Trehalose with CAS 99-20-7
Trehalose, also known as alpha, alpha-trehalose, alpha-D-glucopyranoyl-alpha-D-glucopyranoside, Mycose, is a non-reducing disaccharide formed by dehydration and condensation of hemiacetal hydroxyl groups on the heterocarpic carbon atom (C1) of two molecules of D-glucose. It is mainly divided into three kinds: alpha, alpha trehalose, alpha, beta trehalose, beta, beta trehalose and so on. It can also be synthesized in mould, algae, dry yeast, ergot and so on. It has the special function of preserving biological activity, protecting the structure of cell membrane and protein effectively, keeping the cells moist under abnormal conditions, such as high temperature dehydration (drying, high osmotic pressure), freezing, and preventing the loss of nutrients and cell damage caused by dehydration. To stabilize the structure of biofilms and proteins, it has been used internationally to protect genetic engineering enzymes, viruses, vaccines, antibodies, protein factors, nucleic acids and other biological active substances as stabilizers and protectants. It has a wide range of applications in food, health care products, cosmetics, medicine, molecular biology and agriculture. The application prospect.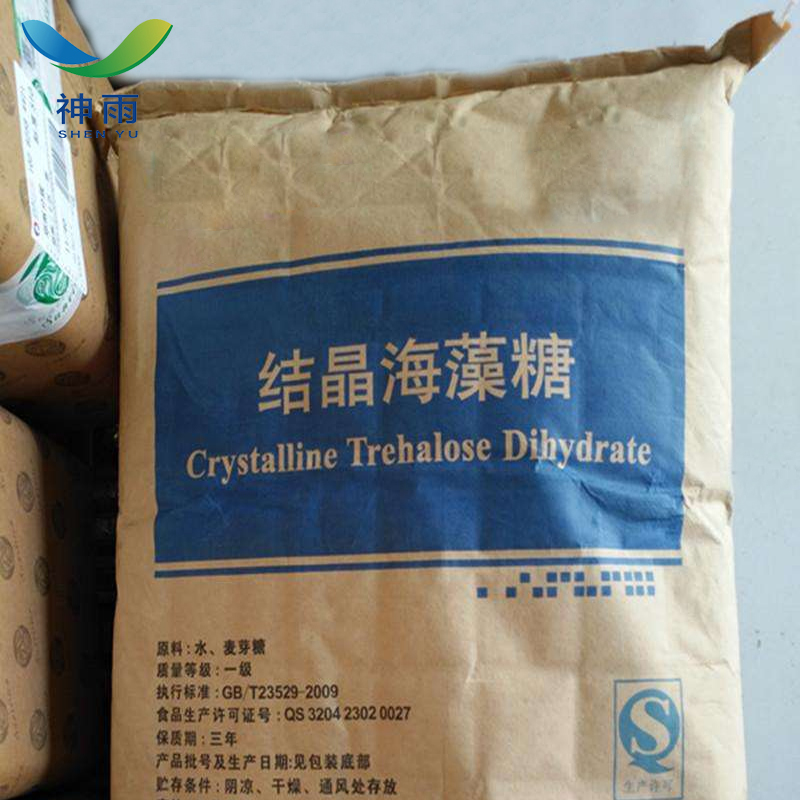 Feature:
High Purity
Low Price
Fast delivey
Good service
Trehalose Product details:
English Name: TREHALOSE
English synonyms: D-(+) -TREHALOSE; D-TREHALOSE; ALPHA-D-TREHALOSE; ALPHA, ALPHA-D-TREHALOSE; MYCOSE; TREHALOSE;.Alpha. -D-Glucopyranoside,.Alpha. -D-glucopyranosyl; alpha, alpha'-Trehalose
CAS: 99-20-7
Molecular formula: C12H22O11
Molecular weight: 342.3
EINECS: 202-739-6
Melting point 203 degree C
Boiling point 397.76 degree C (rough estimate)
Density 1.5800
Refractive index 197 degree (C=7, H2O)
Morphological Powder
Color White to Off-white
Water soluble Soluble in water.
Sensitivity Hygroscopic

Trehalose Application:
Application in the food industry
a. Prevent starch aging
b. Prevent protein denaturation
c. flavor, odor
d. Maintain the freshness of food organizations
e. Non-caries

Trehalose Attention:
[Ingestion]
If victim is conscious and alert, give 2-4 cupfuls of milk or water. Never give anything by mouth to an unconscious person. Get medical aid immediately.
[Inhalation]
Get medical aid immediately. Remove from exposure to fresh air immediately. If not breathing, give artificial respiration. If breathing is difficult, give oxygen.
[Skin]
Get medical aid immediately. Flush skin with plenty of soap and water for at least 15 minutes while removing contaminated clothing and shoes. Wash clothing before reuse.
[Eyes]
Flush eyes with plenty of water for at least 15 minutes, occasionally lifting the upper and lower eyelids. Get medical aid immediately.

Storage: Store in a tightly closed container. Do not store in glass. Store in a cool, dry area away from incompatible substances.
Package: 25kg/bag
Other related items of our company:
1. Basic Organic Chemicals
2. Inorganic Chemicals
3. Pharmaceutical Intermediates
4. Daily Chemicals
5. Active Pharmaceutical Ingredients