Product Description
Low Price Nickel Chloride CAS 7718-54-9
Nickel chloride is a chemical compound of NiCl2 with a molecular weight of 129.5994.
Anhydrous two nickel chloride is yellow, but it is rare in nature and can be found only in ores such as chlorinate, and more people are familiar with the green six hydrate of two nickel chloride (NiCl2. 6H2O). Two nickel chloride also has a series of known hydrates, all of which are green. Generally speaking, two nickel chloride is the most important source of nickel in chemical synthesis. Nickel salts are carcinogenic. Ammonia absorbent. Tissue culture agent. Make the invisible ink. The solution can be used for electroplating.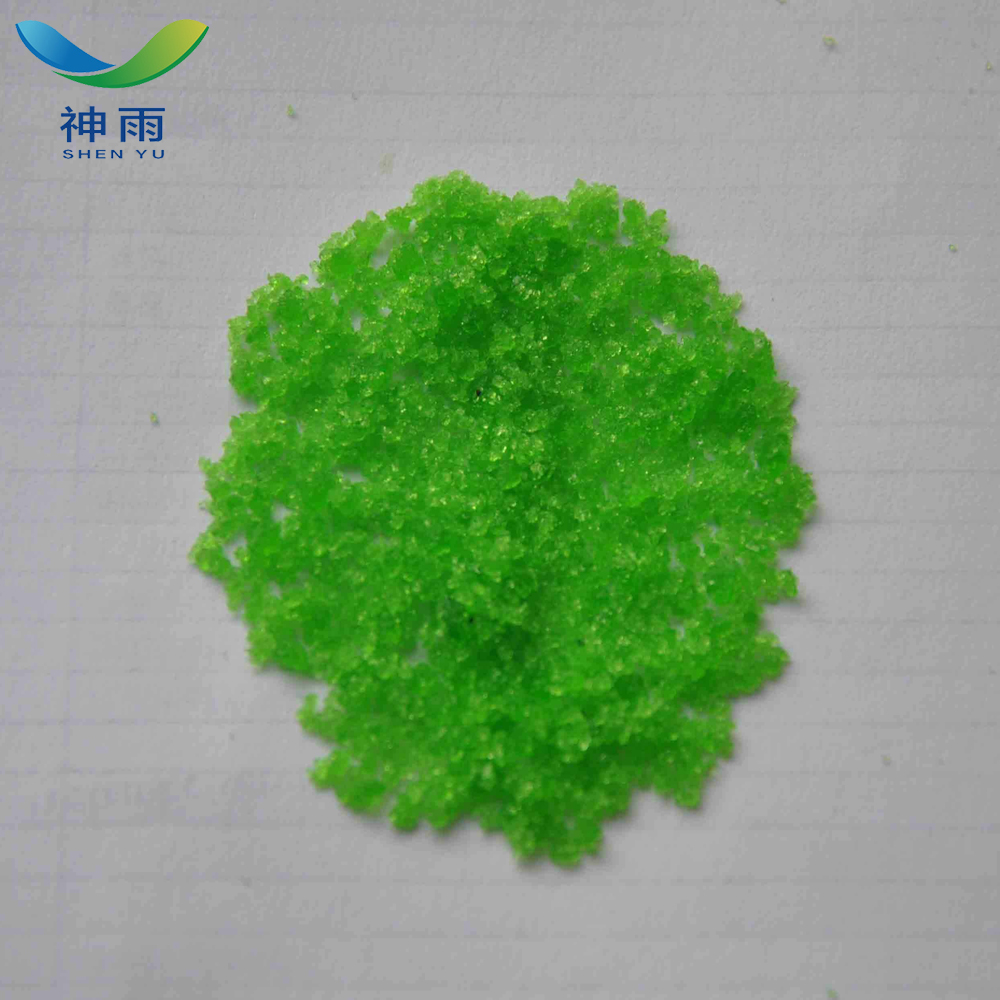 Feature:
High Purity
Low Price
Fast delivey
Good service
Nickel chloride Details:
English Name: Nickel chloride
English synonyms: NICKEL (+2) CHLORIDE; NICKEL CHLORIDE; NICKEL DICHLORIDE; NICKEL (II) CHLORIDE; Hexahydrate; Nickel.
CAS: 7718-54-9
Molecular formula: Cl2Ni
Molecular weight: 129.6
EINECS: 231-743-0
Melting point: 1001 C
Boiling point: 987 C
Density: 3.55 g/mL at 25 degree C (lit.)
Storage conditions: Store below +30 C.
Solubility H2O: soluble
Form: powder
Color: Yellow to orange
PH value: 4 (500g/l, H2O, 20 C)
Water solubility: slightly soluble
Sensitive: Hygroscopic
Nickel chloride Application:
Used for nickel plating, making invisible ink and used as ammonia absorbent.
Nickel chloride Attention:
[skin contact]
Remove the contaminated clothes and rinse with the flowing water.
[eye contact]
Lift eyelids and rinse with flowing or normal saline. Go to a doctor.
[inhalation]
Out of the scene to the fresh air.
[feed]
Drink plenty of warm water and urge vomiting. Go to a doctor.
Storage: Keep from contact with oxidizing materials. Store in a cool, dry, well-ventilated area away from incompatible substances.
Package: 25kg/Bag
Other related items of our company:
1. Basic Organic Chemicals
2. Inorganic Chemicals
3. Pharmaceutical Intermediates
4. Daily Chemicals
5. Active Pharmaceutical Ingredients