Product Description
Oleic acid with high purity cas 112-80-1
Product description:
Oleic acid is a kind of unsaturated fatty acid that contains a carbon-carbon double bond
in the molecular structure and is the fatty acid that makes up olefine.
Natural unsaturated fatty acids are the most widely available.
Oleic acid can be obtained by lipid hydrolysis,
and its chemical formula is CH3(CH2)7CH=CH(CH2)7·COOH.
Oleic acid glycerides are one of the main components of olive oil, palm oil, lard
and other animal and vegetable fats.
Industrial products often contain saturated fatty acids (palmitic acid, stearic acid)7 ~ 12%
and a small amount of other unsaturated fatty acids (linoleic acid).
Colorless oily liquid.
The specific gravity of 0.895 (25/25 ℃).
Freezing point 4 ℃.
Boiling point of 286 ℃ (13332).
The refractive index of 1.463 (18 ℃).
The iodine value was 89.9 and the acid value was 198.6.
Insoluble in water, in alcohol, benzene, chloroform, ether and other essential or nonessential oils.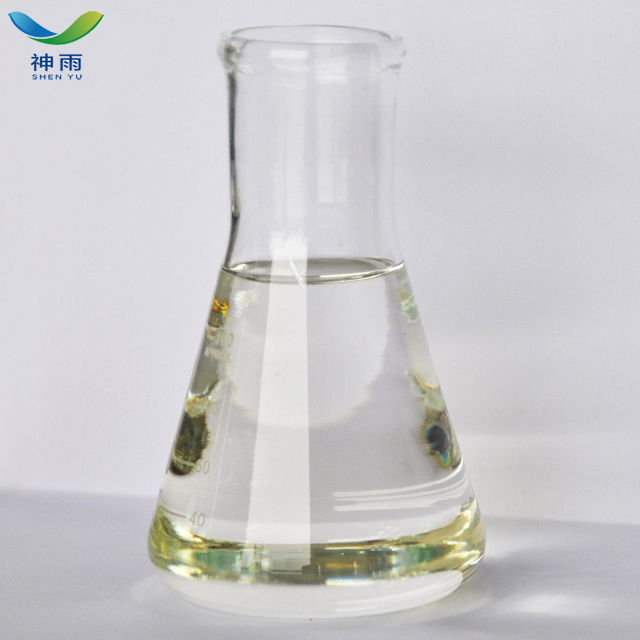 Feature:
High Purity
Low Price
Fast delivey
Good service
Oleic acid Product details:
English name: Oleic acid
English synonym: 9-cis-Octadecenoicacid;
9 - Octadecenoic acid and cis -;
9 octadecenoicacid (z) 9;
9 - Octadecens alpha ure,( 56788869,Z) -
CAS no. : 112-80-1
Molecular formula: C18H34O2
Molecular weight: 282.46
EINECS no. : 200-001-8
Melting point: 13-14 ° C (lit.)
Boiling point: 360 ° C
Density: 0.89 g/mL at 25 ° C (lit.)
Vapor density: 1.03 (vs air)
Vapor pressure: 52 mm Hg (37 ° C)
Index of refraction: n20/D 1.377
FEMA: 2815 | OLEIC ACID
Flash: 133 ° F
Storage conditions: 2-8 ° C
Solubility: Miscible with ethanol, Mr, acetone, chloroform, dimethyl formamide and dimethyl sulfoxide.
Characteristics: Liquid
Acidity coefficient (pKa): pKa 5.35(H2O,t =25)
Colorless to pale yellow
Water solubility: negligible
Oleic acid
Application:
1.Used for making soap, lubricants, flotation agents, ointments and oleates, etc.,
is also a good solvent for fatty acids and oil-soluble substances.
2.For gold, silver and other precious metals and non-metallic precision polishing,
electroplating industry polishing.
3.Oleic acid is an organic chemical raw material, which can be epoxidated to produce epoxidated oleic acid ester,
used as plastic plasticizer, and oxidized to produce nonanoic acid, which is the raw material of polyamide resin.
Production methods of Oleic acid
1.Cold pressing yields 30-50% oleic acid and 50-70% stearic acid.
2. In animal and plant oil and emulsion hydrolysis under 105 ℃, with stearic acid purification,
via a squeeze to remove stearic acid, separation of coarse oleic acid, after dehydration and distillation, frozen.
After the second press, remove the palmitic acid, and finally through dehydration refined products.
storage conditions:2-8° C
Package: 200L/Drum
Other related items of our company:
1. Basic Organic Chemicals
2. Inorganic Chemicals
3. Pharmaceutical Intermediates
4. Daily Chemicals
5. Active Pharmaceutical Ingredients